The Garden in Mid-May
Since I last wrote a post on the Flo's Flower Garden blog I've been doing a fair bit of waiting. There's been lots of seed-sowing and associated activities too but mostly I've been waiting. In March I was waiting for the end of winter and for spring to begin. It was a loooong winter wasn't it? Long and very grey. Then in April I was waiting for some rain (it was the one of the driest Aprils on record, seeing only 18 per cent of its average rainfall) and for a break from the cold and frosty conditions (it was the third coldest April since records began in 1922). And now I'm waiting for it to stop raining and for the sun to come out! I know that us Brits are renowned for being a bit obsessed with the weather but being a semi-serious flower grower now takes this to another level. Covers off, covers on. Seedlings inside, seedlings outside. Don't sow yet, quick so now. I have a newfound admiration for our professional British flower growers and the challenges they face - it sure isn't easy and the weather conditions in this country must play havoc with their cashflow.
I'm managing to gather together enough flowers to make a few posies to sell on my driveway each week but there really aren't enough to be able to promote them yet. I know that everything will catch up eventually and, when flower production gets into full swing, I'll let you know when I have bunches available at set regular days and times in case you are near enough and want to come any buy one.
Despite the weather I'm loving watching my seeds sprout and grow - it's so satisfying. When they finally get some warm sunshine on them (and it's looking hopeful for next week) they're all going to shoot up and burst into bloom in a gorgeous flourish of flowers. And then I'll be able to share them and raise some money from them to pay for some stray dogs to get spayed and neutered.
So, here's a quick run-though of the state of things in the garden right now plus a few hints and tips too:
Hardy Annuals:
These are all planted out in the garden now. They don't mind the cold so have already been out in their final positions for a few weeks. The cerinthe is starting to flower but everything else is growing very slowly, waiting for the sunshine before they go into top gear. In my garden I have Daucus (wild carrot), Nigella (love-in-a-mist), Ammi visnaga (Bishop's weed), cornflowers, sweet peas, clary sage, dill, scabious, larkspur and calendula.
Tip: If you haven't sown any Hardy Annuals yet now's the perfect time to direct sow them straight into the garden - just weed your patch of flower bed, rake it until the soil is crumbly (this is known as a fine tilth), make a shallow channel (known as a drill) in the soil using a pencil or stick, thinly sprinkle the seeds into the drill (it's important not to overcrowd them so try and space them out) and then gently cover them with a little soil from the edges of the drill, water them and then leave them to it - you'll only need to water them if and when we have a dry spell.
Half-Hardy Annuals:
These are just about ready to go out into the flower beds. Here in Surrey we usually see the end of the frosts around the middle of May so it's just about safe to plant out now. However, it's been so cold and I don't want to shock my seedlings and thereby stall their growth, and so wet and I don't want them to get flattened by hail or eaten by slugs, that I'm holding off for a few more days. I'm in the process of 'hardening them off' - some are in my makeshift greenhouse boxes (see my previous post entitled 'Sow and Grow Some Beautiful Flowers With Me This Spring') and some are still in the yoga studio, but they're all going out onto the patio during the day and coming back in at night. It's a bit of a faff but I'm not prepared to lose them after all this time and energy I've spent nurturing them. The only ones that have been planted are my autumn-sown snapdragons (Antirrhinums) as they can take a bit more cold than some of the others and seem to be slug-resistant (see tip below).
I've got Cosmos, Tithonia (Mexican daisy), a lovely annual Phlox and Zinnia, all of which I've successfully grown before, and also some plants that are new to me such as Statice, Strawflowers, Craspedia (little yellow flowers which have the wonderful common name of Billy Buttons). I've also got some sunflowers, which I never seem to have much luck with - fingers crossed for this time.
Tip: slugs and snails don't seem to like snapdragons so, if you always seem to lose your seedlings to these slimy creatures, do give them a try. They're really easy to take care of and make great cut flowers too. It's a bit late to grow them from seed for this year as they're quite slow to get going but instead you can probably get them in trays of plug-plants from the garden centres ready to plant out.
Biennials:
These are plants that started growing last year and will flower this year. I have sweet William, sweet rocket, foxglove and wallflowers. These are hardy and have been out in the flower beds for a while now. The wallflowers have been amazing, flowering their socks off and providing most of the flowers I've put in my bunches recently. They are just about finished now but I'll tidy and trim the best ones and leave them alone and they'll come back again next year - they're a short-lived perennial in my garden.
Tip: if you want flowers for next summer you'll need to sow biennial seeds now. You'd then grow them on over the summer and plant them out in the autumn.
Perennials:
Having been cut back and tidied up in late winter/early spring, these wonderfully easy plants are now starting to put on some growth. I have a whole host of perennials but the reliable stalwarts include Astrantia, Knautia, Penstemon, Michaelmas daisies, carnations, golden rod, Salvia and Alchemilla mollis. I've got herbs too - feverfew, marjoram, chives, mint and rosemary - all of which will produce lovely flowers and foliage for my bunches and take care of themselves with very little intervention from me.
Tip: Don't forget to stake your taller perennials to stop them flopping over in the wind and rain. I always seem to leave this too late and then once they've flopped it can be difficult to get them upright again but this year I'm a bit more organised and have almost finished this job.
Shrubs:
I'll be using shrubs for foliage in my bunches and some of them for their flowers too. I've already been using lilac, crab-apple and Amelanchier blossom and will have Buddleia, some new roses, lavender and a new shrub called Physocarpus (common name is ninebark) which has lovely dark red/purple coloured foliage).
Tip: here's a general rule for pruning your shrubs to stop you cutting off the growth that carries the flowers - if the plant flowers before midsummer (ie forsythia), prune it directly after it has finished flowering, but if it blooms after midsummer (ie. buddleia) prune it in the late winter or early spring.
Bulbs and Corms:
The tulips have been great this year - the cold weather has helped them keep their flowers for much longer than normal. I grow mine in pots so, now they've finished flowering, I'll give them a feed of liquid seaweed and store them at the back of the house for next year. However, many varieties don't reliably come back year after year so some have to be treated as annuals and get thrown away. I'm going to do some more research before I buy my next tulips and look for varieties that are sold as perennial as I hate having to do this and would prefer to keep them. The ranunculous and anenomes have been nurtured all winter and spring and are only just beginning to open up - there are lots of buds but they just don't want to open up because there's been no sunshine. The stems are quite short but I understand that these will lengthen as the weeks go by. They're cool weather plants so they won't be around for long, then I'll dig them up and store them until the autumn when I'll plant them in trays and start them into growth again.
Tip: Don't cut the leaves off your daffodils, tulips or other bulbs - the leaves have lots of goodness that needs to be re-absorbed into the bulb to provide it's food and energy for the next year so you really need to leave them to die back naturally. Once they're brown you can clear all the dead leaves away. If, like me, you don't like them looking untidy in your flower beds, either grow plants such as forget-me-nots around them so that they cover and hide the decaying leaves, or grow your bulbs in pots which can be moved around the garden to make the best display and then be hidden away when they are finished.
Dahlias:
Dahlias are so special that they deserve their own paragraph. I dug all my dahlias up in November and kept them in the yoga studio over the winter. I also ordered more - although I really didn't need them I just couldn't resist a few extra ones! When I potted them all up in April I discovered I had 48!! I assumed a proportion of these wouldn't shoot and could be discarded but they all seem to be doing fine except for 3. They are currently being hardened-off and will be the last plants to be planted out, going out into the flower beds at the beginning of June. I don't quite know how I'm going to fit them all in! ;-)
Tip: if you can bear to do it, pinching out the main shoot of your dahlia will result in it putting out more stems and producing more flowers. I'll do a post about this when I do it so you can follow along if you want to.
So that's my round up of things as they stand in mid-May. There'll be lots more to show when I next post on the Flo's Flowers blog but, until then, here are a few photos of what is flowering right now. Wishing you happy times in your garden.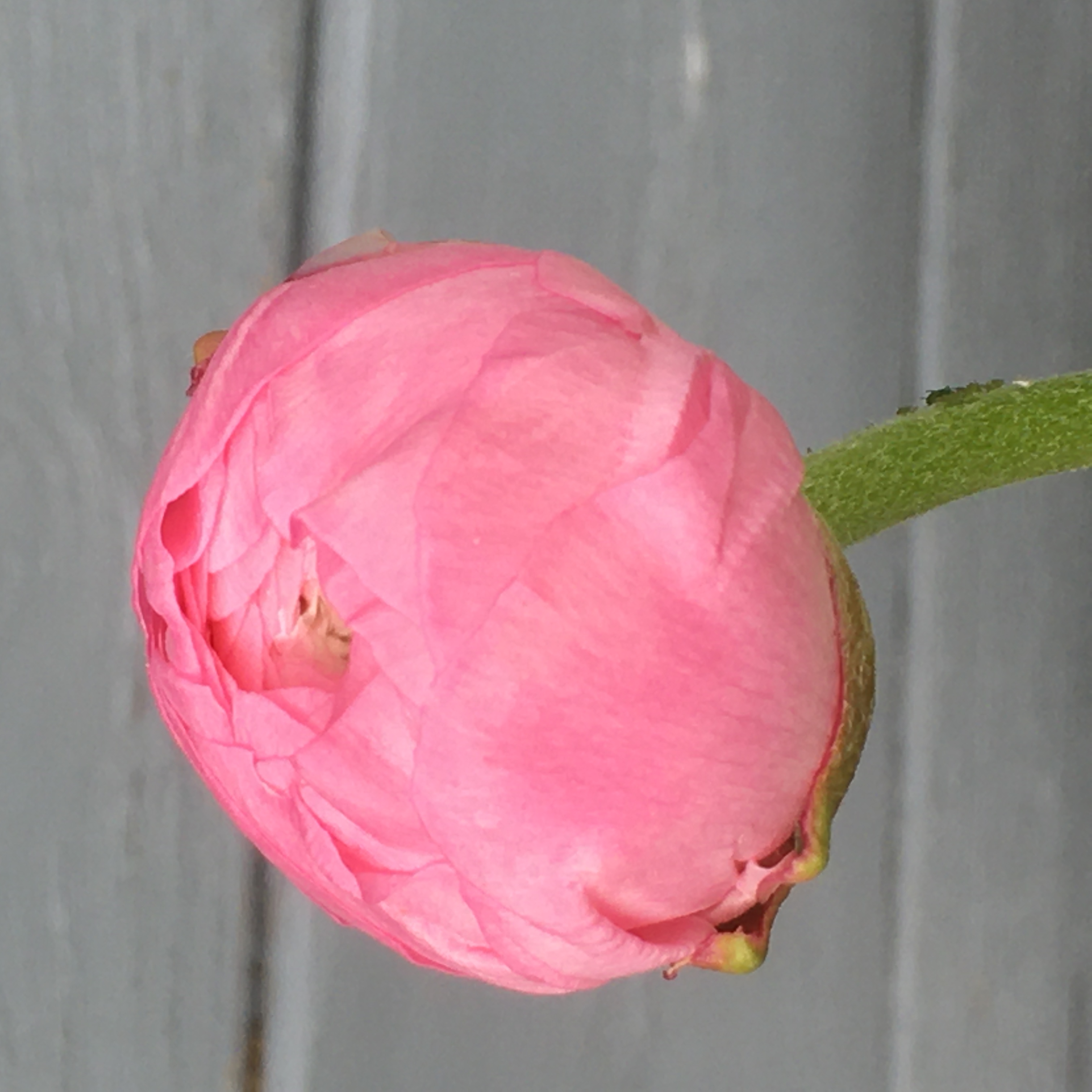 Ranunculus bud waiting for the sun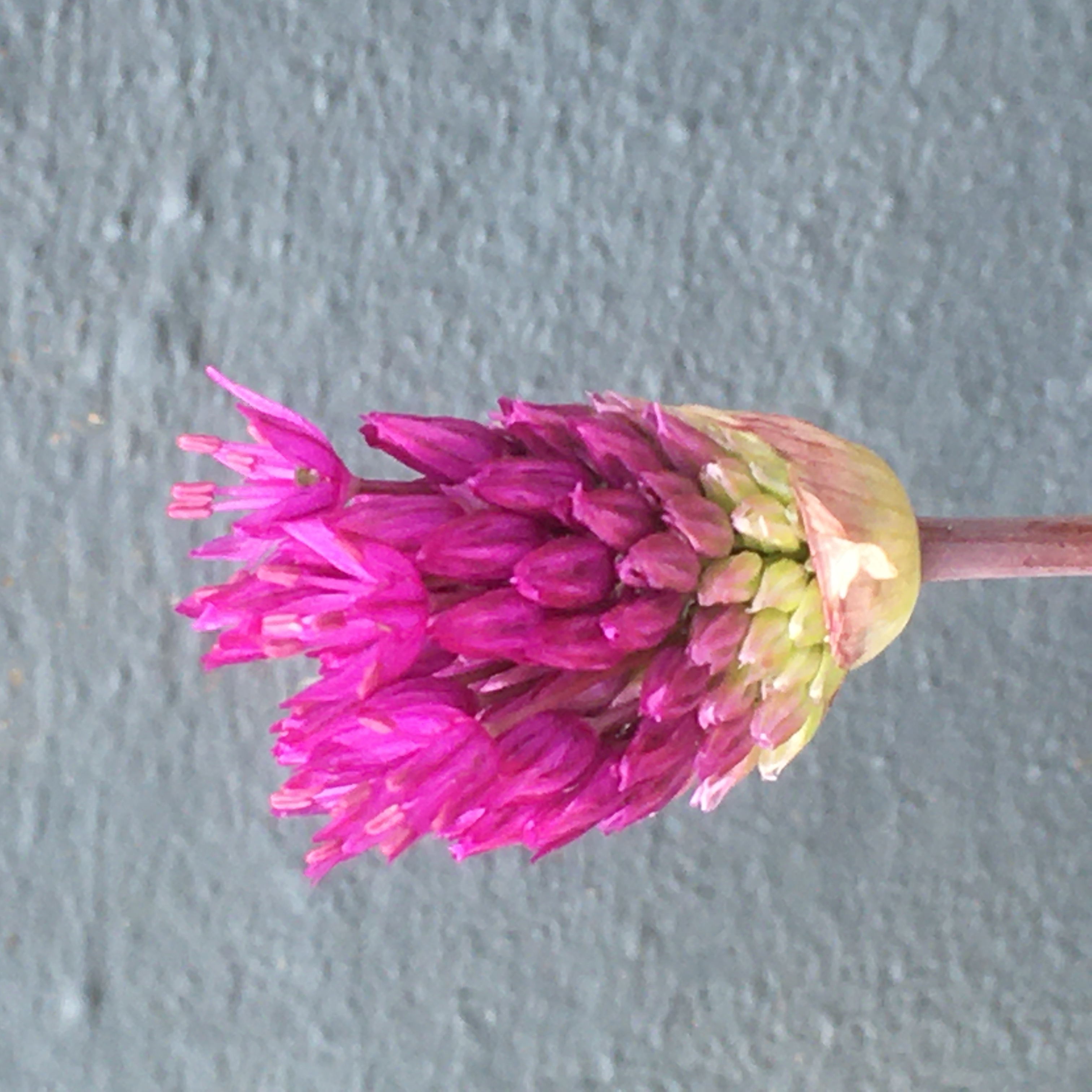 An allium just beginning to open into a sphere of tiny flowers
One of my bunches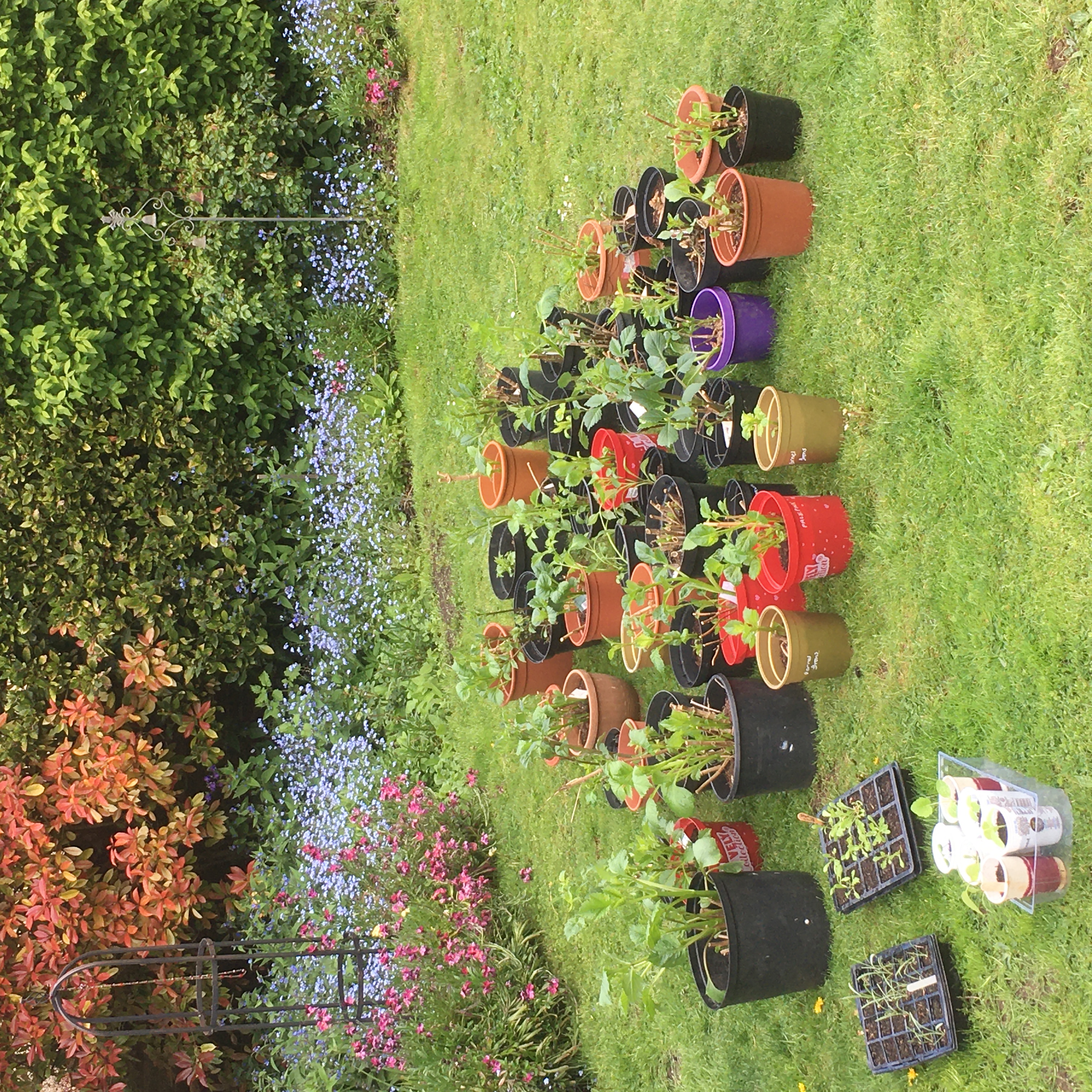 Hardening off the dahlias