Wednesday 23rd September - Equanimity and Equinox, Traction and Tomatoes
Welcome back to the Thrive Yoga Lifestyle Blog. And welcome to autumn. Yesterday was the autumn equinox and we enjoyed equal amounts of daylight and darkness. We now, inevitably, move towards the shorter days and longer nights as the Wheel of the Year continues to turn. Usually, this leaves me feeling a little wistful and melancholy (I don't love winter), but this year we've had so much sunshine and blue skies that I feel ready for a change of season. I'm ready for the cooler temperatures and the vivid leaf colours and both me, my garden and Mother Nature herself are ready for some rain.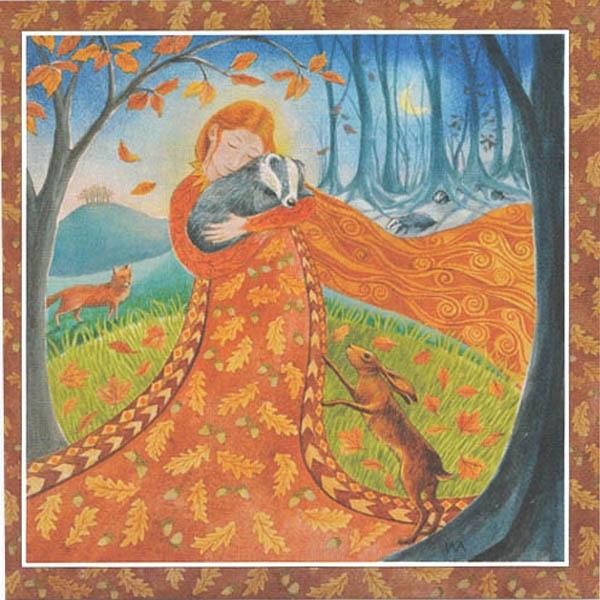 Artwork by Wendy Andrew
I hope you've had a good summer. It has been a mixed one for me, full of ups and downs. I lost another much-loved sister-in-law to cancer in July which has rocked our family, re-opening only-just-healing wounds, reminding us of the uncertainty of life and that, so very often, it just isn't fair. But there have been many good things too, including the arrival of Fergus, another foster dog. He was an older boy who was awaiting his fate in a 'kill shelter' in Romania and got his lucky chance of a new life when I decided to foster him. It's hard for the oldies - not many people want to take them on and very often they have deep-set behavioural issues because their previous lives as street dogs have been very different from the rules we impose upon them when they arrive in the UK. They have often spent their lives defending their little bit of territory, dodging cars and people who don't want them around and scavenging for food, and they are expected to adapt very quickly to living in a house and walking on a lead etc. Fergus was incredibly gentle and polite, super-intelligent and quick to learn and, although, he had a problem known as 'leash reactivity', (barking at other dogs - which is a territorial thing) he found himself a lovely home with a family who were prepared to put the work in to help him overcome this. Unfortunately, Flo was not happy that he had joined our household, albeit temporarily, and it took a long while for them to form an acceptance of each other. This made for a busy and slightly stressful 5 weeks as we managed their separate 'shifts' - but it was all worth it to save this lovely dog's life and find him a loving home. Last week I received a letter and some photos from the adopting family to say that Fergus has settled in very well and that it feels as though he's always been there.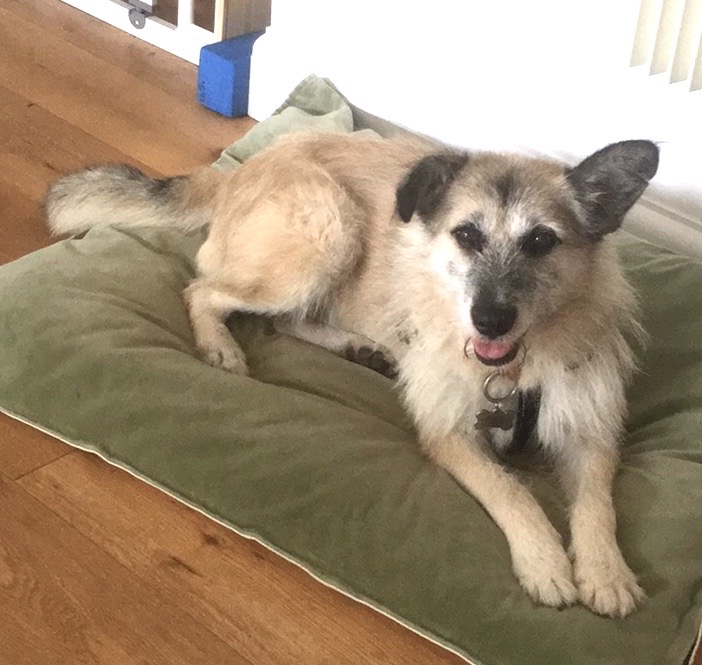 Fergus enjoying a comfy bed
So what's been going on at Thrive Yoga since I last posted on the Blog?... I carried on with my Zoom classes over August, offering a slow and peaceful 'Stretch and Relax' class each Monday evening, and the new 'half-term' block of classes started last week. As things are still so uncertain with the changing social distancing limitations at the hall that I hire, my classes are continuing via Zoom. It has worked really well over the last few months, with very few technical problems reported, and I'm enjoying getting back into a regular routine and sharing lots of different types of yoga over the coming weeks. There will be an over-arching theme of transitioning into the new season of autumn, both in the classes and here on the blog, plus there will be a physical focus on traction (see below for what this means to us yogis). I've tweaked the timetable very slightly in response to some requests and there's still time for you to join in if you'd like to. Once you've paid your term fee you can attend as many of the classes as you like. If on occasion you have to miss your session there's also now the option to receive a recording of the class so you can 'catch-up' at your convenience over the course of the following week. You can take a look at the timetable HERE and then, if you'd like some movement for your body and some calmness for your mind, drop me an email at hi@thriveyoga.co.uk and I'll send you the details of how you can join in.
If the structure of attending a class at a particular time doesn't work for your schedule but you still want to add some yoga into your self-care routine then the ever-growing 'library' of classes at Thrive Yoga Online might suit you better. For a monthly membership of £15 you get unlimited access to all the videos so you can practise your yoga whenever you want to. Click HERE to go to the Home page of the website to read more about the benefits of Thrive Yoga membership and how to join.
The Studio in my garden where, for many years, I held regular weekly and ad-hoc classes, looks a little different to when you might have seen it last, whether as a visitor to classes there or seeing pictures of it on the website... it is now more of a greenhouse than a yoga studio! After all the years of it being a spotlessly clean and neatly organised yoga shala it's a little strange to see it now full of seed trays and drying onions, but I'm glad that it's not just shut-up, empty and unused - and my chilli plants are loving it!
So I hope that you can do some yoga with me in one form or another through the wonders of technology and, as we go through the coming season, I'll continue to share recipes, Mother Nature's magic, hints and tips on the subject of yoga and wellbeing, music and videos with you here on the Blog.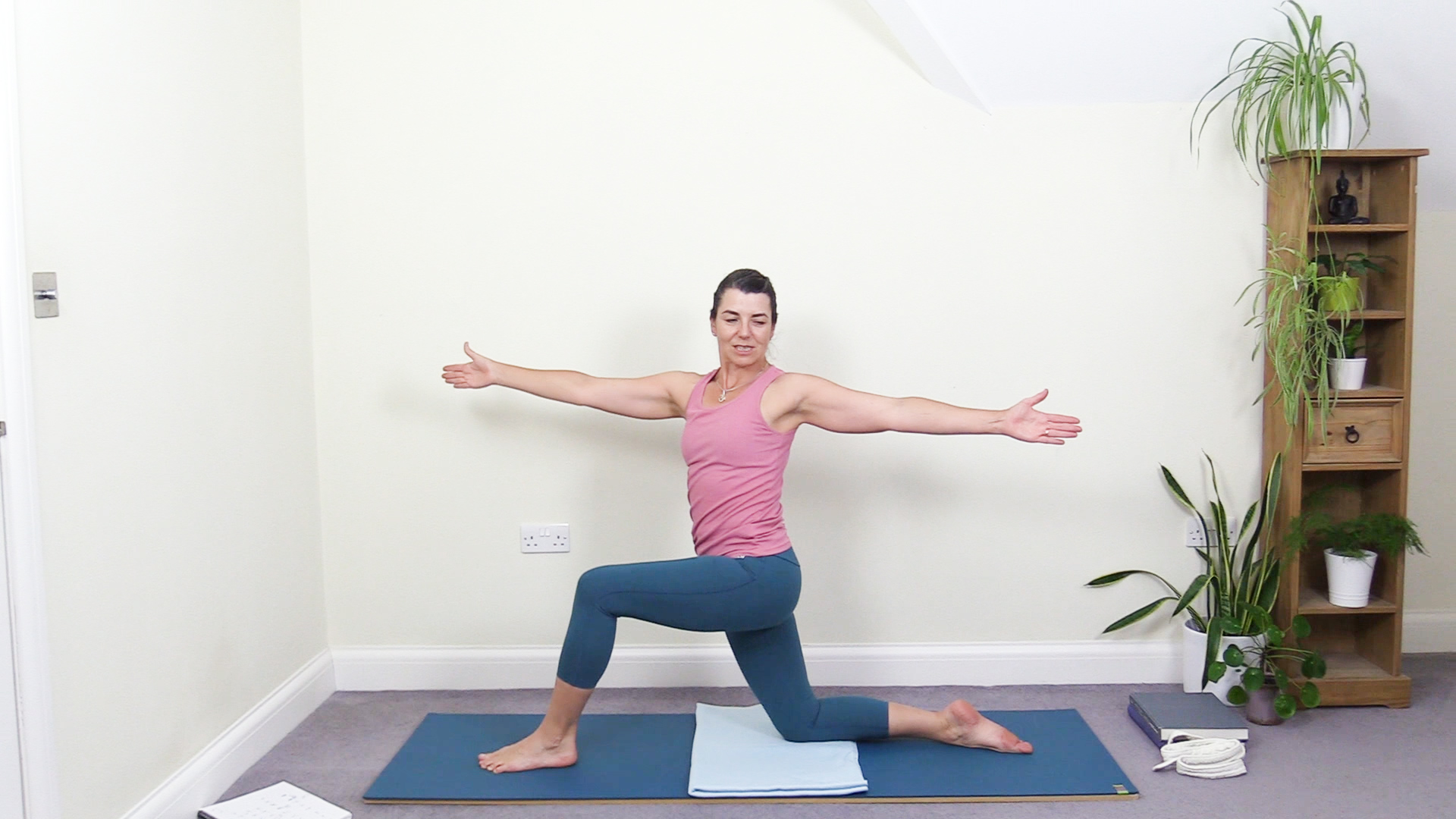 Class Notes... Traction, and some poems
In each of my Zoom classes this half-term I'm adding in poses that provide an element of traction to the body. There is a lot of focus on stretching the muscles in yoga but if we invite a gentle stress and traction to the connective tissues of the body too (the tendons, ligaments, cartilage, fascia and bone) we can experience even greater freedom of movement, comfort and flexibility. Traction is the sustained pull on a limb, the spine, or other areas of the body where compression is present, with the aim of creating space, reducing pain and increasing mobility. In the practice of Yin Yoga we hold the poses for longer than in other types of yoga and, with this magic ingredient of time combined with the stillness that we are encouraged to cultivate, the 'stretch' becomes a gentle 'stress' which creates the space, freeing joints and tissues and improving the production of collagen, a protein which gives our tissues both structure and their natural elasticity.
I'll share with you here over the next 5 weeks some simple poses you can do (no yoga mat required) that will create traction and help with your mobility and comfort. In the photo below I had been walking around an art gallery for a couple of hours and my back began to ache (shopping for any length of time and art galleries weirdly have this effect on me) so I put my hands on the ledge (you could use a wall or a table top), walked backwards until my legs were vertical and I was in an L-shape, and gently eased my hips back to elongate my spine. A couple of minutes' deep breathing into the sensations and it had really helped and I felt much more comfortable. This pose is also a good shoulder-opener and a stretch to the hamstrings too.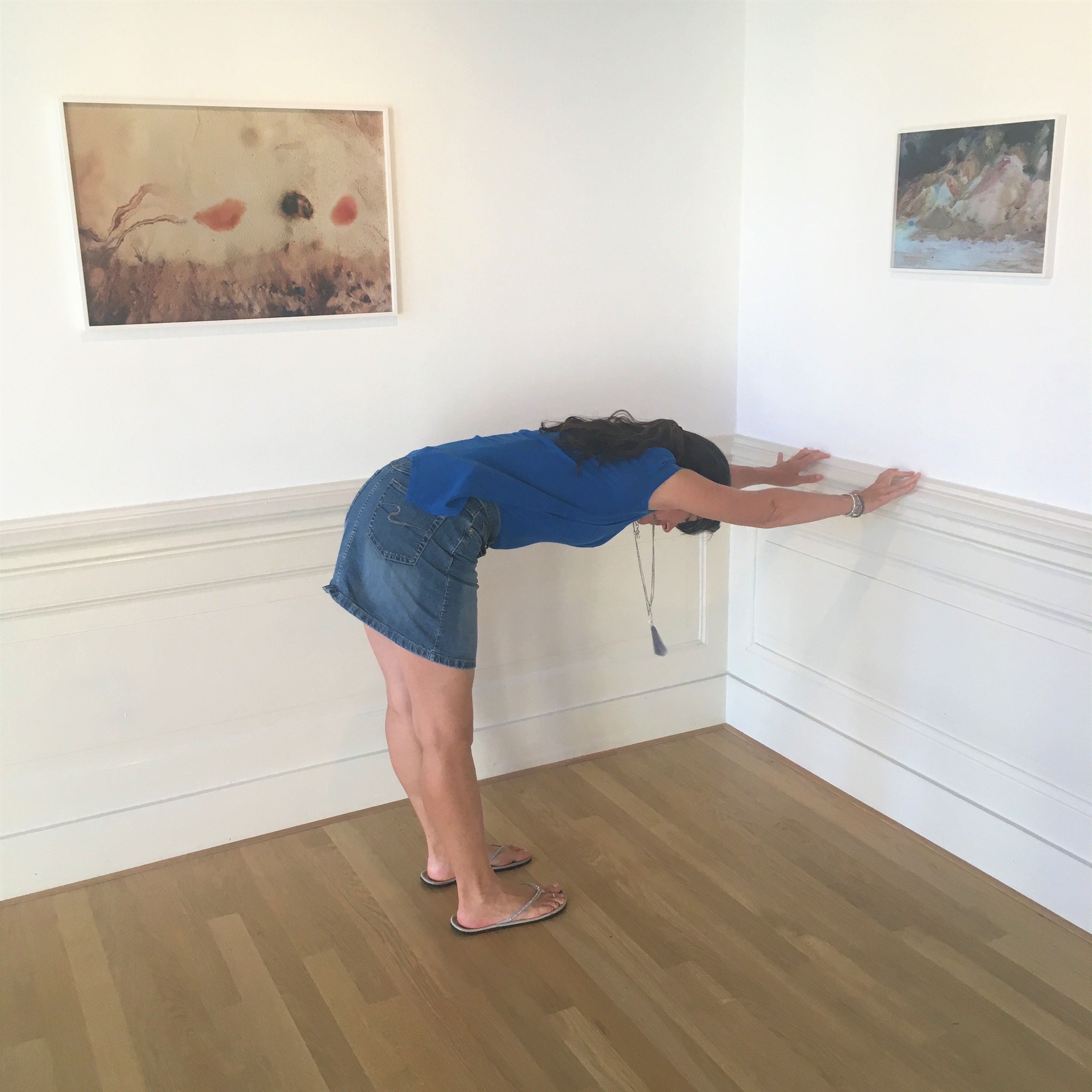 I've remembered that, after reading some of Morgan Harper Nichols' poems during a Stretch and Relax class recently, I promised to share some here on the Blog. So here are some of the lovely words to soothe your soul...
Exchange your overthinking
for overwhelming grace.
Let it pull you from the forest
to a wide and open space.
A clearing in the wild
Where light will fill the ground.
Where anxious thoughts learn surrender
And gratitude is found.
For tomorrow is on its way,
and it will be here in its time.
So be present here today
with a rested, peaceful mind.
Be Kind To Yourself Today
Even if you are not where you thought you would be,
you are still allowed to find peace in the beautiful reality that you are still on a journey,
and you cannot measure yourself up against the miles that you have not travelled yet.
Be kind to yourself today, in a grace-filled, honest way,
knowing that no matter the things that have been far from perfect,
you are growing at a steady pace.
This Week's Recipe... Slow-Roasted Tomatoes
Do you have a glut of tomatoes? Mine have been amazing for the second year running and I'm still picking them. I shared this recipe last year but thought I'd share it again in case you are over-run with tomatoes that you don't know what to do with. If you're not growing your own, the shops are full of British tomatoes right now so buy some and try this recipe - it's yummy.
You will need...
15-20 tomatoes
Salt
Black pepper
Chilli flakes
Dried mixed herbs
Olive oil
Plum/hoisin/soy sauce
And here's how to make it...
Halve the tomatoes and place them cut-side up on a baking tray.
Sprinkle some salt, pepper, chilli flakes to taste, and the dried herbs over and drizzle with olive oil.
Roast at 150c, gas mark 2, for about 45 minutes.
Give the tomatoes a stir and then drizzle with the plum or hoisin sauce before putting back in the oven for another 15 minutes.
Allow to cool until they go sticky and jammy.
Serve on salads, in pasta or create a bruschetta by toasting some sourdough bread, spreading it with hummus, dolloping on the tomatoes and garnishing with torn basil. It makes a really good lunch or starter.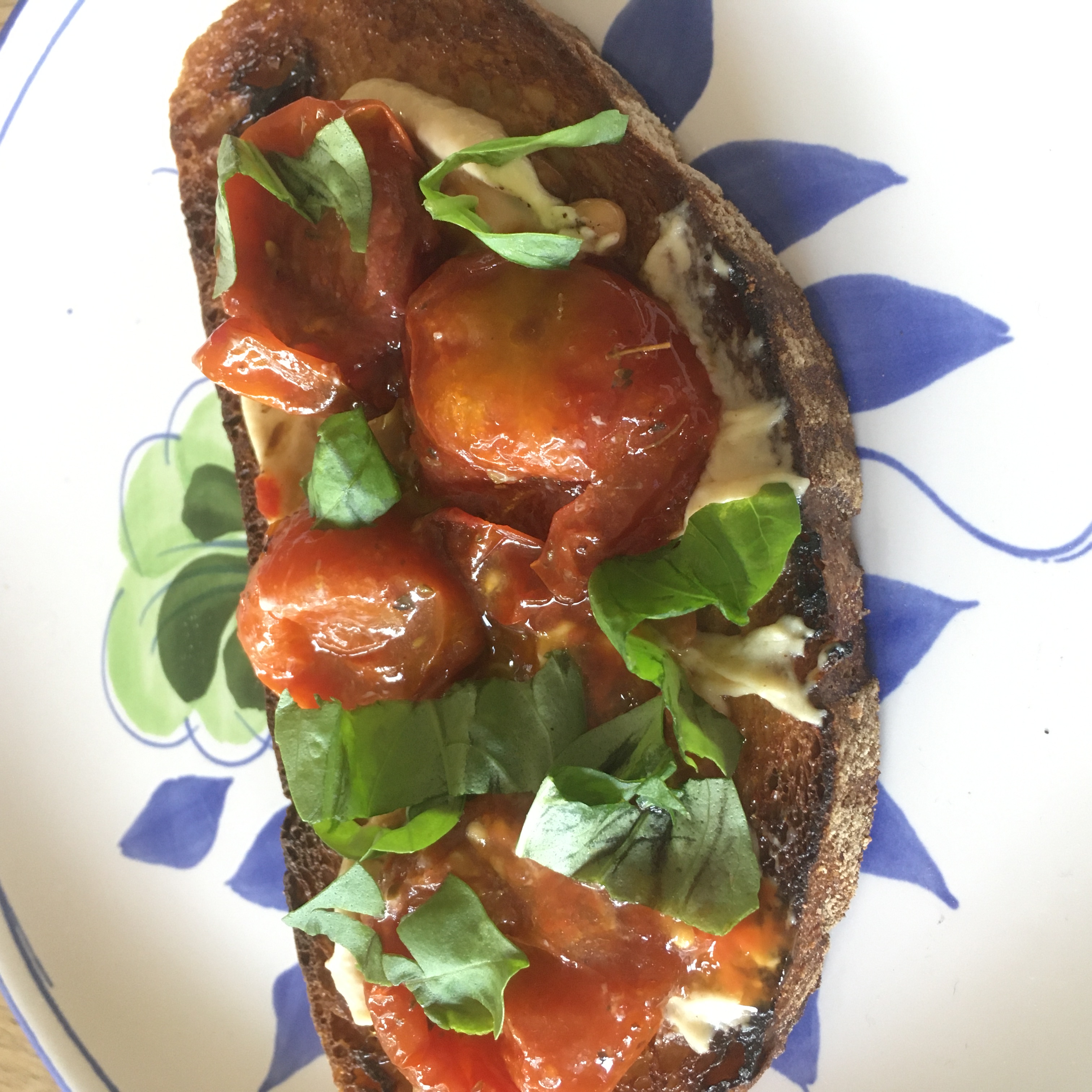 This Week's Mother Nature's Magic... Flowers from Flo's Flower Garden
As you may know, this summer I've been growing flowers in my garden to cut and arrange into bunches that I sell outside my house. I have an honesty box and, in return for a posy, I ask for a donation that is given to Spay It Forward, the sister organisation of Give a Dog a Home, the rescue centre that I got my little dog Flo from. Spay It Forward funds spay and neuter projects in European countries where there are many stray and street dogs and cats enduring harsh and miserable lives. In some countries stray dogs are considered a problem and are periodically collected up by dog-catchers, caged in municipal shelters and, after a period of time, euthanised (often inhumanely) to make space for the next batch. Spaying and neutering is the only way to reduce the number of puppies and kittens being born into this otherwise never-ending cycle. I'm so happy that my flowers, as well as being enjoyed by members of my local community, also benefit some of the less fortunate beings that we share our planet with. They are grown with love and care, without pesticides and plastic, and are abundant and beautiful, as flowers so often are. I think there's about another month's worth of flowers to come (there are still so many buds on the dahlias) so, if you live locally to Bookham in Surrey and are passing Dowlans Road on a Tuesday or Friday afternoon, please do stop by and pick some up in return for a small donation. If you're not local I thought you might like to see some photos of them instead...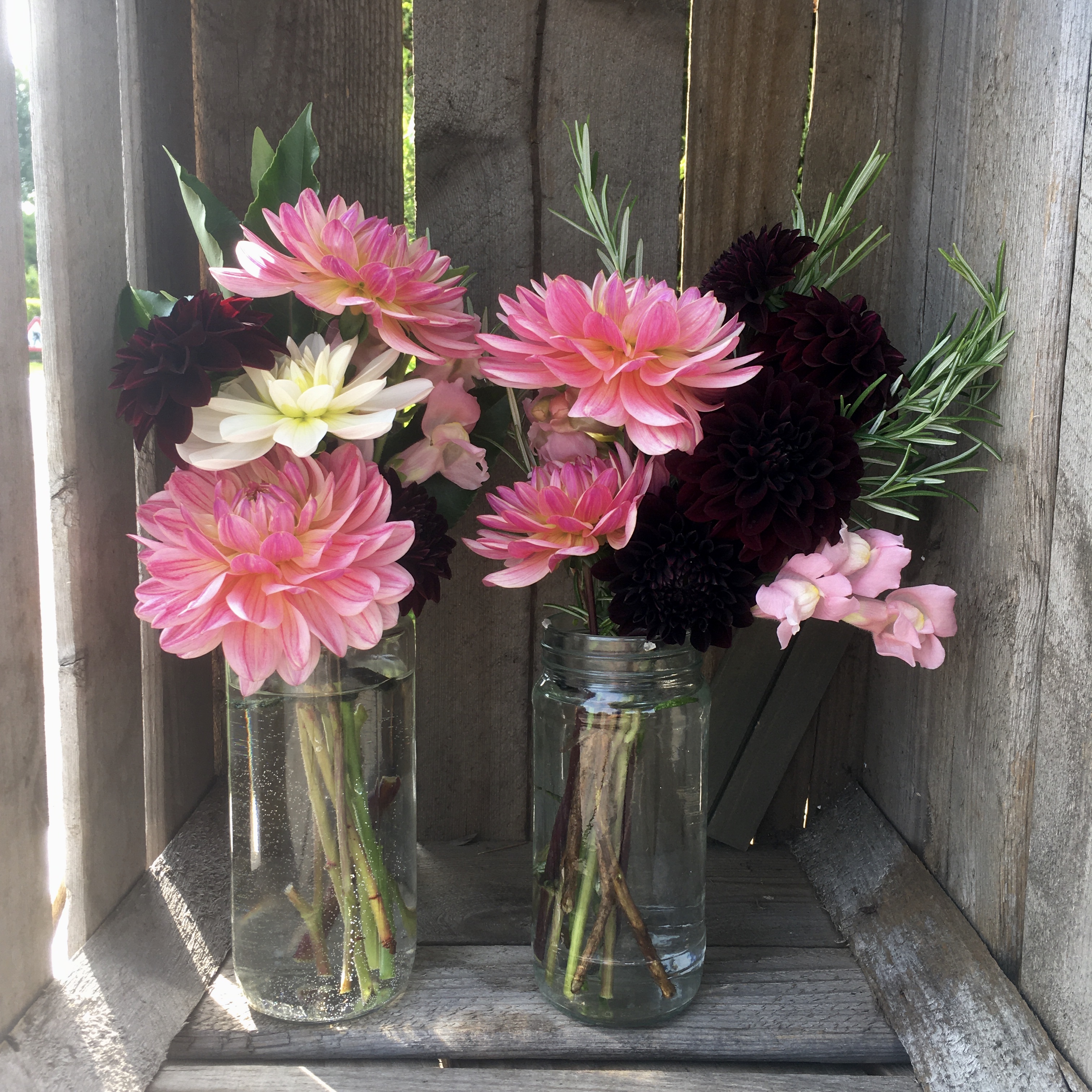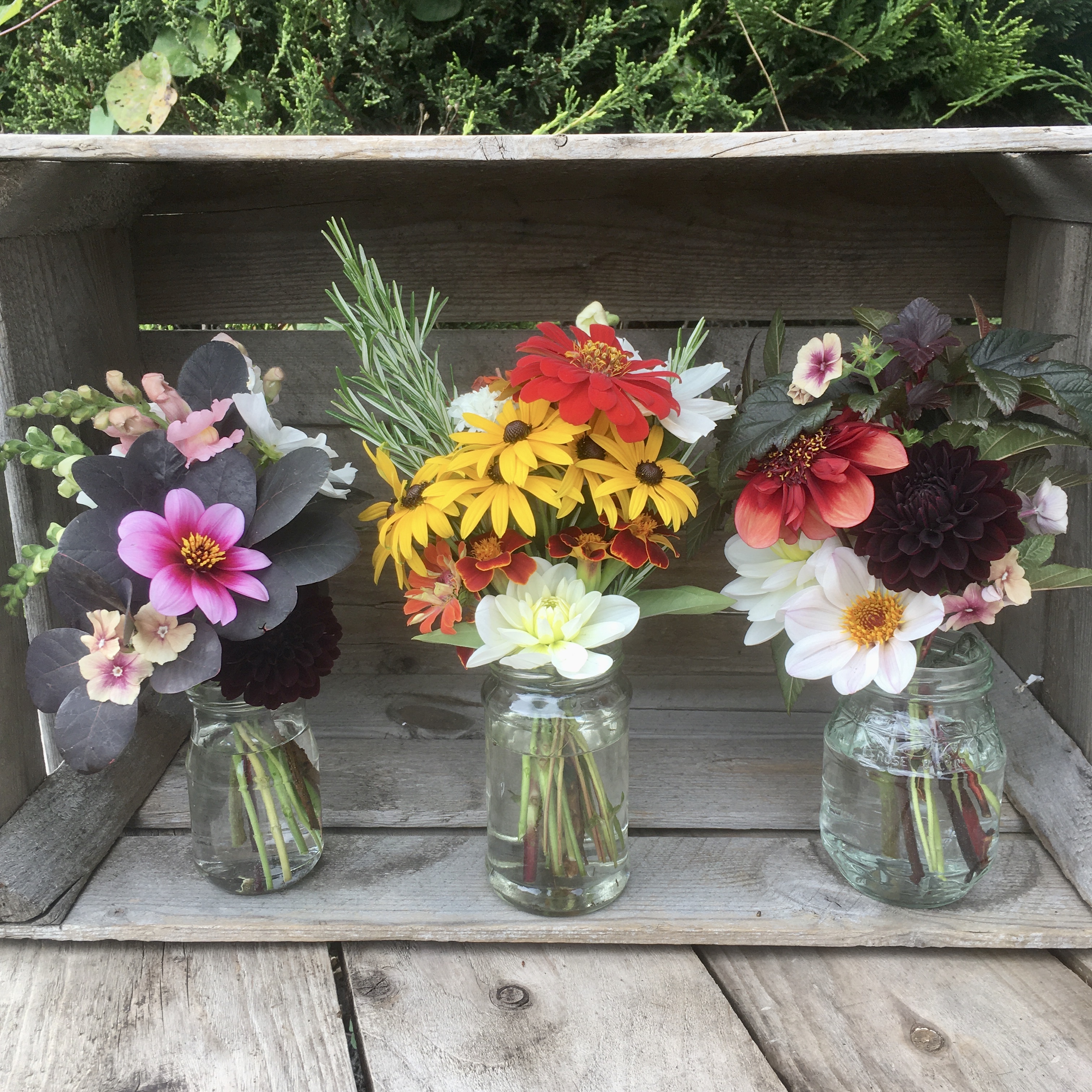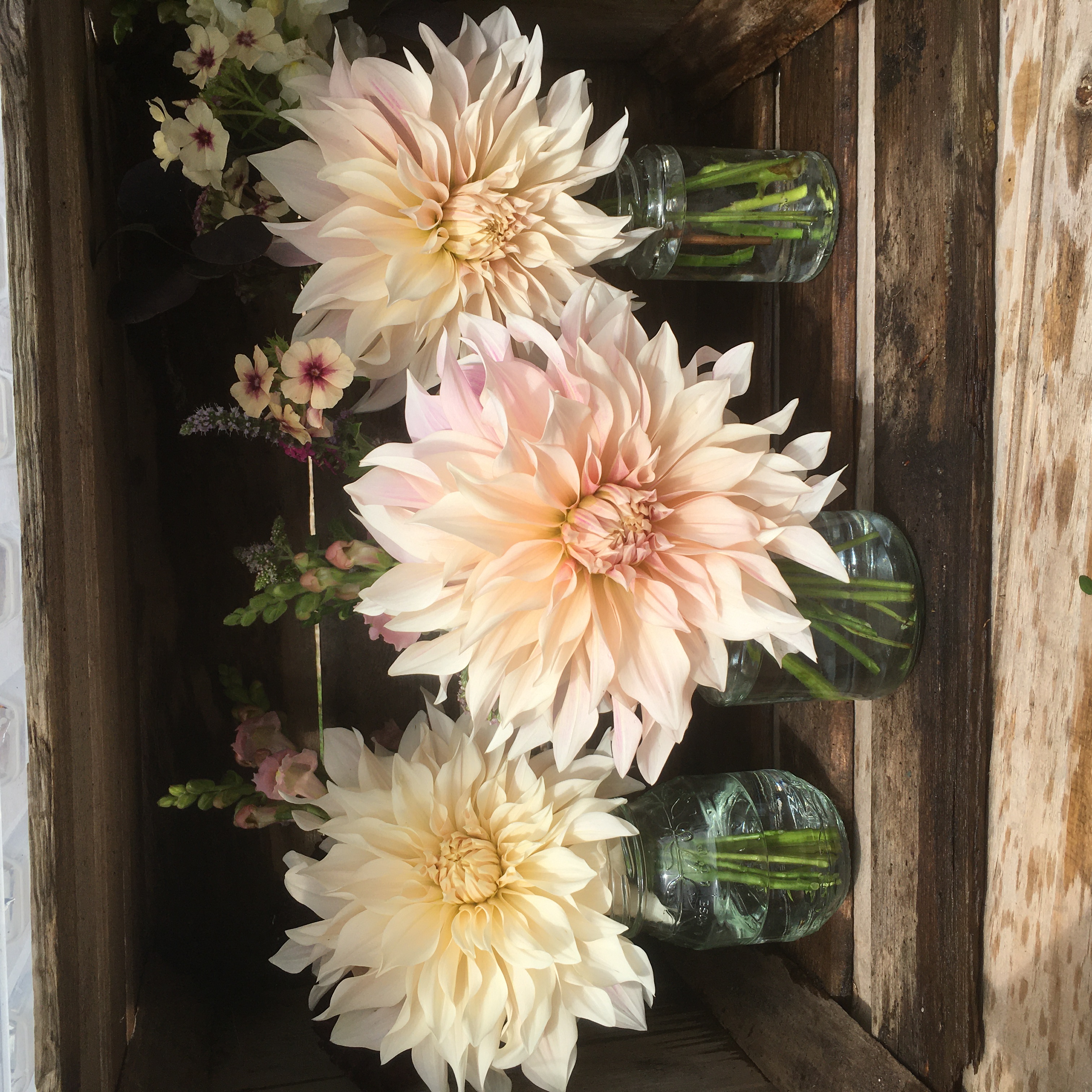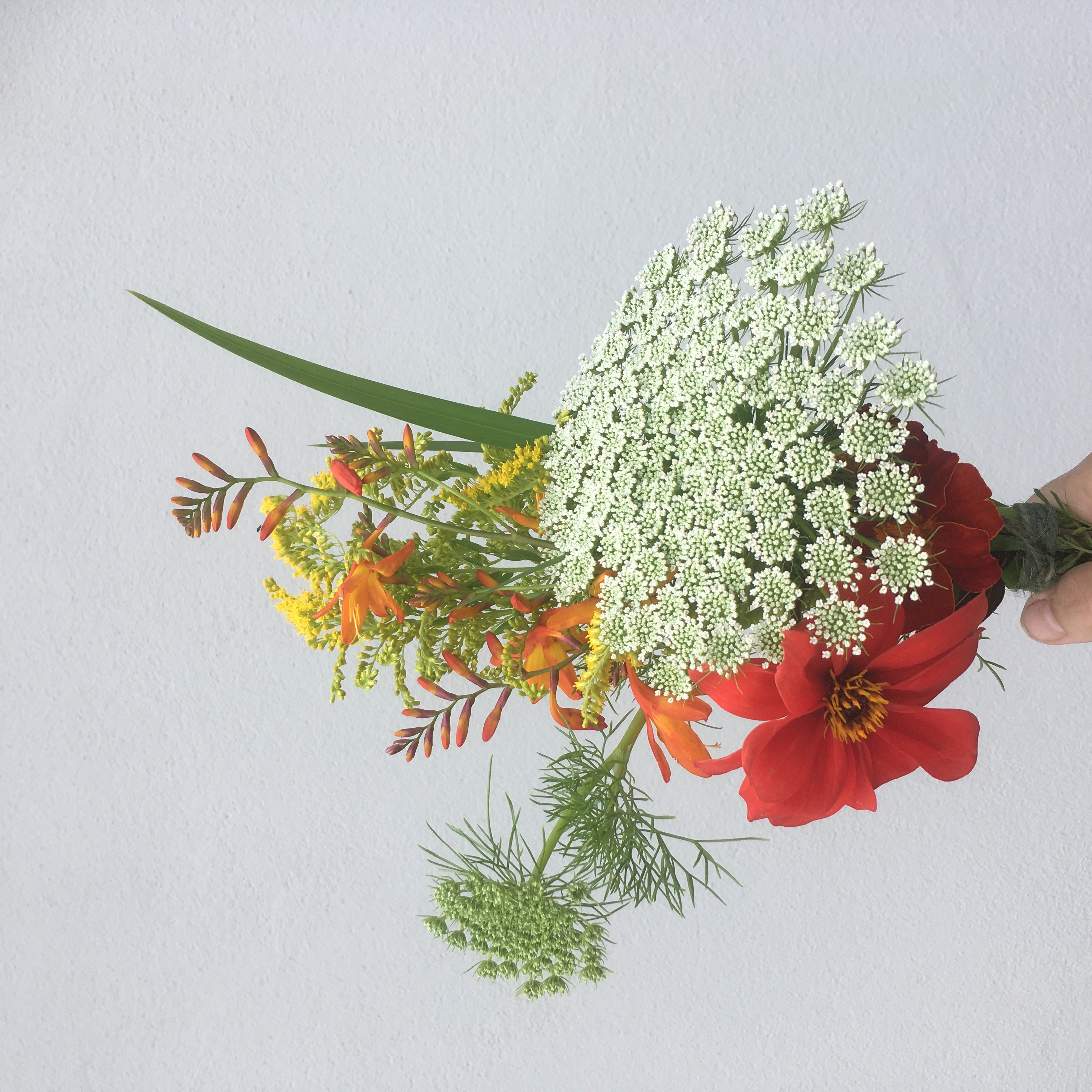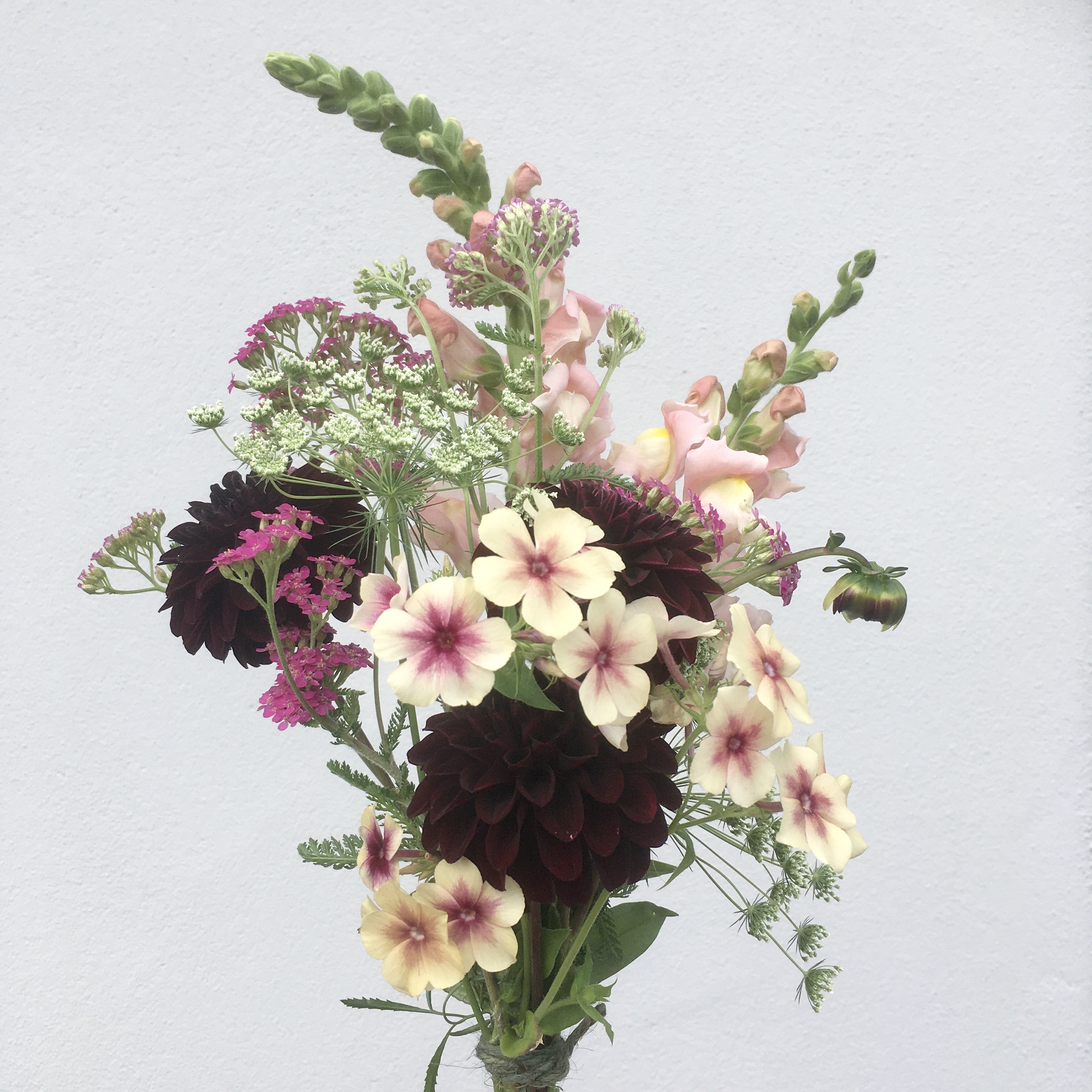 This Week's Musical Offering... Returning by Jennifer Berezan
This mantra chant was the first track on the playlist I shared at the first class of my new half-term last week. It seemed so appropriate - we are both returning and re-turning as we adjust ourselves in our lives and our place in the world right now. It is a beautiful, layered, hypnotic and relaxing track that seems to have no beginning and no end and the lyrics are so relevant, calling us back to the Mother of Us All. It was recorded in an underground sound chamber in a 6,000 year old temple in Malta which adds to its ethereal quality. I hope you enjoy it.
This Week's Video... and finally, if you were in any doubt that Mother Nature holds most of the answers to, well, just about everything, watch this short BBC video about wild swimming and how it helps people with their mental health...