Sowing Sweet Peas in Autumn
Oh how I love Sweet Peas! I love the scent, the delicate frilly petals and the fact that the more you pick, the more you get. You certainly get value for money from a packet of seeds (which will cost you about £3) - they are worth every penny! If you'd like to grow some in your garden next summer now is a great time to start. Autumn-sown Sweet Peas are sturdier and will produce flowers sooner than spring-sown ones, and it's such a great feeling to be looking forward to the brighter days of spring as we negotiate our way through these difficult times.
Sweet peas are Hardy Annuals. 'Hardy' means that they can withstand winter temperatures of down to -5 and 'annual' means that they complete their life cycle within one calendar year. This means that you can sow Sweet Peas now in Autumn which will give them time to develop a strong root system over the winter and become healthy, bushy plants which will get off to a head start in the spring. I'm sowing half of my seeds now and half of them in the spring to give me flowers for a longer period of time.
Below is a short video showing you how to sow Sweet Pea seeds, but first a few tips...
When you choose your seeds look for ones which mention on the packet that they have a long stem (stubby little stems don't make good cut flowers in a vase) and obviously you'll want to choose the ones that have the best scent too.
Soak your seeds for a few hours in water before you sow them. This softens the hard case of the seed, making it easier for the seed to sprout. In the photo below you can see how I put the seeds into a small bowls of water, carefully labelling them so they didn't get muddled up.
I mention in the video that to germinate the seeds it's good to have them in a slightly warmer place - a windowsill in your house, or a heated mat in a greenhouse. Once they have sprouted they need to be moved outside. It seems somehow wrong I know but treat them mean! If you keep them inside they'll be weak and spindly but outside they'll grow tough and strong. A cold greenhouse or somewhere tucked out of the worst of the weather.
Warning: mice love to eat sweet pea seeds - another reason to germinate them indoors.
I use Melcourt Sylvagrow peat-free compost (cheapest I know of is at Vineries Garden Centre, Lower Road, Bookham - 2 bags for £12) and I add a handful of horticultural grit in for extra drainage - helpful but not imperative.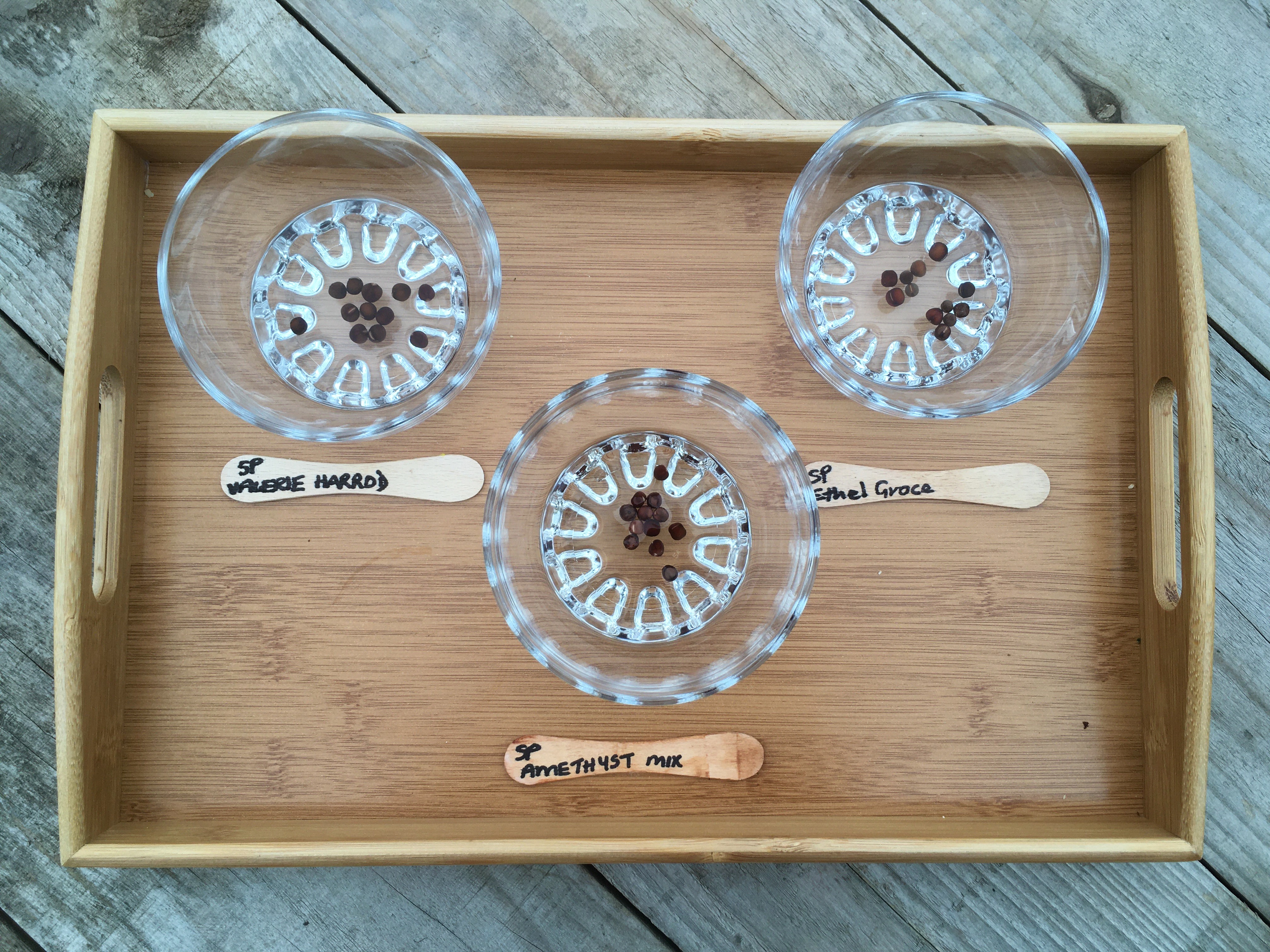 Here is the link to the pots that I mention in the video https://www.rootrainers.co.uk/rootrainers/ - you can buy them at many of the larger garden centres and online at places such Marshall's (www.marshallsgarden.com) and Sarah Raven (www.sarahraven.com) - where you can also buy your seeds.
I'll keep in touch with progress reports so you can follow along and please do ask any questions in the comment below. It will be good to connect and share our knowledge and our results.