Saturday 16th May - Planting Seeds, Pasta Supper and Postcards of Kindness
This Week's Class Notes...
Here's the next in a series of short videos that you can do any time you need to stretch. This week we're working on the hands so these exercises are especially good if you're using a keyboard for long periods. There's no need to roll out your mat, just push your chair away from your table or desk and follow along to bring yourself a little ease and mobility...
This Week's Recipe... Mushroom Risoniotto
This recipe comes from Hugh Fearnley-Whittingstall's 'River Cottage Veg Every Day' book. It's a slightly different take on mushroom pasta using risoni (otherwise known as orzo) which makes it more like a risotto. It's quick, easy, filling and vegetarian too. I made a vegan version with Alpro natural yoghurt but, I have to say, I think that made it too sweet. I also added some Schwarz Italian Seasoning and some soy sauce to add to the flavour, and I think some chili flakes might be good too. Experiment with herbs and spices until it's to your taste and serve with a fresh, crunchy salad.
Serves 2
You will need:
2 tablespoons of olive oil
A knob of butter
500g mushrooms (a mixture of chestnut, field or other flavoursome variety)
150g risoni or orzo pasta
2 garlic cloves, chopped
a few sprigs of thyme, leaves only
1 teaspoon balsamic vinegar (plus I used a teaspoon of soy sauce as well for more flavour)
75ml dry white wine
50ml double cream or creme fraiche
Sea salt and freshly ground black pepper
Flat-leaf parsley, chopped, to serve
And here's how to make it:
Put a large pan of well-salted water on to boil, so you're ready to cook the pasta while the sauce is coming together.
Heat one tablespoon of the oil and half the butter in a large frying pan over a medium-high heat. Add half the mushrooms and cook briskly, stirring often, until all the liquid released has evaporated and the mushrooms are starting to caramelize. Transfer to a dish and repeat with the rest of the oil, butter and mushrooms. (Cooking in two batches like this avoids overcrowding the pan and ensures the mushrooms do not stew).
When the second batch of mushrooms are nearly cooked, add the pasta to the pan of boiling water and cook until al dente (around 8 minutes).
Return the first lot of mushrooms to the frying pan. Add the garlic, thyme and balsamic vinegar (and soy sauce if using) and cook, stirring, for a minute or two. Add the wine and cook until there is almost no liquid left. Add the cream or creme fraiche, reduce the heat a little and stir until it is just about simmering. Season with salt, pepper (and chili flakes if you like)
Drain the pasta as soon as it is cooked, add to the mushroom mixture and toss well. Serve scattered with the chopped parsley.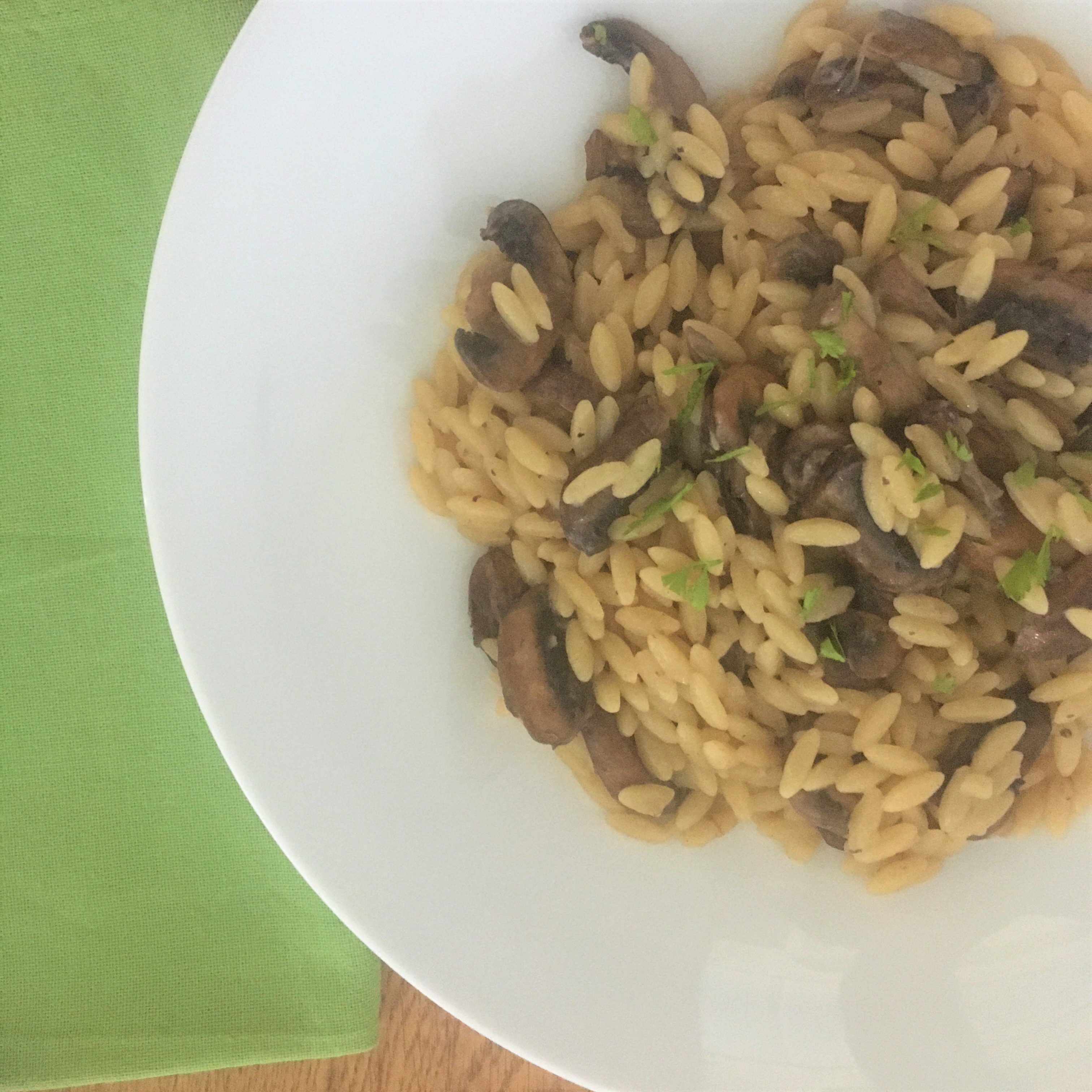 This Week's Mother Nature's Magic...Seeds
Now that we're allowed back in the garden centres (hooray!) why not buy yourself a few packets of seeds if you haven't done so already. It's a great time to sow seeds such as French and runner beans, courgettes and cucumbers, beetroot and spring onions, which will all give you a good harvest of delicious veg in just a few weeks time. You can also sow frost-tender flowers such as zinnia, cosmos and sunflowers that will make your late summer garden glow with colour if you get them started off now. Sowing and nurturing seeds is such a satisfying thing to do. It's full of optimism - a sense of trusting in the cycles of Mother Nature and that good things are going to happen if you offer your care and attention in return - you take these tiny dried up capsules and put them in moist, warm soil and voila... down go the roots, and up come the shoots that will grow and grow and grow, turning into foliage and flowers to delight us. All that energy in that little seed - it's so amazing. Take a look at this time-lapse video and see if you feel that sense of wonder too...
And here's a little poem that reminds us that seeds are full of potential and new life ...
A Spike of Green
by Barbara Baker
When I went out,
The sun was hot,
It shone upon
My flower pot.
And there I saw
A spike of green,
That no one else
Had ever seen.
On other days
The things I see,
Are mostly old
Apart from me.
But this green spike
So new and small,
Had never yet
Been seen at all.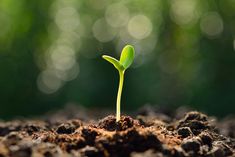 This Week's Musical Offering...
'For the Summer, or Forever' by Halftribe. A lovely atmospheric track to add to your relaxation playlist. It's perfect for Savasana and for pausing in your day for a few minutes' meditation too.
This Week's Video... Postcards of Kindness and Send a Smile
This initiative was brought to my attention by long-time blog reader Vicky. She's taking part in a project called 'Postcards of Kindness' which, as you'll see in the short video below, asks people to write and send postcards to residents of care homes. These cards provide interest, combat loneliness and encourage conversation and connection with others. It's a lovely idea which is especially helpful at this time of isolation and would be really easy to get involved with. If you are interested you can join the Facebook group here, where you will find the guidelines and a list of participating care homes.
The Mary Frances Trust, a mental health charity based in Leatherhead, is also running a postcard scheme in conjunction with The Swan Centre (where it is based). For Mental Health Awareness Week, which takes place from 18-24 May, you can send a postcard to a loved one to let them know you're thinking of them . It's free but there is the option to add a donation to support the Trust. Again, this way of connecting with people we haven't seen for a while is especially welcome at this time of isolation. To find out more about this scheme and choose your postcard, please go to either The Mary Frances Trust website page here or The Swan Centre website page here.
Vicky also sent me a photo of her daughter and their dog doing their yoga practice. What a great photo - I love how Dexter has his own mat :-)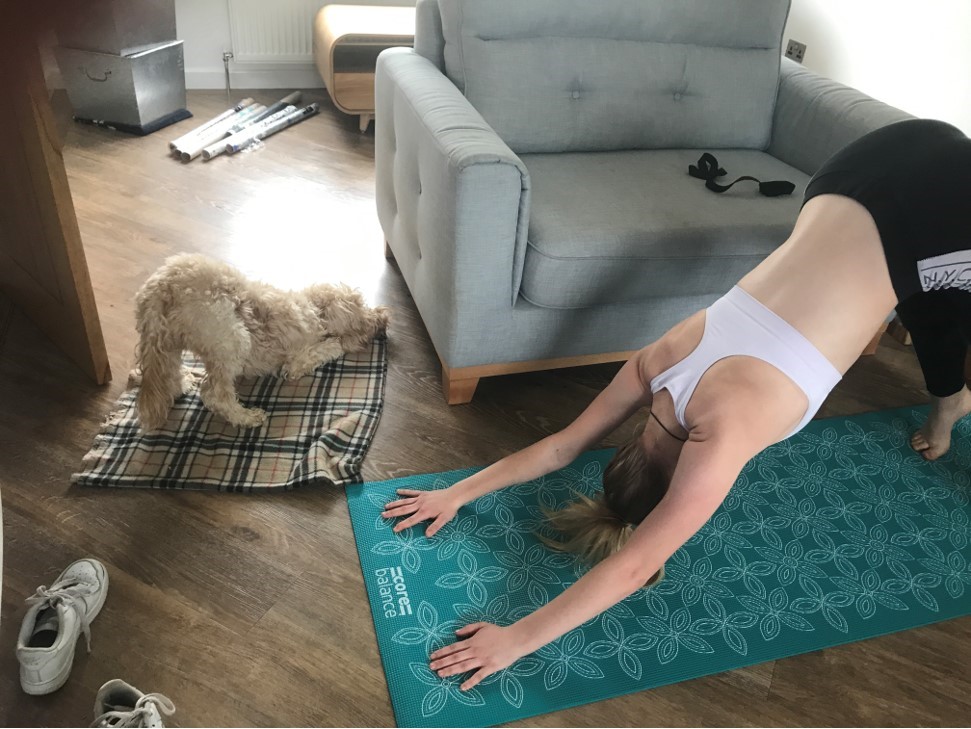 If your pets join you for yoga and you manage to get a photo, please send it to me so I can share it here - I think we all enjoy seeing them ;-)
Have a lovely weekend and, as always, thanks for reading.