Friday 27th November - Christmas Present Props, Energy Balls and Octopus Teachers
Class Notes... Want Some Yoga Kit For Christmas?... here are a few ideas of useful things to put on your list...
As practising yoga at home continues to be the norm and the probability that when in-person classes do resume sharing equipment won't be advisable for a while, it makes sense to have your own kit. Blocks are definitely more comfortable than making do with books and having a buckle in your strap makes adjustments easier and quicker. Although they might be considered a bit of a luxury, props are not expensive and really do last a long time. So, if you're stuck for a few things to put on your Christmas list, why not ask for some props to complete your kit?
There are a lot of different props out there and it can be difficult to make the best choice. It would be easy to buy everything from Amazon but I'm going to ask you not to for a couple of reasons: a) you never quite know exactly what you're going to get - there's a lot of cheap and poor quality stuff out there and b) I'd like to persuade you to buy from smaller businesses right now and not feed the voracious Amazon machine. Yoga Mad and Yogamatters are small UK businesses built from the ground up and both, over the 16 or so years that I have been using them, have been professional, reliable and efficient and sell quality products.
So I've compiled a list of my favourite props that I think will enhance your yoga experience, together with the links to the websites so you can share them with your loved ones so they can buy your prezzies more easily...
For flat blocks - https://www.yogamatters.com/collections/best-selling-yoga-props/products/yogamatters-yoga-block and https://www.mad-hq.com/full-yoga-block-eva-foam
For bricks - https://www.yogamatters.com/collections/best-selling-yoga-props/products/yogamatters-yoga-brick and https://www.mad-hq.com/product/yoga-mad-brick-pair-purple
For belts - https://www.yogamatters.com/collections/yoga-belts/products/yogamatters-d-ring-yoga-belt is the standard one I recommend, although there are other lengths and widths on the 'Belts' page too and lots to choose from here https://www.mad-hq.com/yoga-belts
For bolsters - there are two types of filling here - buckwheat which is heavier and denser (if you've ever been to one of my classes and used my blue ones, they're filled with buckwheat) and polyester wadding (like my green ones) which are lightweight and a little more 'giving' - there are lots of different ones to choose from here https://www.yogamatters.com/collections/yoga-bolsters and here https://www.mad-hq.com/yoga-bolsters
For eye pillows - https://www.yogamatters.com/collections/eye-pillows-sandbags and https://www.mad-hq.com/eye-pillows
For blankets - Ikea or similar fleece blankets will do just fine but you can buy thick, firm cotton blankets which are super-large and are good for folding for support here https://www.yogamatters.com/collections/yoga-blankets and here https://www.mad-hq.com/yoga-blankets
You might also like to burn some incense in your yoga space (best to do this before you start practising - I never like the idea of inhaling smoke in any form) and I recommend the traditional Nag Champa type as they are made of natural oils, spices and resins https://www.yogamatters.com/products/nag-champa-colours-incense-25-grams
If you'd like a yoga book in your stocking on Christmas morning, that presents a little more of a challenge - there are soooo many and really you need to have a flick through before you decide. However, one of the best books I have come across (and which I still refer to regularly for clear instructions and inspiration) is The Yoga Bible by Christina Brown. It's not expensive (and you can find decent used copies on Amazon) and I don't think it would be an unwelcome gift - https://www.yogamatters.com/products/the-yoga-bible and here too https://www.waterstones.com/book/the-yoga-bible/christina-brown/9781841813684
Finally, if you're shopping somewhere that has a TK Maxx it's definitely worth popping in to look at their exercise section. They often have blocks and bricks and sometimes they have decent mats too, but check the sizes - the cheaper ones are often smaller and thinner than standard. TK Maxx is a good place for yoga clothes too - it takes a bit of rifling through but you can often find tshirts and leggings by decent brands at much cheaper prices.
I hope Santa and the elves bring you some yoga goodies - they will be a good present - you know that you'll use them regularly and they will last for years.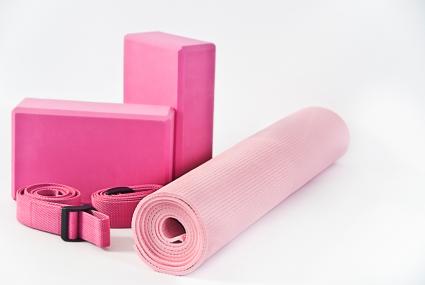 ps. the blocks that you see in the photo above are the US equivalent to our flat blocks and bricks. I think they are used for Pilates too. They work really well - a sort of combination of the two - and you can often find them in TK Maxx at very reasonable prices.
pps. Yogamatters has a sale on right now!!
This Week's Recipe...Apple Crumble Energy Balls
If I was to go to the shops and buy a packet of biscuits I'd end up eating the lot in one go and then regretting it, so I try to resist putting them in my basket. However, I often feel like something sweet when I have my afternoon cup of tea and sometimes an apple or some dried apricots just doesn't do the trick. So I was delighted to find this BBC Good Food recipe for these yummy treats that are so easy to make and full of good, natural ingredients (although admittedly the dates might make them a little high in calories). They'll keep in the fridge in an airtight container for up to 5 days - if they last that long!
You'll need...
50g oats
50g pitted dates (about 3)
50g ground almonds
2 tbsp almond butter
¼ tsp cinnamon, plus extra for dusting
30g dried apple slices
½ apple
And here's how to make them...
Blitz 30g of the oats in a food processor with the dates, ground almonds, almond butter, cinnamon, dried apple slices and a pinch of salt until roughly chopped and beginning to clump together.
Grate in the apple, skin and all, then add the remaining oats and pulse until combined.
Roll the mixture into 10 balls and dust with a little more cinnamon.
Put in the fridge for 30 mins to firm up.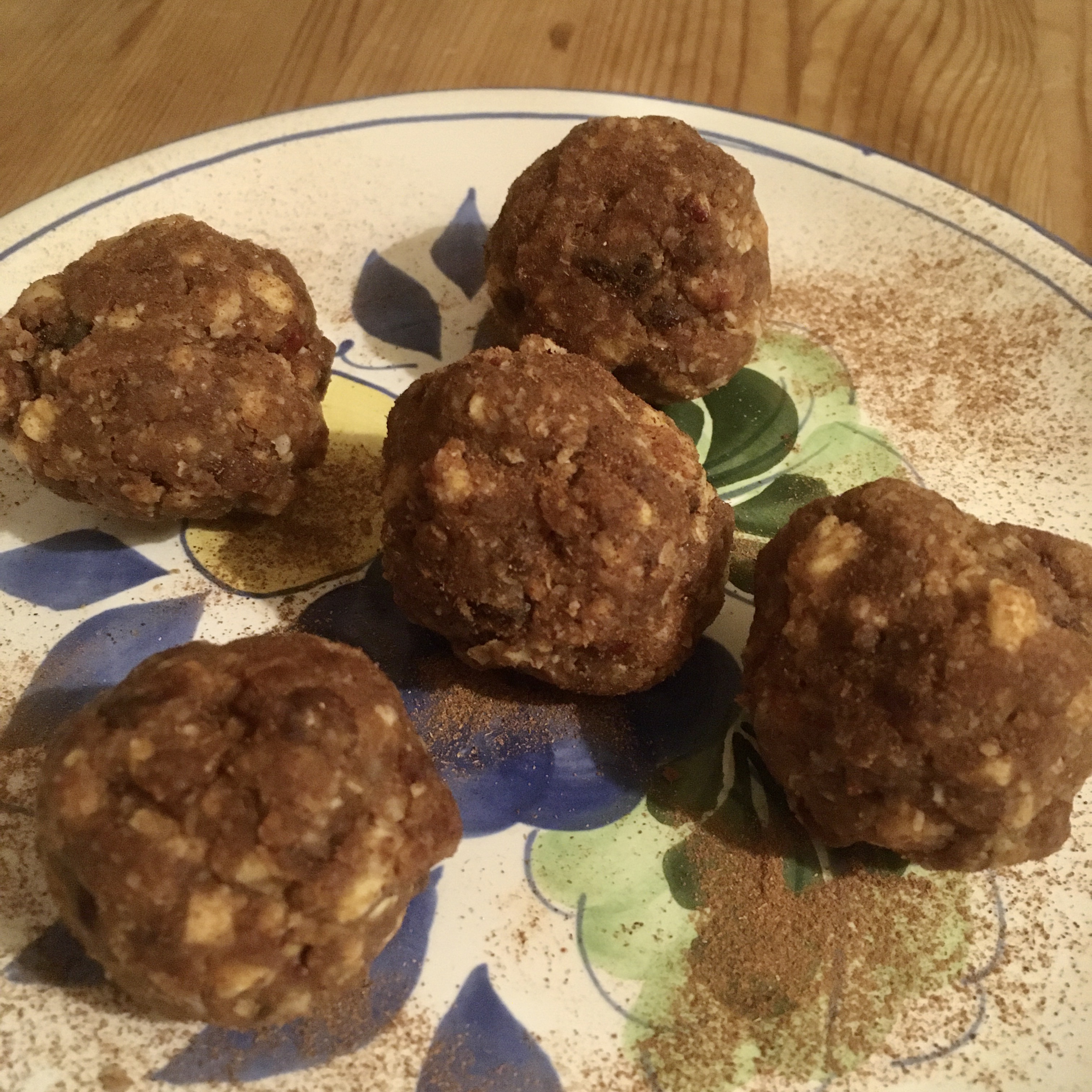 This Week's Mother Nature's Magic...My Octopus Teacher
If you have access to Netflix I highly recommend this film. It documents a year filmmaker Craig Foster spent forging a relationship with a wild common octopus in a South African kelp forest. It's educational, emotional and completely enchanting. Here's the trailer to tempt you...
This Week's Musical Offering... Delicate by Joey Fehrenbach
This rhythmic track would be good to accompany your Sun Salutations or flow sequence.
This Week's Video... One Breath Around The World
This short film takes us on a journey across the oceans of the world with French freediver Guillaume Nery as he swims and glides through ancient ruins, underneath the ice and between sperm whales in this magical adventure. Filmed by his partner, they dive without any equipment, holding their breath for up to 7 minutes(!) to bring us this unique view of our world. Lovely music too...
Until next time... thanks for reading, listening and watching...