Monday 4th November - Practice, Pumpkins and Poems
This Week's Class Notes...Some Tips to Help You Practice Yoga at Home
Last week was half-term holidays for me. I've done lots of interesting things - a tour of Highgate Cemetery (fascinating), a final visit of the year to the Hannah Peschar Sculpture Garden (beautiful), celebrated friends' birthdays and made another trip to London to see a play by David Baddiel called God's Dice. All these activities are super fun but they do mean that I'm out of my regular routine and my home practice takes a bit of a back-seat. I definitely wandered off the yoga path last week and am looking forward to stepping back on it - no self-judgement and 'should haves', I'll just restart with fresh intentions. My body has missed its regular mobility and stretching routines and my mind has missed the peace and special quiet time. I'm guessing that, at some point, this has happened to you too.
Practising yoga at home has many benefits - you don't have to go out to class on cold, wet evenings, it doesn't cost you anything and you can do what you feel your body needs rather than the poses that your teacher has chosen - but it's easy to push it to the bottom of the 'to do' list and then forget about it. So, if you'd like a bit more yoga in your life but just can't quite get into your home yoga groove, here are a few tips that have worked for me over the years. I hope you'll them find helpful too...
Do keep it simple - you don't need to plan out an elaborate sequence, just get on your mat and start with one pose and you'll probably find that it leads on to another, and another and another. You'll remember more than you think you will and before you know it you'll have done a satisfying sequence.
Do be kind to yourself - your practice doesn't have to be perfect. If you get your lefts and your rights muddled or forget the pose and make up your own variation that's fine. It really doesn't matter. What does matter is that you're moving your body and breathing well.
Do keep your mat out where you can see it - don't put it away in the cupboard because, as the old saying goes, 'out of sight is out of mind'. You don't have to leave it unrolled - not everyone has space in their home for a dedicated yoga practice area - but just keeping your rolled mat leaning against the wall will act as a reminder whenever you walk past it.
Don't worry about not having enough time to do a full 75 minute practice. It's amazing what you can do in 15 minutes - a couple of rounds of Sun Salutations, some Downward Dogs to Warrior 2, Reverse Warrior and Side Angle Pose and you've got yourself a nice little sequence.
Don't feel that you have to get changed into your yoga kit - there are plenty of poses you can do in your jeans or your work clothes (I once did a headstand in front of Notre Dame Cathedral in a denim mini skirt!- but I can't find the photo to prove it!)
Do what you can, from where you are, with what you've got - use your kitchen worktop, dining room chairs and even your sofa to help you do your poses.
If all else fails, just lie with your legs up the wall in Viparita Karani. Simply lying down, breathing consciously and allowing yourself to rest for 5-10 minutes is a wonderfully beneficial practice to do.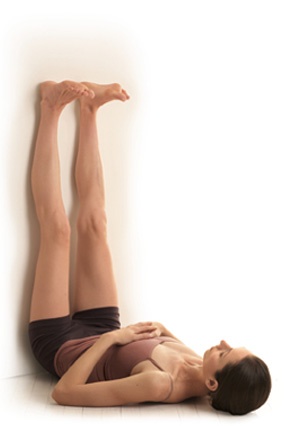 This Week's Recipe...Roasted Squash and Red Lentil Soup
Halloween may be over but you'll still find some pumpkins in the shops, and there are all sorts of other squash you could try if you want to make this tasty, nutritious soup. A lot of the squash in the shops come from abroad but, if you want to buy locally grown produce you can buy, and pick-your-own, at the places listed here https://localfoodbritain.com/surrey/about-surrey/pumpkins-in-surrey-and-sussex/. You can also get UK grown squash from companies such as https://www.abelandcole.co.uk/fruit-veg/ and http://riverford.co.uk/ who will deliver fresh organic fruit and veg to your door.
You will need:
1 tablespoon of olive oil
1 medium onion
2 garlic cloves, crushed
1kg (approximately)pumpkin, butternut or other squash, peeled, de-seeded and chopped into small pieces
1 large carrot, peeled and chopped into small pieces
a quarter of a teaspoon of dried chilli flakes
1 teaspoon of cumin
half a teaspoon of paprika
200g red lentils, thoroughly rinsed
1 litre of vegetable stock (I love Marigold Vegetable Bouillon for best flavour)
Salt and pepper
A spoonful of Alpro plain greek yoghurt to serve.
Here's how to make it:
Preheat the oven to 200C. Place the pumpkin pieces in a roasting tin. Add a tablespoon of the oil, salt and pepper and stir well to coat the pieces. Place the tray in the oven for 25-30 minutes until tender.
Heat the remainder of the oil in a saucepan, add the garlic, carrots and onion and cook slowly, stirring often, for 10 minutes until soft and starting to caramelise.
Stir in the cumin, paprika, chilli flakes and roasted pumpkin or squash. Cook for 2 more minutes, then add the stock and the lentils. Bring to the boil, cover and then simmer for about 20 minutes until the lentils are tender.
Allow to cool slightly then blend in batches until smooth. Return to the pan to reheat for a minute. Add a swirl of Greek yoghurt and serve with crusty bread.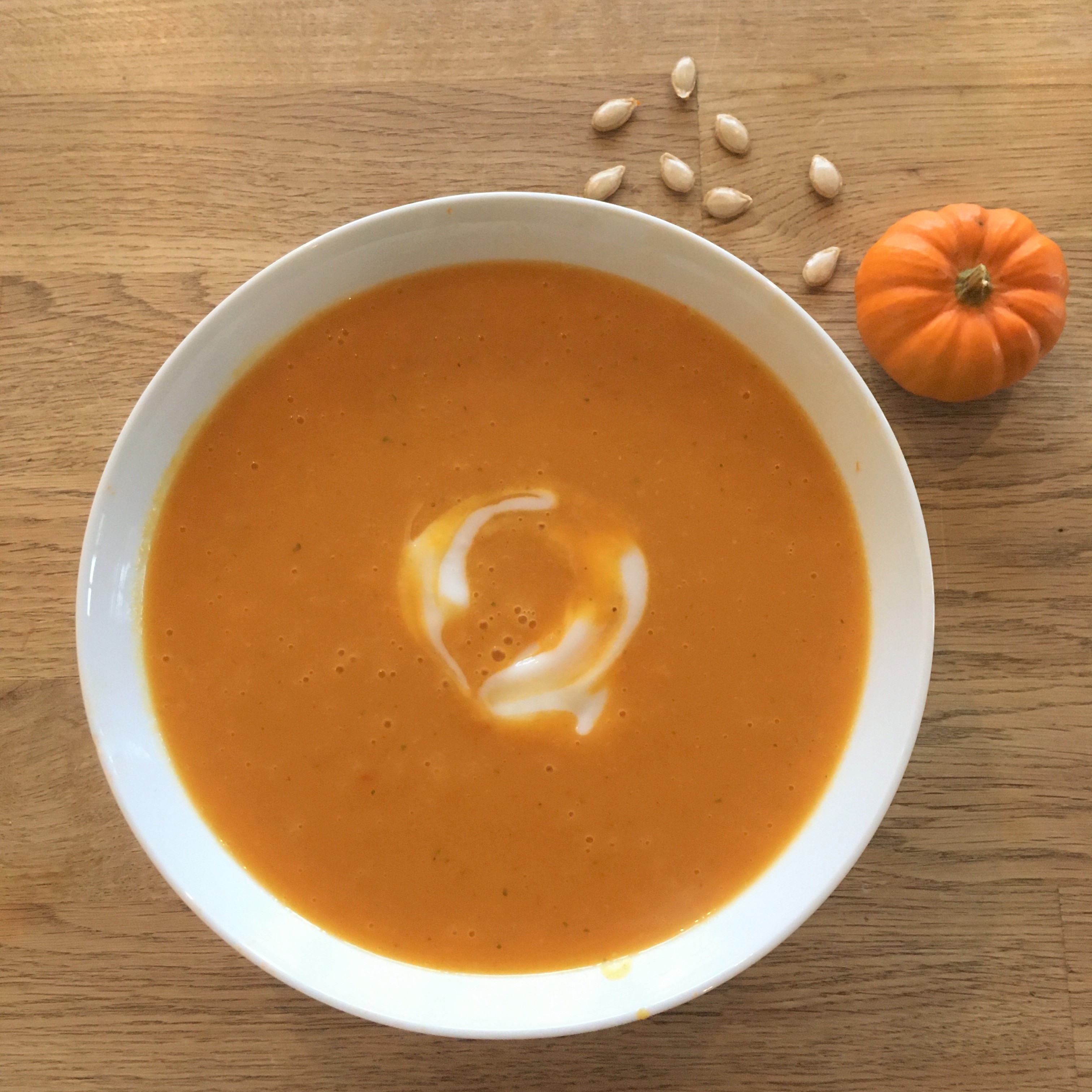 This Week's Mother Nature's Magic... Making the Cheapest and Easiest Bug Hotel
I'm trying not to tidy up too much in the garden this autumn. With all the reminders from the media and conservation organisations, I'm very aware that our insect population is struggling. As always, it's the impact of human beings on other species' habitats that is causing the problem so I'm trying to redress this in my own tiny patch of land. I'm planting some of our native plants such as borage, primroses, foxgloves and hellebores to provide food in the spring, and I'm leaving some of the summer flower stems in place and some leaves on the ground to provide hiding places for insects to over-winter. I've got an insect hotel on my Christmas list but I thought I'd make a very simple one now so that some of the ladybirds and lacewings have somewhere to go and I thought I'd share it with you in case you want to make one too.
You will need:
A plastic bottle (although I rarely buy these now they still sometimes end up in my possession and it's nice to be able to recycle them)
Some twigs and old, hollow stems from the plants that are dying back in your garden.
Some corrugated cardboard.
Some dry fallen leaves and maybe some smallish pine cones if you can find some.
Some scissors and string.
And here's how to make it:
Carefully cut the end off your plastic bottle - it helps to squash it a bit flat to enable you to make the first cut. Make two holes along one side of the bottle and thread your string through to hang it up. Make one hole in the opposite side (which will be the bottom of the hotel) to allow any water that gets in to drain away. Cut some rectangles of cardboard a little shorter than your bottle. Roll them up into tubes and stuff them into the bottle. Add the hollow stems and pack in the dry leaves and pine cones to fill the gaps. Hey presto! You have made a bug hotel! Hang it in a sunny spot in a tree or hedge about 1m above the ground and you'll hopefully have some new residents soon.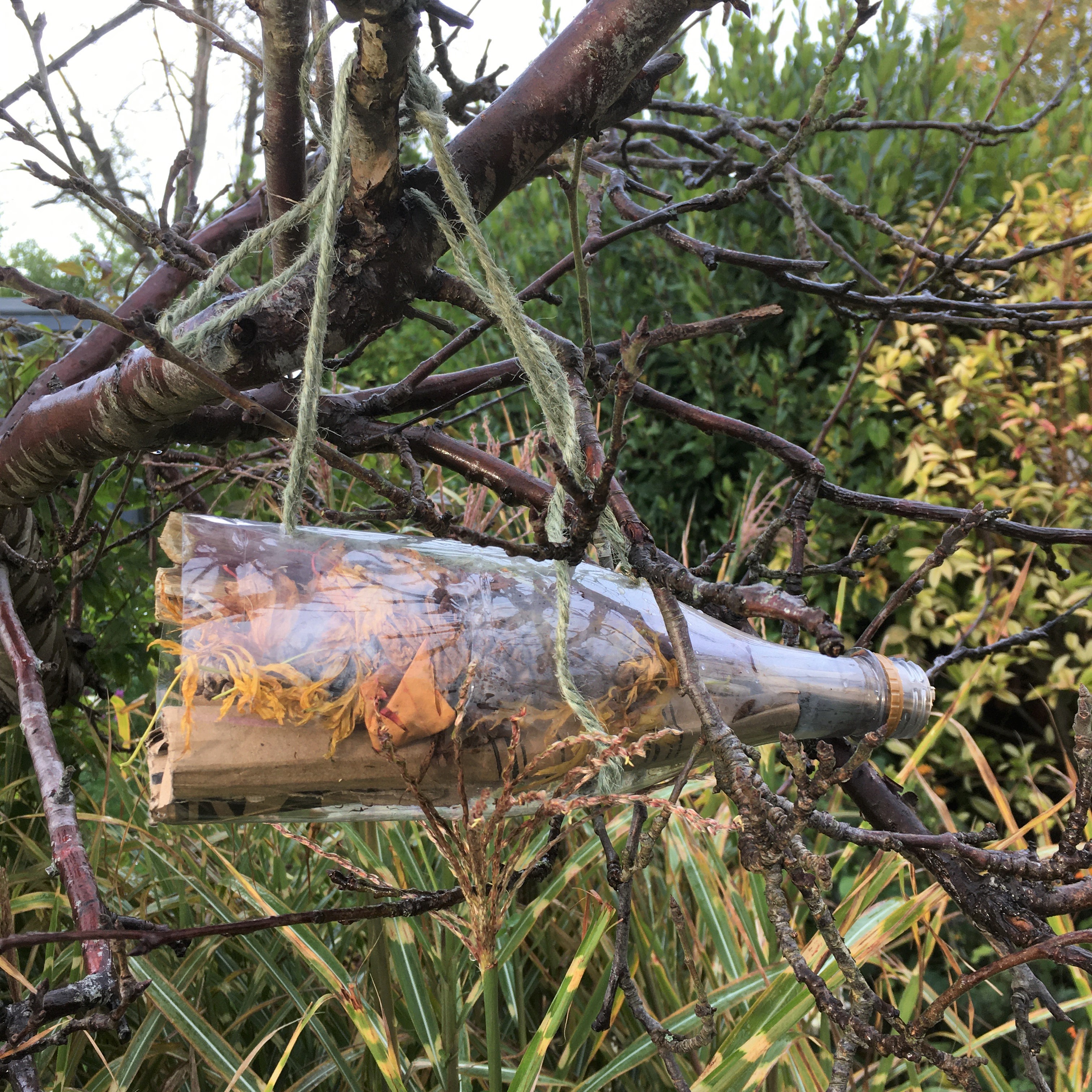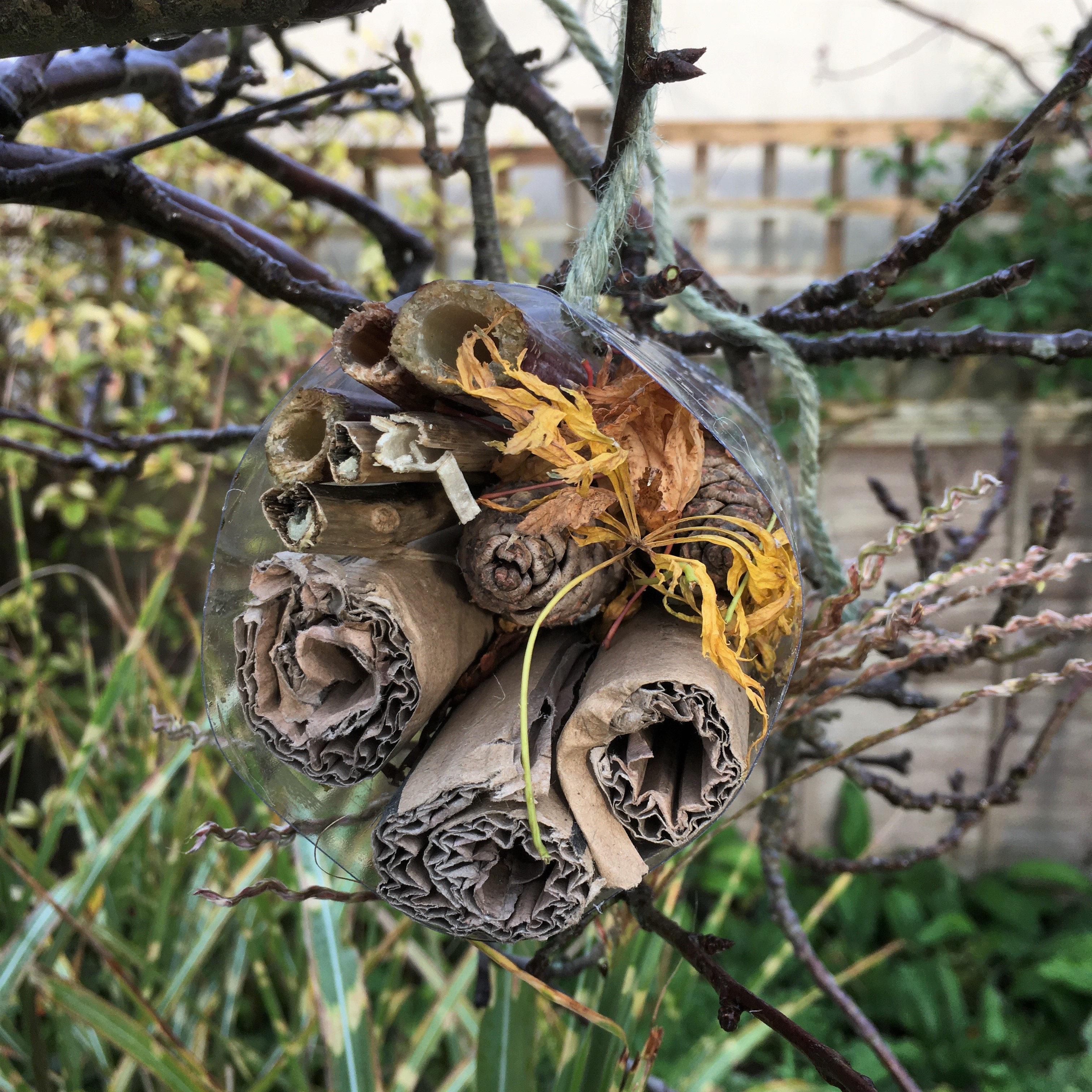 Take a look at this video from the RSPB too - it's shows you how to make a different sort of bug hotel...I'm off to the shed to see what I can find...
This Week's Musical Offering... Healing Indian Song by TCO - 15 minutes of upbeat Indian music to accompany your home practice
And I'll Leave You With... A poem I read in class recently
If Dr Seuss Had Been A Yogi by Yoli Ramazzina
Hello there, Yogi! Namaste.
Would you like to go to yoga today?
No thank you, I am very tired
I slept so poorly… was up late, wired.
Ah, I see, but don't you know?
Yoga calms the senses, helps you let go.
It reduces anxiety and stress
Helps you quiet the mind and worry less.
Yes, I know… But not today,
I do not want to. Namaste.
Would you, could you, here at home?
No need to go out, just sit down and say "Om."
Take a deep breath in, then let it out slow…
Pranayama helps you feel good, you know.
Yes, I know… But not today,
I just don't feel like it. Namaste.
Outside! Perhaps some yoga outdoors?
Greet the sun and make the practice yours!
I do not want to practice yoga today!
I do not want to! Namaste!
How about with a friend? Quick, call one up!
You can strengthen and lengthen and partner up!
I do not want to call a friend.
I do not want to twist or bend.
I don't want to practice yoga today!
I do not want to. Namaste.
I know! How about yoga on the beach?
Sand under your toes, as you stretch and reach!
Ocean breeze upon your cheeks,
As you work your core—those abs and obliques!
Are you not listening to what I say?
No yoga for me, not today.
Not on the beach, and not under the sun.
Not with a friend, not with anyone!
Not by myself at home on my mat
I just don't want to, and that is that.
But yoga makes you feel so strong!
Heart is open and muscles long!
I know you're tired, and grumpy too,
But yoga is the thing to do
To lift your spirit and your mood
You'll have a better attitude!
Okay! Since you refuse to quit,
I guess I can practice… a little bit.
I will unroll my mat and see
What a little asana does for me…
Say! Breathing does help me relax!
I'll just do a few more minutes, max.
These forward bends feel pretty good
They release my back, so I guess they should.
Maybe just one downward dog,
My head feels clear now, no more fog!
I'll glide to plank and lower down
I'm really feeling better now!
Sun Salutations and Warrior Two
My blood is pumping and flowing through
My body strong, my mind is still
I'm feeling centered, zen and chill.
I'm so glad I practiced yoga today!
The light in me sees the light in you…
Namaste.