Saturday 2nd May - Feet, Tweets, Hot Dogs and Yoga Dogs
This Week's Class Notes... Another Video For You - this time some treats for your feet
Last week on the Blog I shared a short video of some shoulder stretches for those of you who are spending lots of time sitting down right now. I know that many who are working from home are spending long hours at their laptops at kitchen tables and are feeling it in their shoulders, necks and upper backs. I've had some good feedback and some requests for more of these short videos. I'm delighted that they are proving useful to help keep you moving in these currently more sedentary times. So this week here are some exercises for your feet. These are good to do to all the time, not just while we're in lockdown - it's so important to keep the mobility in your feet. Please share with friends and family who might find them helpful. Apologies that it goes out of focus a couple of times but I think you'll get the gist...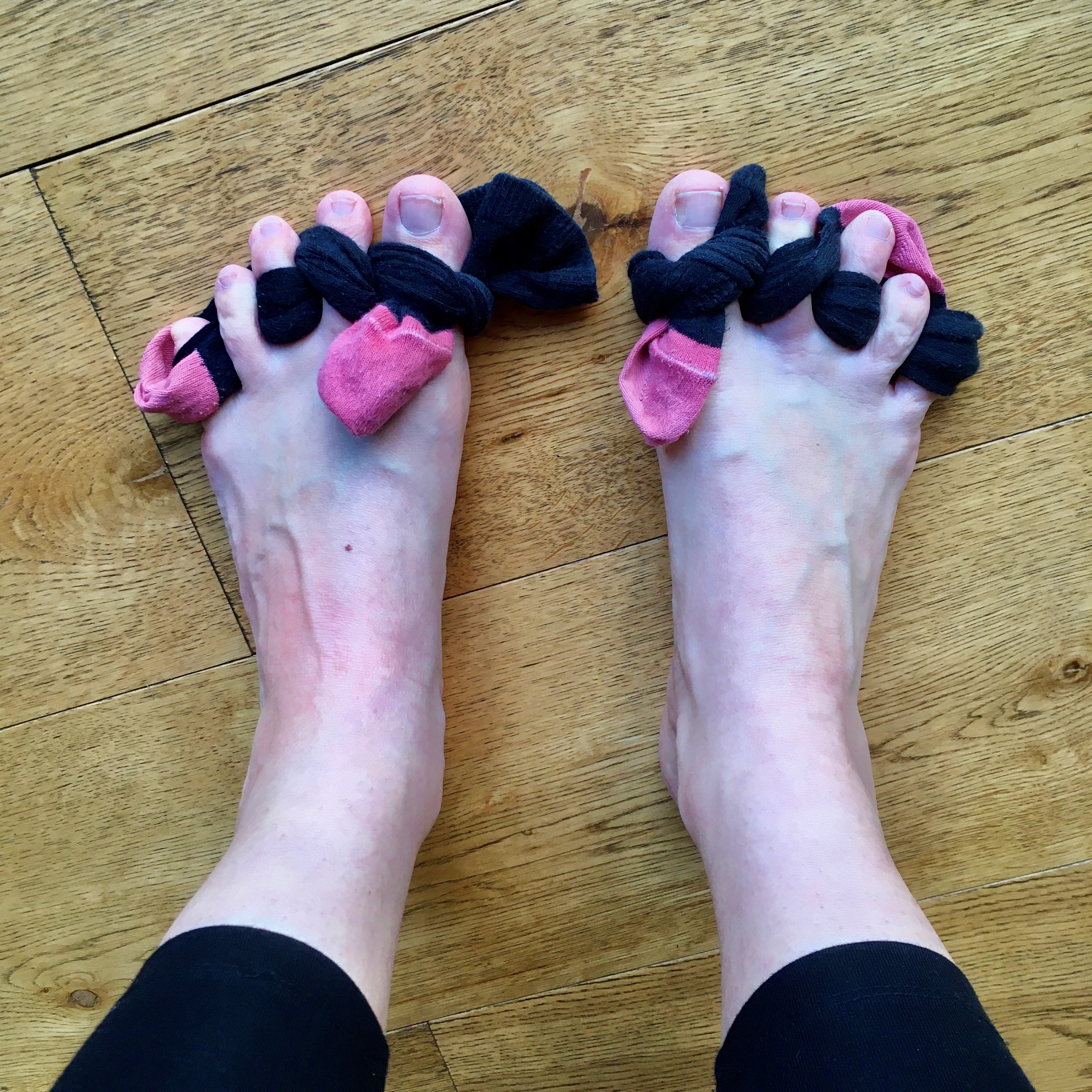 My double-wrapped and spaced toes getting a good stretch - watch the video to find out how and why!
This Week's Recipe... Onion Relish
I decided that I wanted hot-dogs for lunch today - with vegan sausages of course (I like the frozen Bird's Eye ones best but there really are lots of different ones to choose from in the chill counter and frozen section at all the supermarkets nowadays. If you're going to have hot-dogs you definitely need some onions to go with them, and I have a little recipe that I tore out of a magazine ages ago that offers a very quick and tasty relish that's just right ...
You will need:
1 onion, finely sliced
1 tablespoon of olive oil
half a teaspoon of soft brown sugar
1 tablespoon of balsamic vinegar
And here's how to make it:
Put the finely sliced onions into a bowl and mix with the olive oil to coat them.
Gently cook in a frying pan over a low heat for about 10 minutes, stirring regularly so they soften and turn golden but don't burn.
Pour in the vinegar and sprinkle the sugar over and stir again, cooking for a further 2-3 minutes.
Serve warm on your hot dog. Yum! And I'll be eating the leftovers in my sandwich tomorrow.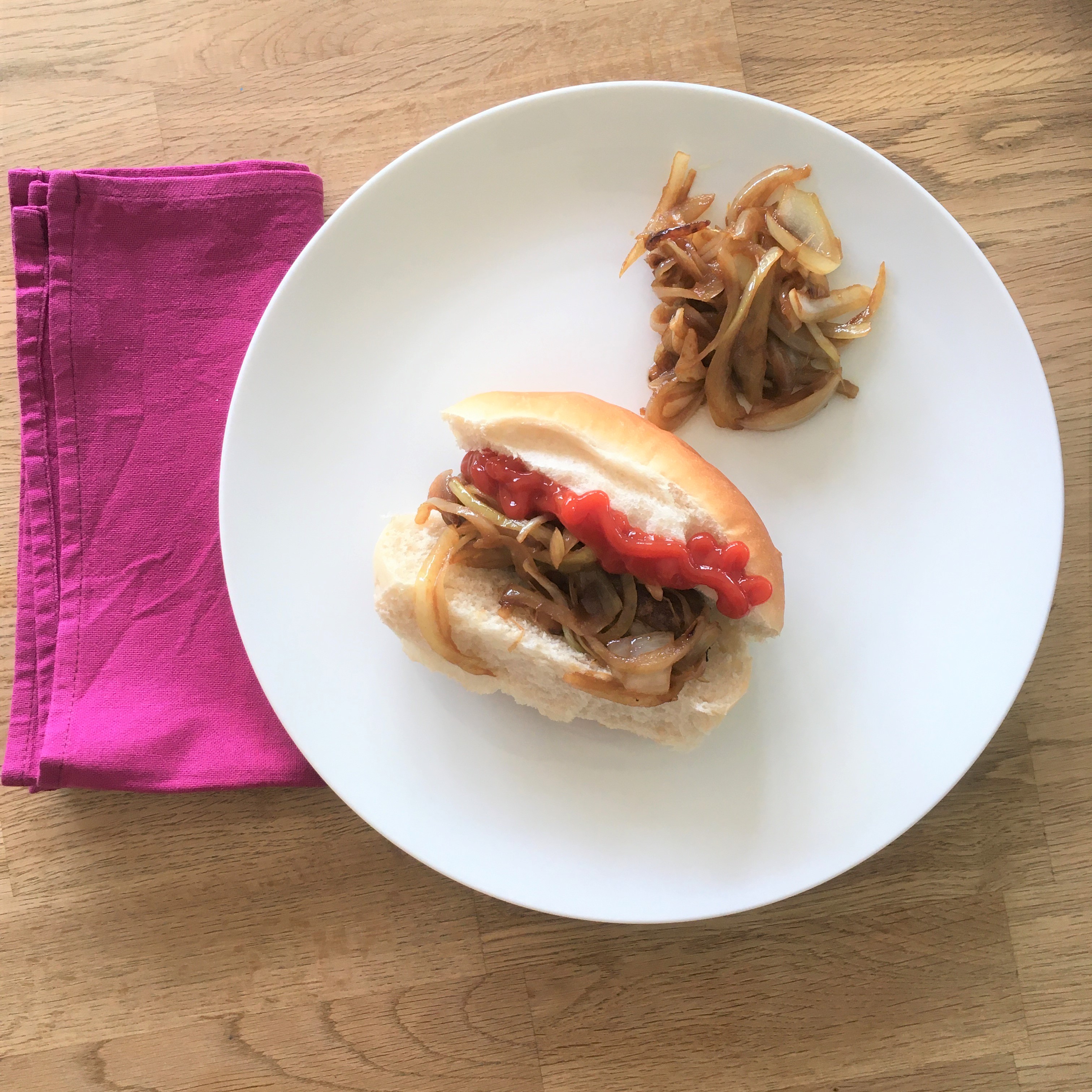 This Week's Mother Nature's Magic... International Dawn Chorus Day
Tomorrow, Sunday 3rd May, is International Dawn Chorus Day, which celebrates the wonderful symphony of early morning birdsong that is coming to its peak just about now. It's the male birds that are doing the singing, to advertise to the females that they are the superior specimen of their breed and would make the best mate. It's also a way to guard their territory - they're telling other birds that this space is taken.
If you're willing to get up early tomorrow (the best time is in the first hour after sunrise, so about 5-5.30am) you can join in with International Dawn Chorus Day, which takes place each year on the first Sunday in May. Although organised events have been cancelled there are still some ways you can be involved. Here are a couple of good articles which will help you get the most from your experience, one from Country Living magazine which interviews both the RSPB and the Wildlife Trusts, one from the Wildlife Trusts and, as you would expect, there's a page on the RSPB's website too. All three contain audio clips of different birds singing to help you decipher just who is making all the noise and, if you're interested to learn more birdsong, you could also check out @lucy-lapwing on Instagram - she has a section on her IGTV called 'Birdsong of the Day' where she plays the song of the bird and then offers some tips of how you can remember it when you hear it again, ie. "the robin sings, then pauses, then sings again - like he's thinking about what to say". Because everything is so much quieter at the moment due to less traffic and aeroplane noise, the sound of the Dawn Chorus will apparently be clearer than usual so we're in for a real treat - I'd better have an early night tonight!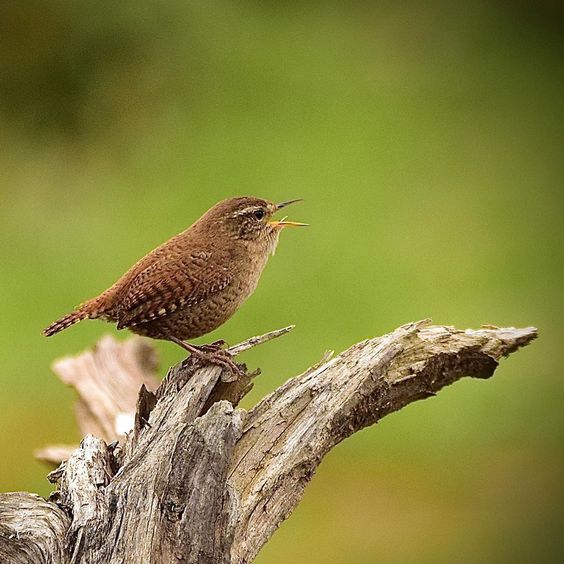 Singing Wren (photo credit Matthew Colegate)
This Week's Musical Offering... Morning Meditation by Yin Yoga Academy
This is a beautiful track that I sometimes play in my classes for Savasana. It has beautiful birdsong throughout and would make a lovely accompaniment to your meditation practice if you're not able to hear the actual dawn chorus from where you are.
This Week's Video... is the Royal Horticultural Society's Top 3 Reasons To Garden For Your Wellbeing
I'm sure you know all this already but it's always good to get a reminder and it might help to encourage you out into the slightly cooler fresh air if you've been driven inside by the much-needed but very wet weather this week.
The RHS has lots of videos on their YouTube channel so for gardening advice, tips, how-to's and glorious gardens to inspire you do take a look.
While we're on the subject of the RHS, they are concerned about the livelihoods of growers and nurseries who are struggling financially right now. You might have seen on recent news reports that plants are being thrown away as the nurseries just cant sell them. This should be the busiest time of year for growers and garden centres but current lockdown rules don't allow them to open. We can however buy via mail order, so the RHS have produced a guide listing nurseries and growers selling the fabulous plants that they were going to take to Chelsea Flower Show and the other RHS shows that have had to be cancelled. If you'd like to support this initiative and fill your garden with glorious colour from top quality plants this summer click HERE to take a wander through the virtual stalls.
This Week's Good News... Loaves in Lockdown
I thought this new section on the Blog might be a welcome diversion from the many sad and worrying stories on the news right now. Although there are good things happening in the world, we often don't get to hear about them. So I hope that these little pieces of positivity will help to balance up the difficult news and stay in the forefront of your mind. We become what we think about most, so let's make sure we're soaking up some encouraging and optimistic stuff too.
If you've wondered why you can't get any flour in the shops at the moment, this article explains... 'Loaves in Lockdown: why people are turning to bread during the pandemic'.
And finally, here are some wonderful photos from my two of my yogis who are doing my Zoom classes at home at the moment, showing their lovely furry friends joining in with (or getting in the way of!) their practice. If you have any pics of your pets enjoying some yoga time on the mat please send them to me at hi@thriveyoga.co.uk - I'd love to share them too.
Have a good weekend and thanks for reading.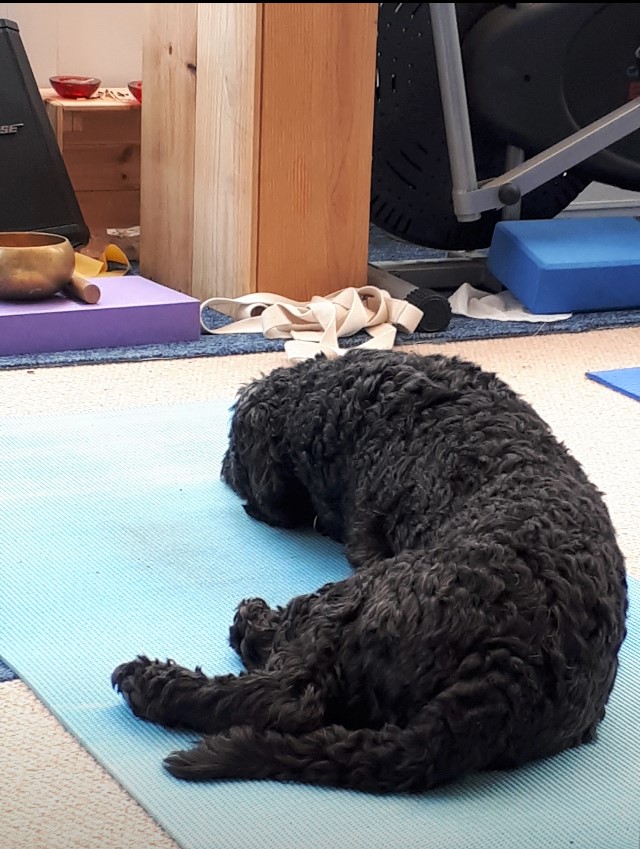 Here's Michelle's dog enjoying some relaxation in Savasana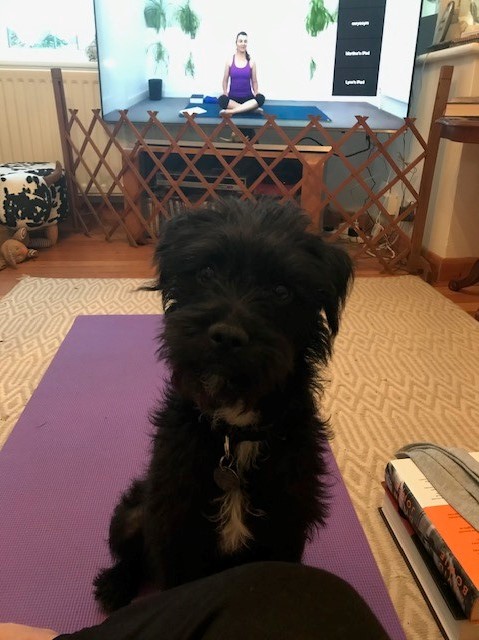 And here's Amanda's puppy, Sweep, sitting up tall and straight in Dandasana