Wednesday 31st July - Backbends and Butterflies
Class Notes... Rediscovering My Back Arch
I went to put something away in the garage yesterday and found my old back arch. I bought it while I was doing my yoga training about 16 years ago! My teacher Ruth used to have us lie on them at the beginning of class to warm up the spine for the backbends which would come later in the session. I used it regularly until we moved house 9 years ago but since then it's been in a cupboard in the garage, forgotten and unloved. I've dusted it off now and have made a pledge to myself to use it every day for the month of August.
Over the years I've had a tricky relationship with backbends. I don't find them easy and I'd much rather fold into a forward bend and stretch the back of my body, but I do like how they make me feel afterwards. But if I don't do them regularly then I don't have a balanced practice and a number of other poses will become more challenging because of this. So backbends it is! And I have a feeling that if I do them every day they will get less challenging and more rewarding - that's often the way it goes in yoga...and in life too.
The back arch will me to stretch my spine in a passive way rather than an active way ie. no effort involved, just a few minutes of stillness resting in the poses. It's not entirely relaxing though - the back arch gives a deep backbend which can take some time to get used to, so I'm starting with just a couple of minutes and will slowly build up the length of time I can stay on it.
Some of the benefits of practising backbends are:
- improved mobility of the spine, opening the chest and giving the lungs and heart more room
- gently stretching and opening the abdominal and pelvic areas and giving their organs more space
- opening the front of the hips (and specifically stretching the iliopsoas muscles) which will improve posture and can relieve aching in the lumbar area
- stimulation of the thyroid gland in the throat to help regulate the production of the hormones which influence the activity of all the cells in your body
- stretching the front of the shoulders and top of the chest to help improve posture, relieve tight shoulders and aching neck
- encouraging full, deep breathing to bring fresh oxygen into the body
If you want to improve your backbends and get all those great benefits, then you could get yourself a back arch (they cost about £40 at Ruth White Yoga Products and on Amazon) or you could use a bolster instead if you have one. If you don't want to buy one and/or you want a gentler backbend (although there is an Easy Back Arch too which has a softer curve to it) you could lie over a rolled blanket or bath towel and deepen your backbend when you are ready by elevating your roll on a yoga block or a cushion. There's a good set of instructions available on the Back Arch page on the Ruth White website too so you can be sure you're dong it safely. The photos below show you some of the ways you can practise backbends, with and without a back arch: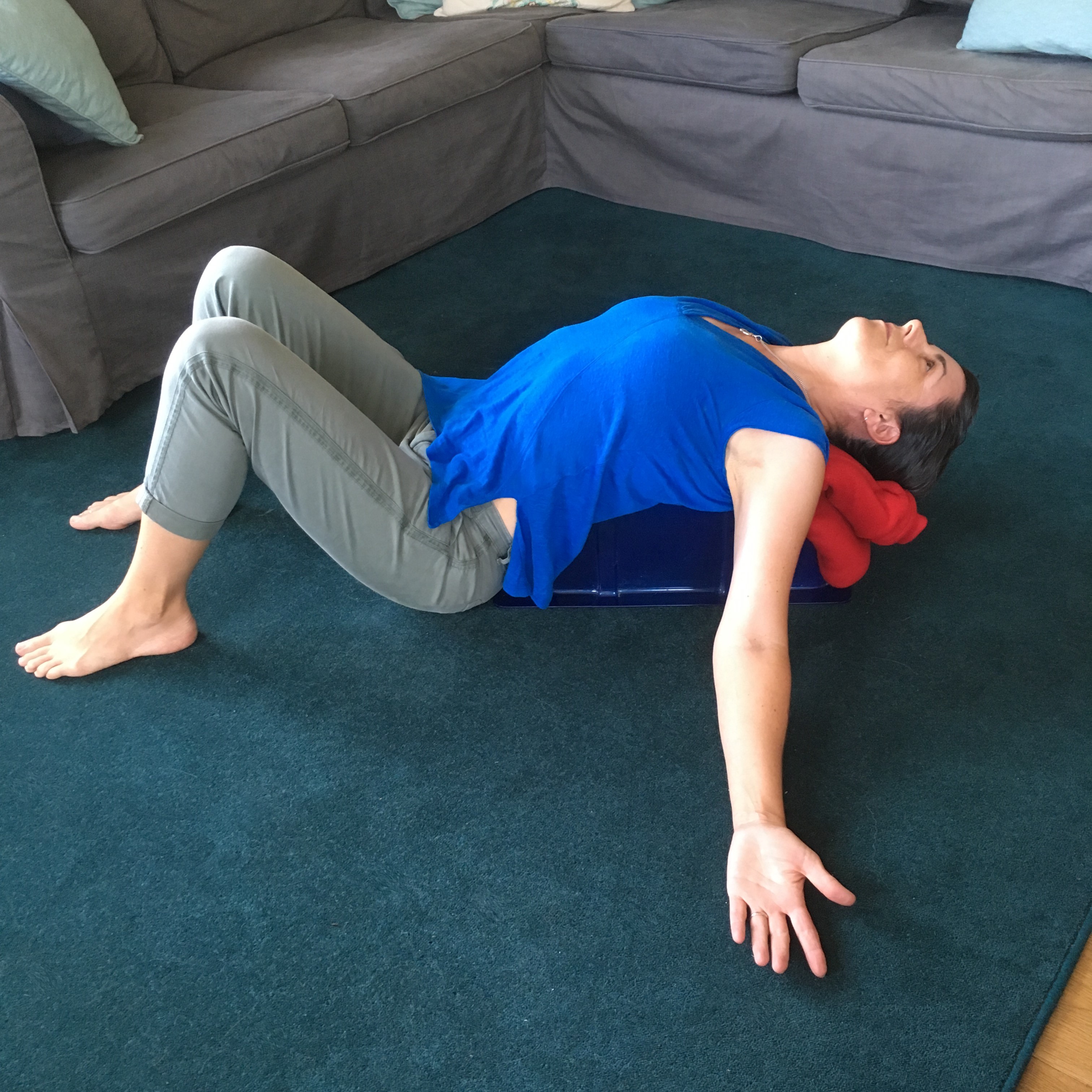 For the spine - bottom on the floor, spine on the arch, blanket under
the head to support the neck. You could straighten your legs here too.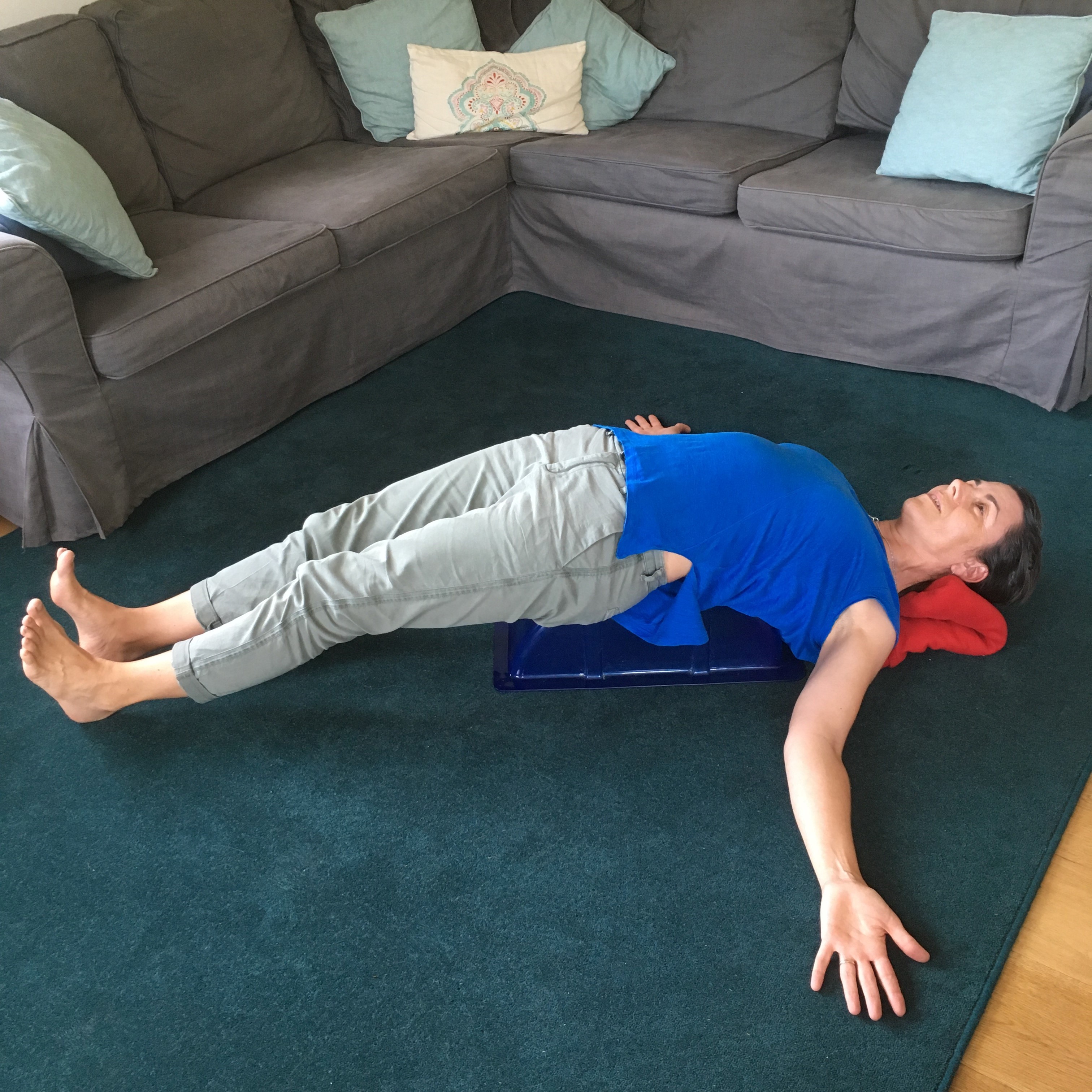 For the spine and front of hips - sacrum on the arch, shoulders on the floor, blanket under head, legs
extended straight. You could always put blocks under your feet if it feels too strong.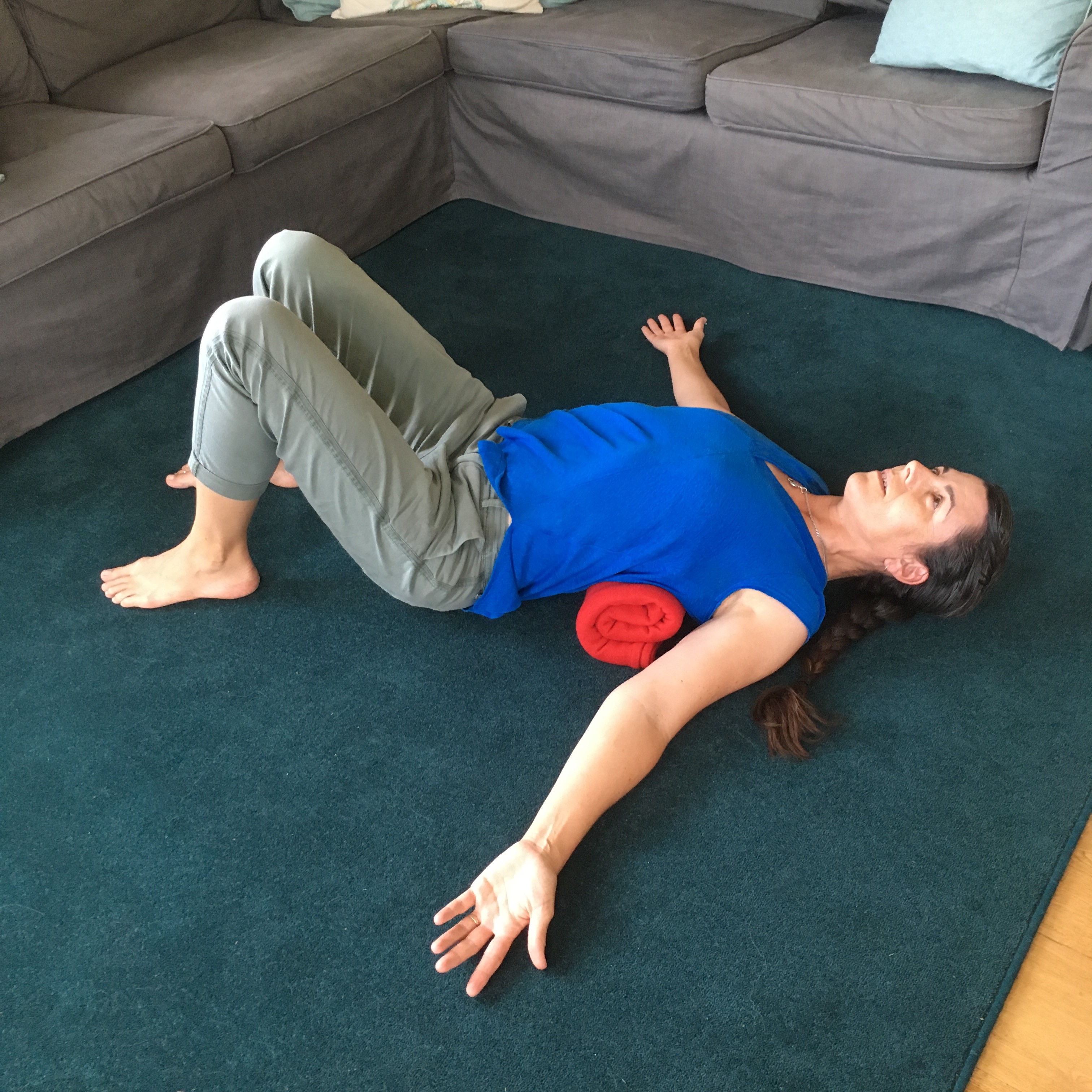 For the spine - using a rolled blanket at the base of the shoulder blades
instead of a back arch for a more gentle backbend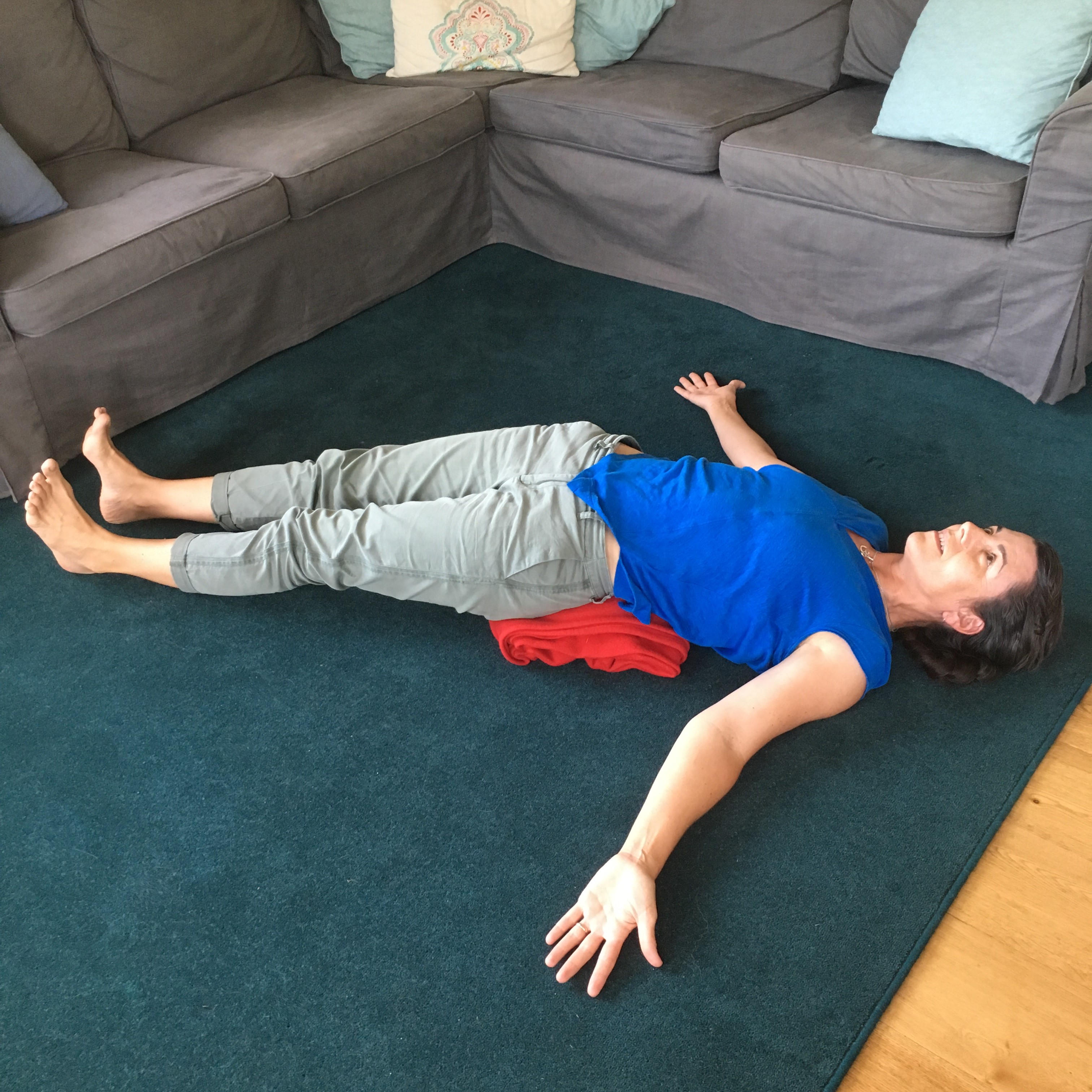 For the spine and front of hips - using a rolled blanket on top of a cushion
under the sacrum instead of the back arch for a more gentle backbend
Here are a few tips to help you have a good experience in your backbends:
- support the head with a flat block or folded blanket if you feel any discomfort in the neck
- roll the shoulder heads back towards the floor, draw the shoulderblades down your back and roll the arms outwards with the palms face up - this will help roll the shoulder heads back and open the top of the chest more
- either bend your knees, feet flat on the floor, or extend the legs straight, feet flexed, and keep them active and energised rather than just letting them flop outwards
And finally, if you have a sofa with rounded arms, you could try this great thoracic backbend - interlock your hands behind your head to support your neck and you'll stretch the shoulders and the armpit area too. This is a really good one to do if you've been sitting hunched over at a computer all day.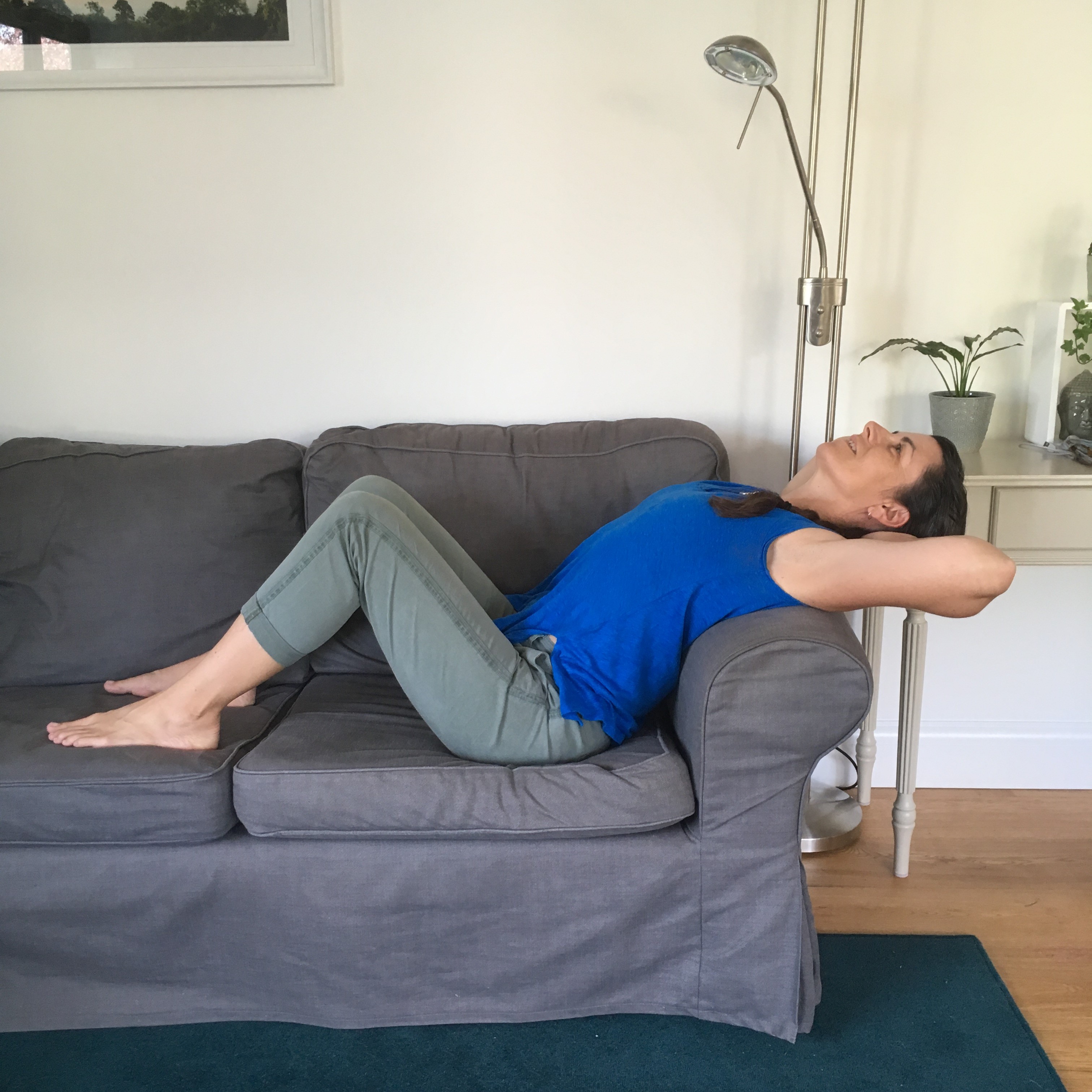 Go gently, practise regularly, really pay attention to the messages you receive from your body in each pose and have fun exploring.
This Week's Recipe... Butternut Squash, Mushroom and Spinach Warm Salad
I had my first harvest from my veg patch last week! Ok I know it's a very small harvest but I still managed to make a meal out of it. I adapted a River Cottage recipe for Warm Salad with Mushrooms and Roasted Squash, adding some sauteed potatoes and a (very small) courgette. As usual, it's an easy, healthy recipe and it was really tasty - especially as some of the ingredients were homegrown.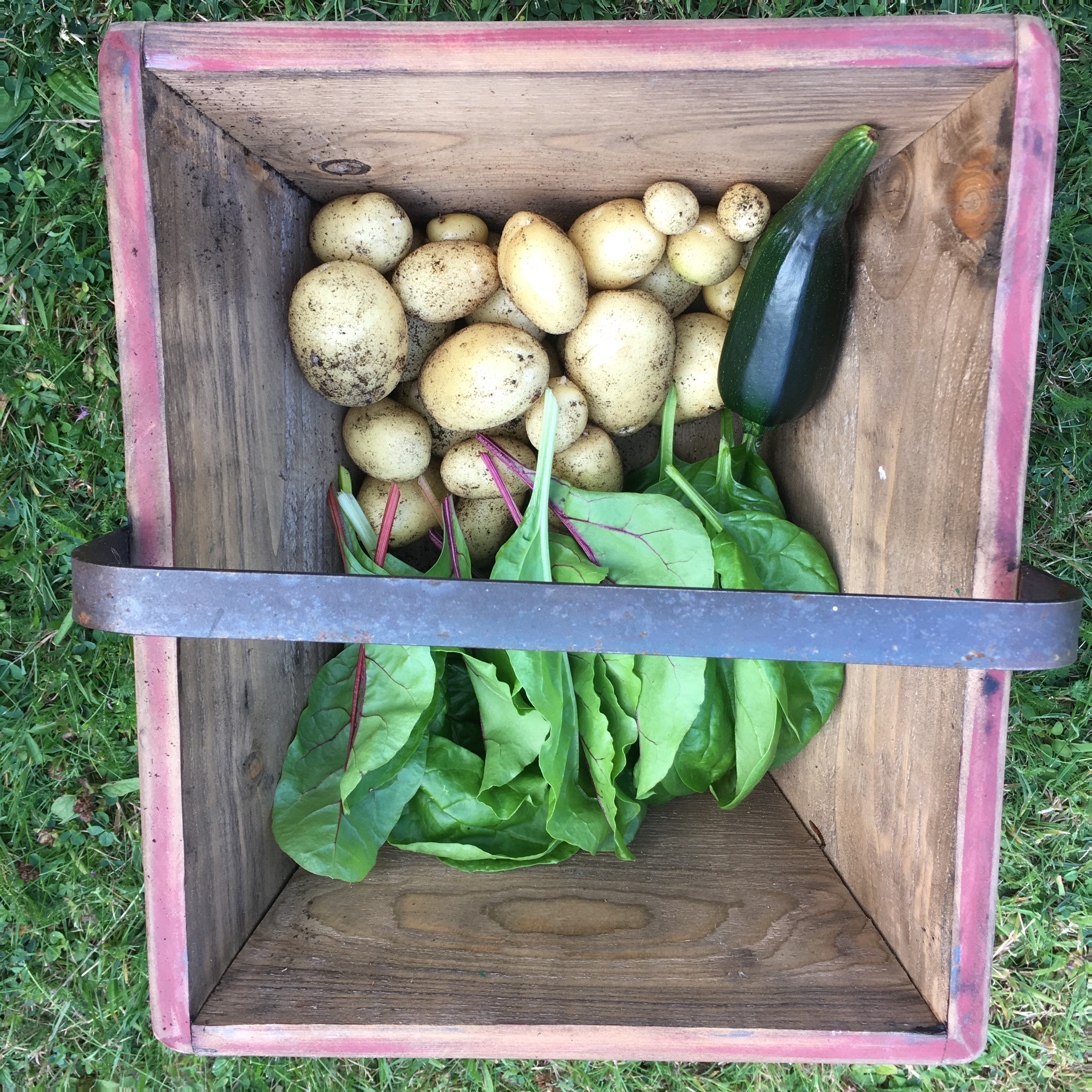 You will need:
1 small squash, such as butternut or Crown Prince (or use half if it is a large one)
a few sage leaves, torn into pieces (or you could use dried sage)
2 garlic cloves, thickly sliced
Some olive oil
Some potatoes (1 or 2 per person depending on their size. I used new potatoes with their skins on and just cut them in half but you could peel larger ones and cut them up into chunks.)
300g open-cap mushrooms, chopped into large chunks
Some rocket or fresh spinach
1 small courgette, sliced into thin rounds
Sea salt and freshly ground black pepper
Dressing of your choice or you could combine some olive oil and balsamic vinegar to make your own
And here's how to make it:
Preheat the oven to 190°C/Gas Mark 5.
Peel, halve and de-seed the squash. Cut into 2–3cm chunks and put into a roasting tin with the sage leaves, garlic, 2 tablespoons of olive oil and a generous seasoning of salt and pepper. Roast for about 30-40 minutes, stirring once, or until soft and coloured at the edges.
Meanwhile, put the potatoes on to boil. When they are ready drain them, let them cool a little and then cut them into smaller chunks. Put 1 tablespoon oil in a frying pan and saute the potato pieces, turning regularly with a spatula until they are gently browned.
Put 1 tablespoon of oil in another frying pan and add the chopped mushrooms and some salt and pepper. Fry for about 5 minutes, or until they are cooked through and any liquid they release has evaporated.
Using the potato frying pan, heat some more oil and gently fry the courgette slices for a couple of minutes on each side until just browned.
In a large bowl, combine the still-warm (but not hot) cooked squash and mushrooms with the rocket or spinach. Add enough dressing to dress them lightly and toss together.
Serve with the sauteed potatoes and courgette.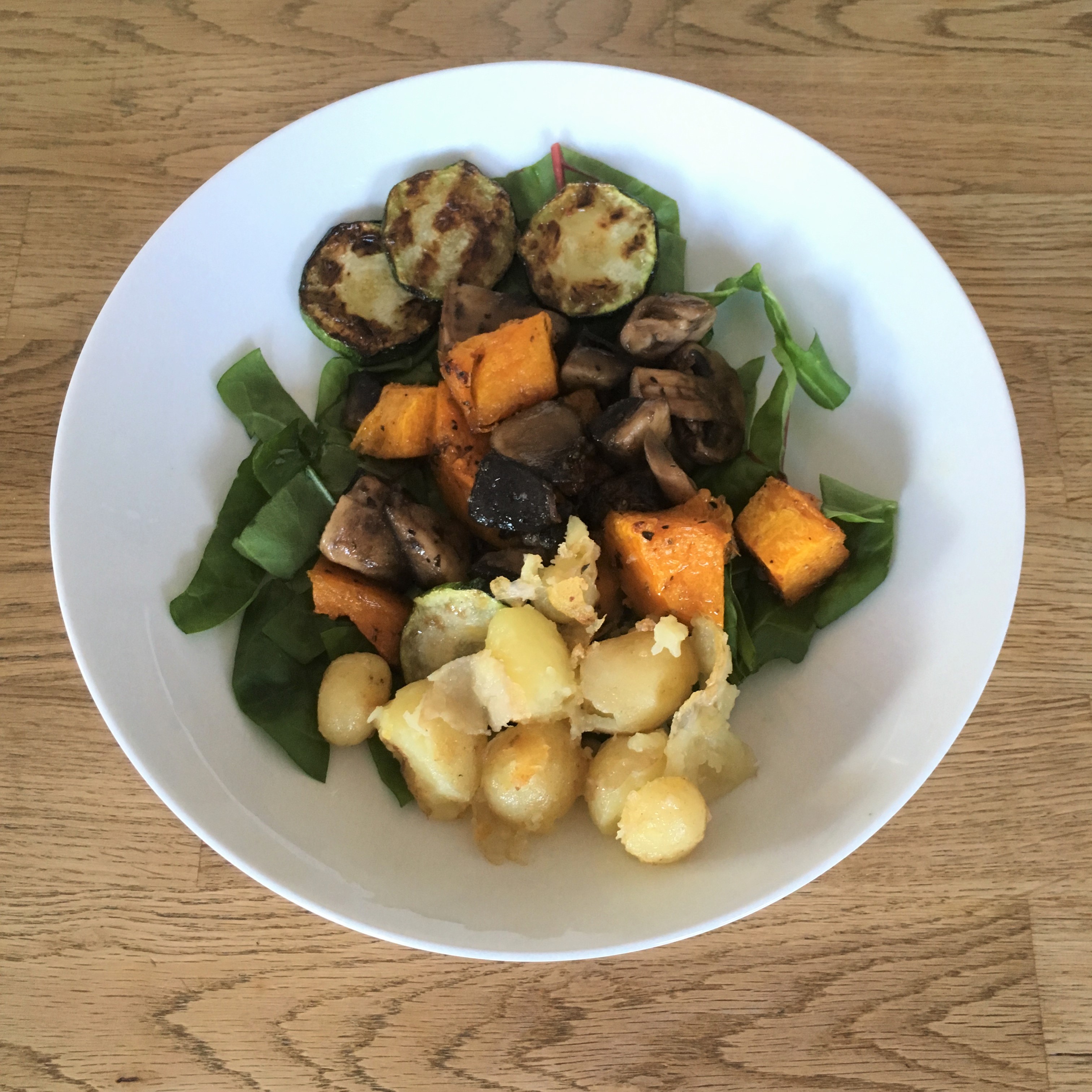 This Week's Mother Nature's Magic... The Big Butterfly Count
During the month of August, The Butterfly Conservation Trust is asking us all to take 15 minutes to sit in our gardens or in a favourite place outside and count the butterflies that we see. I think I can do that - sitting in my garden doing nothing is a bit of a challenge for me because I always spot something that needs deadheading/tying up/cutting back! But I'll give it a go - I'll get a cuppa and a comfy chair and make it my meditation practise for the day.
You can enter your findings on the website (see link below) or use the app on your phone and the information you send in will be collated to give a better picture of how our butterflies are faring. We know that butterflies are declining due to loss of habitat and the use of pesticides but this info will really help to understand how things are nationwide.
Here's a video about the count and the link to the website to get started is https://www.bigbutterflycount.org/.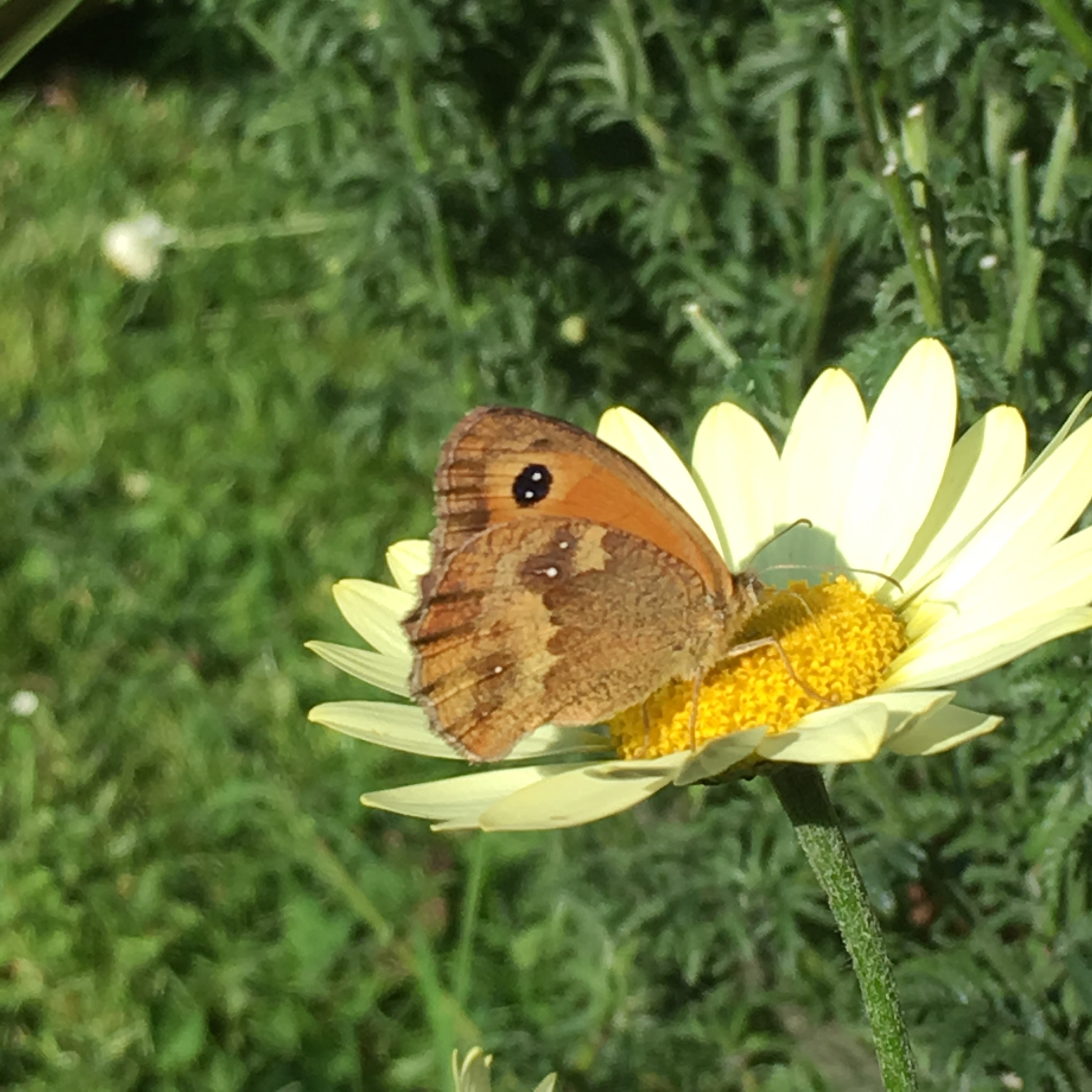 A little Meadow Brown on an anthemis daisy in my garden
(I never thought that I'd be choosing to get up close to a butterfly - I used to have a bit of a phobia about them!
How things can change.)
This Week's Musical Offering...
Summer Fields by Rudi Adrian is a lovely relaxing track - why not roll up a blanket and lie down in a gentle backbend to listen to it?
And I'll leave you with...
A Daytrip to the OM Yoga Show - 18th, 19th, 20th October at Alexandra Palace, London
The OM Yoga Show is a great day out for yogis. There are all sorts of workshops, free classes and over 200 exhibitors selling all things yoga - equipment, jewellery, clothing, food, retreats and much more. See the very short clip below of what you can expect...
And if that's whetted your appetite for a fun day out and you're local to Bookham and Fetcham why not join the RoadTrippers coach party so you don't have to worry about the travel arrangements. Run by one of my long-term yoga students, Jo, RoadTrippers will pick you up from Bookham and Fetcham on Friday 18th and bring you back again after. You'll meet some like-minded people (maybe even someone from your yoga class) and I'm sure you'll have a fun time. The ticket into the show is included in the price.