Thursday 30th May - Boston Concerts, Botanical Cards and BOSH! Cooking
52 @ 50 no. 51... Adventures in Boston
I've just returned from a special holiday in the US accompanying my husband on his pilgrimage to see his favourite musician. Frank Turner is a British folk/punk/rock musician (I think that's how you would classify his music!?) who spends most of his life on tour. Each year he presents a 4 night extravaganza where he plays his greatest hits, the entirety of an old album, an acoustic set and the set from his current tour. My husband loves Frank Turner and I sort of love Frank Turner (I love his energy, his commitment and his lyrics but not his voice so much) so when this gig in Boston came up and my husband wanted to go I kindly agreed to accompany him - it was a good trade-off!
We stayed in an Air B&B brownstone apartment in Boston's Southend. We walked (over 50 miles), followed the Freedom Trail which takes in most of the historic sights, ate a lot of veggie burgers and chips!, went whale watching (saw 6 humpback whales very close to the boat and they did their famous tail-flips - yay!!), went to art galleries, rooftop bars, visited Cape Cod and Martha's Vineyard and of course we gigged, enjoying the music of Frank Turner and his various support acts at the House of Blues venue in Fenway Park, opposite the Red Sox baseball team's stadium. Phew! We fitted a lot in! But... confession... I did absolutely no yoga for 8 days!! I don't think that's happened in many years - I usually manage to squeeze my mat into my suitcase and unroll it in a corner somewhere when I'm away. But I'm not giving myself a hard time about skipping my practice - that's how it goes sometimes when you're out of your usual routine. I'm back to my regular practice now and boy does it feel good to stretch and flex - I'm already loosening up and feeling more mobile again.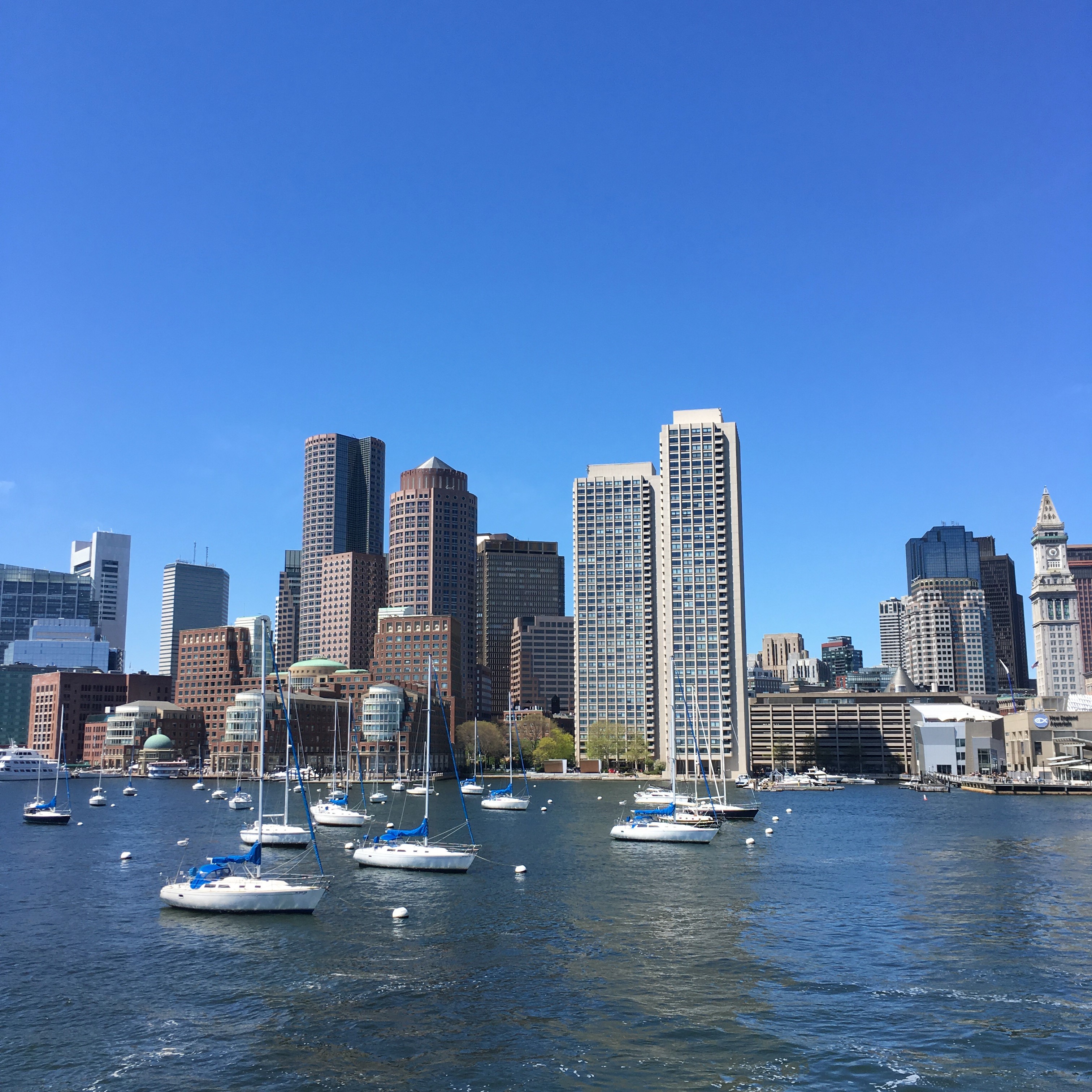 View of the city from the whale watching boat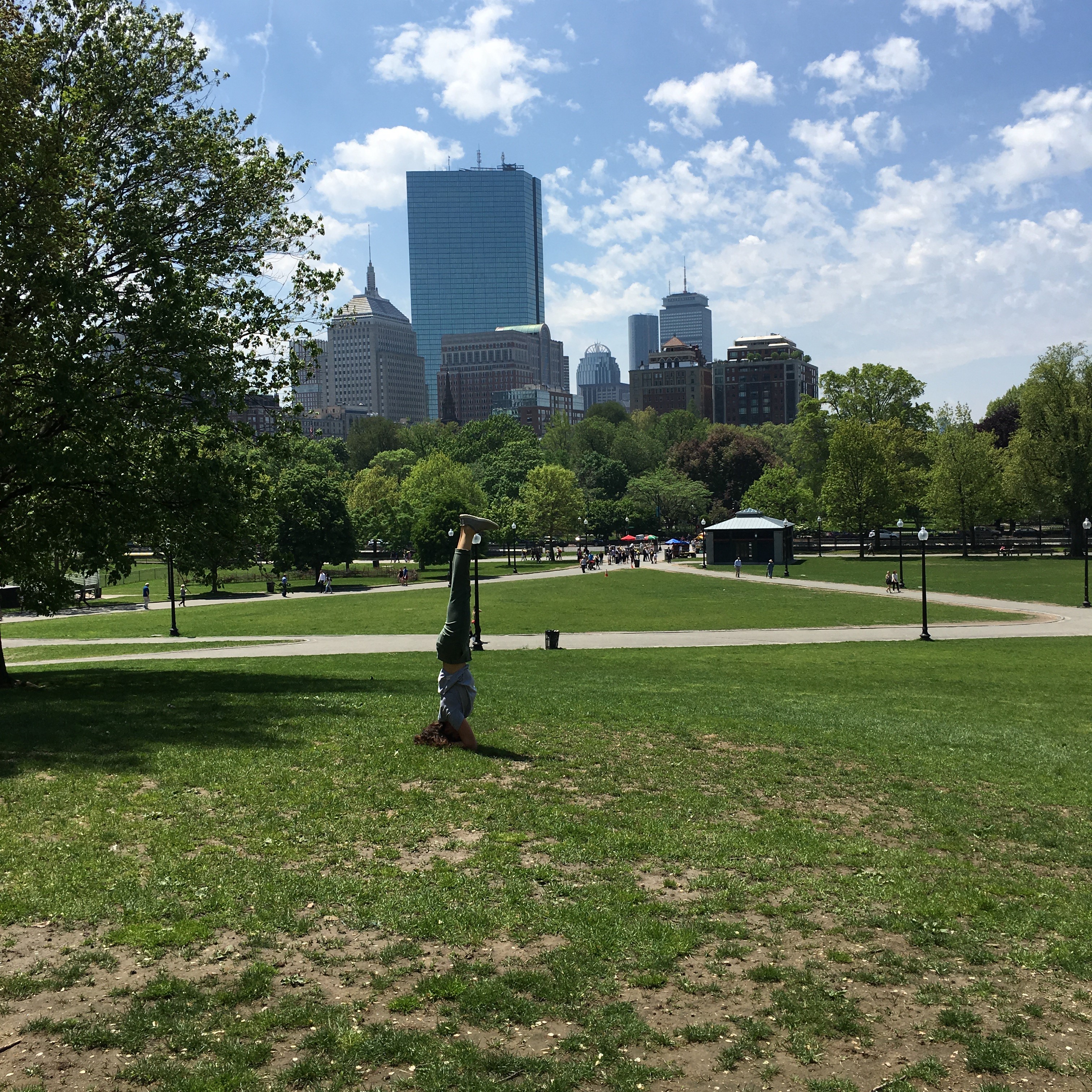 A slightly wonky Holiday Headstand on Boston Common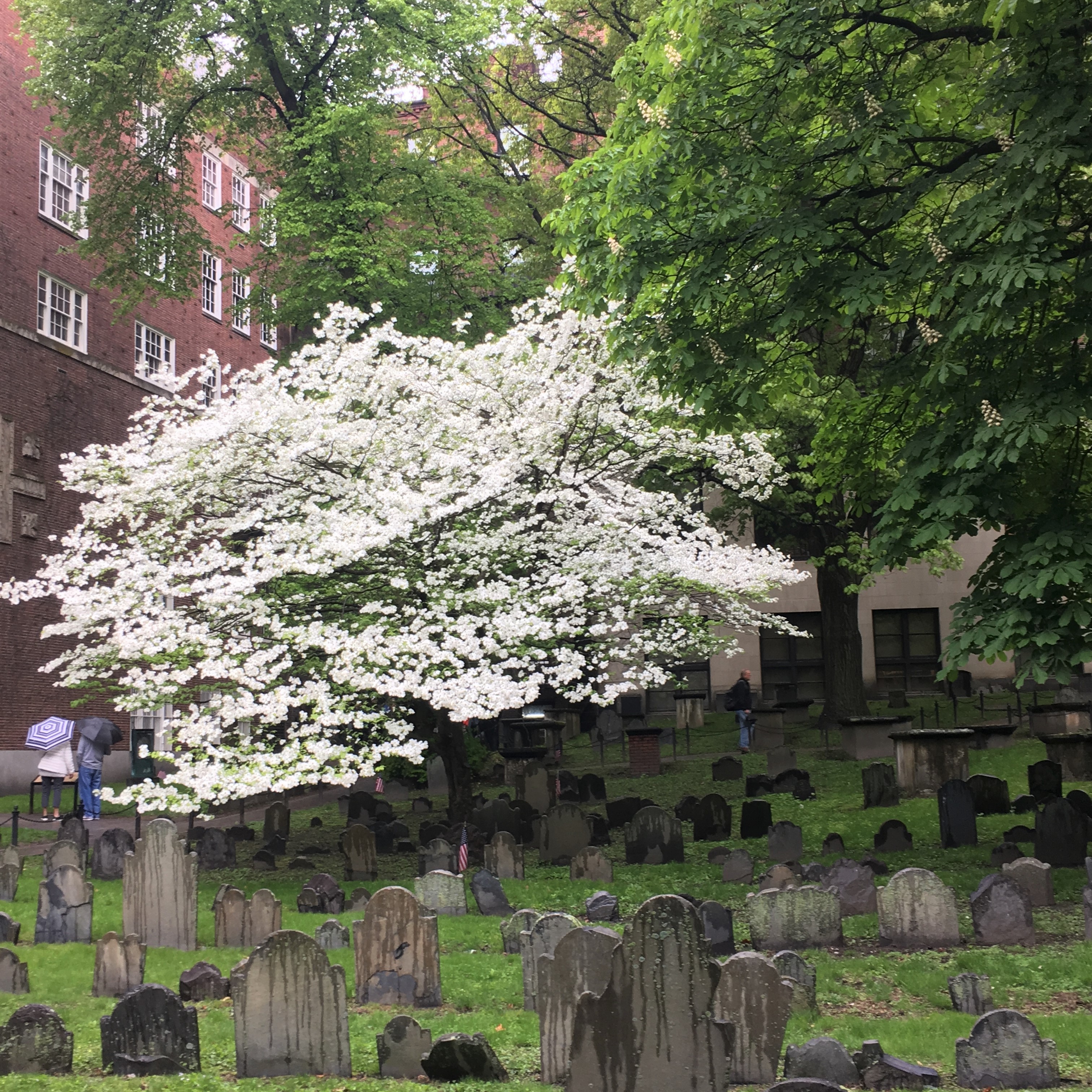 Boston's trees were still in blossom - look at this fabulous dogwood (Cornus kousa)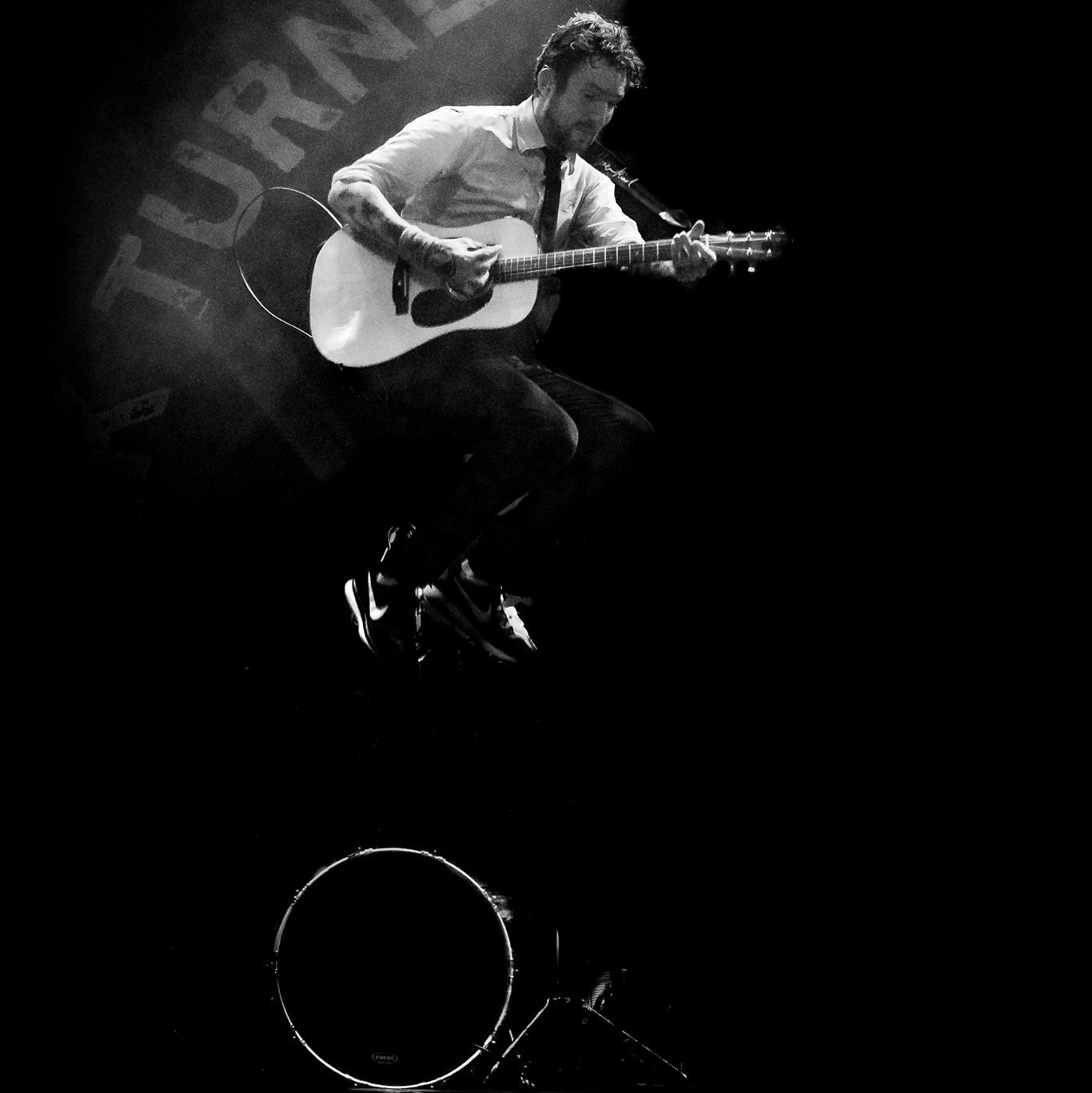 Frank Turner jumping off the drum kit (picture credit Noah Bellman - mine came out all blurry)
This Week's Recipe... Holy Trinity Louisiana Gumbo
Boston is famous for its Lobster Rolls and Clam Chowder but I couldn't find a fabulous Boston veggie recipe to share with you I'm afraid, so I've moved down a few states to bring you a Louisiana Gumbo instead. Gumbo is a thick stew made with onions, celery, green peppers (these 3 veg are known as the Holy Trinity) and okra. Traditionally it's made with meat but here the meat is substituted with kidney beans. This recipe, from a new vegan cookbook called BISH, BASH, BOSH!, cuts a few corners to make the whole process a bit easier and less time consuming - an authentic Gumbo apparently requires a roux sauce which needs stirring for about 30 minutes! Henry Firth and Ian Theasby are the BOSH! boys and they're on a mission to help us all eat a more plant-based diet - for the benefit of our health and for the sake of the planet as meat production and consumption is very unenvironmentally friendly. Last year they introduced their first vegan cookbook called BOSH! which was a huge success and they've recently launched this new book which has over 140 more creative and tasty vegan recipes, proving once again that vegan cooking really doesn't have to be boring!
To make this delicious, rich stew you will need:
A large casserole dish
2 onions
2 celery sticks
2 green peppers
4 garlic cloves
300g okra
250g chestnut mushrooms
4 tomatoes
2 sprigs fresh thyme
4 tablespoons olive oil
quarter of a teaspoon of salt, plus a little extra
4 tablespoons plain flour
1 tablespoon tomato puree
1 tablespoon apple cider vinegar
2 teaspoons smoked paprika
half a teaspoon cayenne pepper
1 teaspoon dried oregano
1 teaspoon Tabasco sauce
750ml vegetable stock
2 fresh bay leaves
240g tinned kidney beans
4 spring onions
500g cooked basmati rice
black pepper
And here's how to make it...
First get all veg ready: Peel the onions. Trim the celery. Cut the peppers in half and cut out the stems and seeds. Roughly chop the onions, peppers and celery into small pieces. Peel and finely grate the garlic. Trim the okra and cut into 1cm thick slices. Quarter the mushrooms. Finely chop the tomatoes. Roughly chop the thyme (if the stem is woody, remove the leaves by running your thumb and forefinger from the top to the base of the stem).
Put the casserole dish on a medium heat and pour in the oil. Once the dish is hot add the onion, celery, peppers and a quarter teaspoon of salt. Sweat for about 10 minutes until softened. Add the garlic, okra and mushrooms and fry for a further 7-10 minutes until the mushrooms are cooked through. Reduce the heat to medium-low, add the flour and stir to combine. Cook for another 5-7 minutes, stirring constantly to avoid burning, until golden brown (don't stop cooking too early, this browning is what gives your gumbo its rich colour).
Add the chopped tomatoes and tomato puree to the pan and stir for 2 minutes. Add the apple cider vinegar, thyme, smoked paprika, cayenne pepper, oregano and Tabasco and stir for 2 minutes. Pour in the vegetable stock. Add the bay leaves and kidney beans, reduce the heat to a very gentle simmer and cook for 30-35 minutes until the broth is thick and hearty, stirring occasionally to make sure the bottom doesn't catch. Taste and season with salt and pepper.
Cook the rice according to instructions. Trim and thinly slice the spring onions and sprinkle over the gumbo. Serve with the rice.
And here's a little video from BOSH TV to show you how it's done...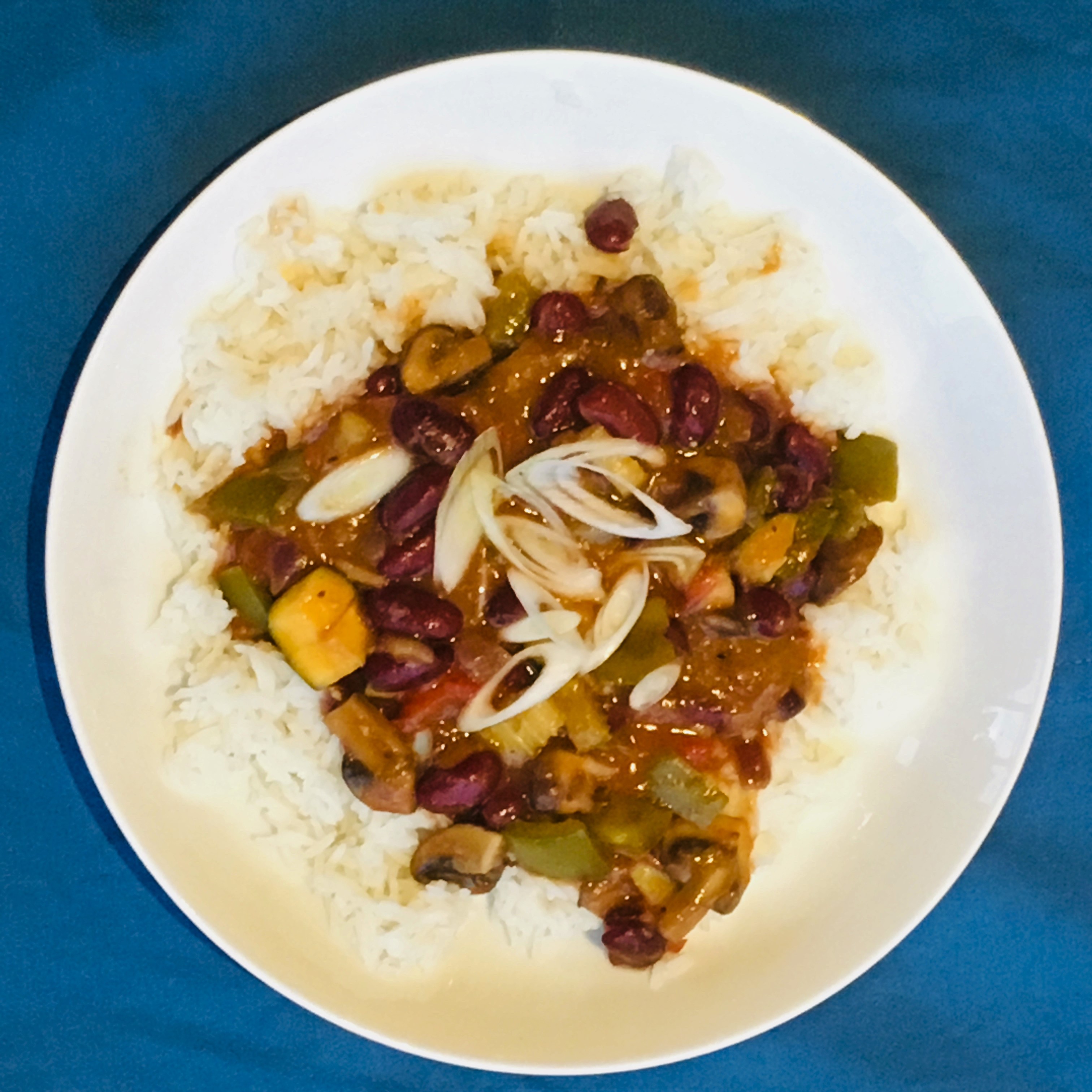 and here's my bowl - full of delicious and interesting flavours
This Week's Mother Nature's Magic... Botanical Greetings Cards
My niece Maddie, whose artwork I introduced you to a few months ago (click HERE to see that post with some of her fabulous insect paintings), has been turning her attention to botanical art. Just as there is a precious stone associated with each month of the year, so there are 12 birth month flowers too - so I commissioned her to paint them all for me and I've had them printed and made into greetings cards. I'm excited to be able to support and follow her as she begins her journey to make a living from her art and I'll be selling our first collaborative project as complete sets of 12 cards. If you'd like to buy some you can get them from me in person (I'll be bringing a stock of them to class over the next few weeks) or, if you're not local, you can buy them in the online shop on the Thrive Yoga website and I'll post them to you.
They measure 6" x 4", are printed on good quality card with a nice envelope and are blank inside for your own message. On the back is the name of the flower and the association it has - ie. "The carnation is the birth flower for the month of January - it is associated with love and devotion." You could use the cards as notelets, birthday cards using the relevant birth flower to make it a bit more personal or give the whole set of 12 as a gift to someone else. They cost £15 for the set which makes the cost of each card just £1.25 - bargain! Here are some pictures of three of the cards, but if you'd like to see the whole range you can click HERE to go to the Shop page on the website.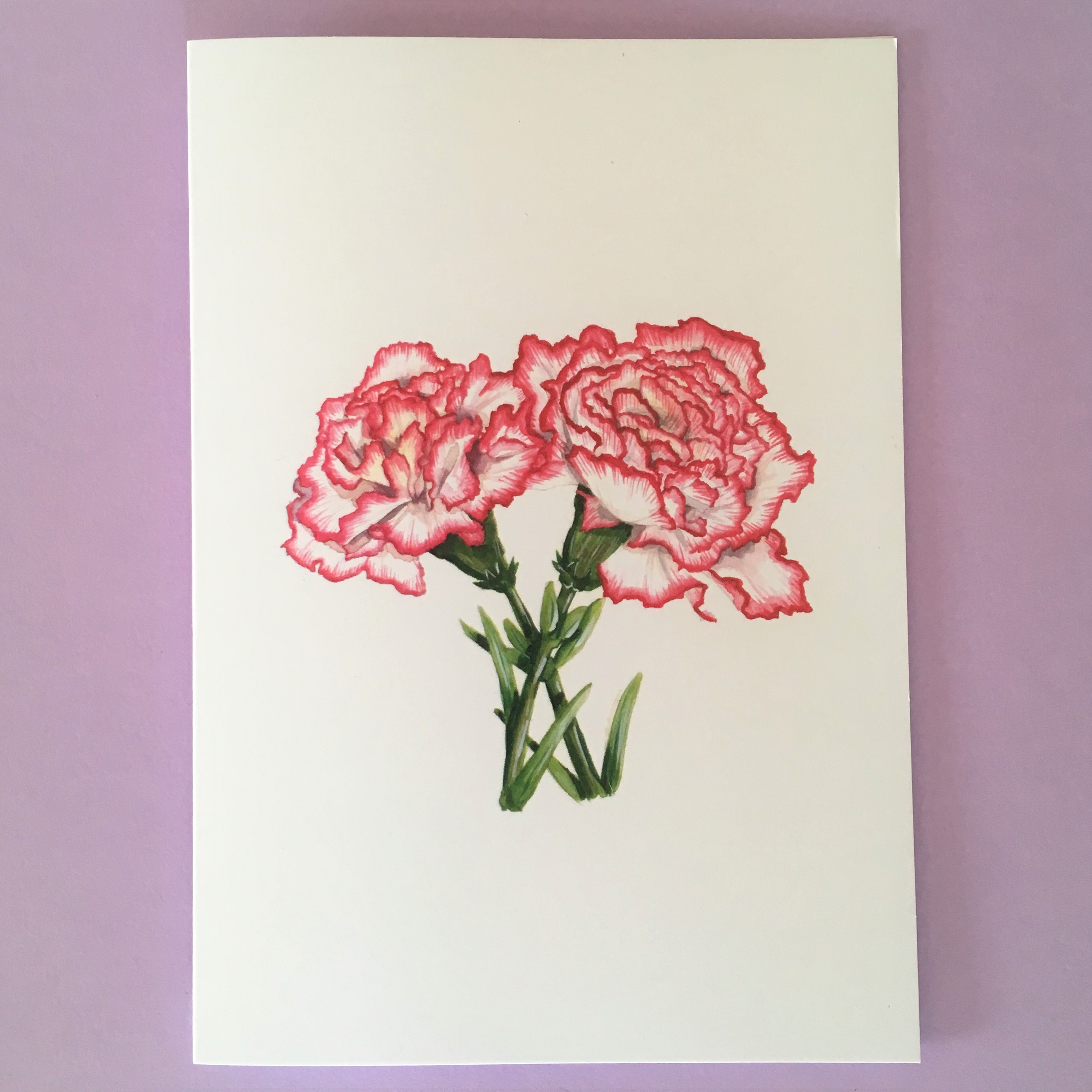 The carnation is the birth flower for the month of January - it is associated with love and devotion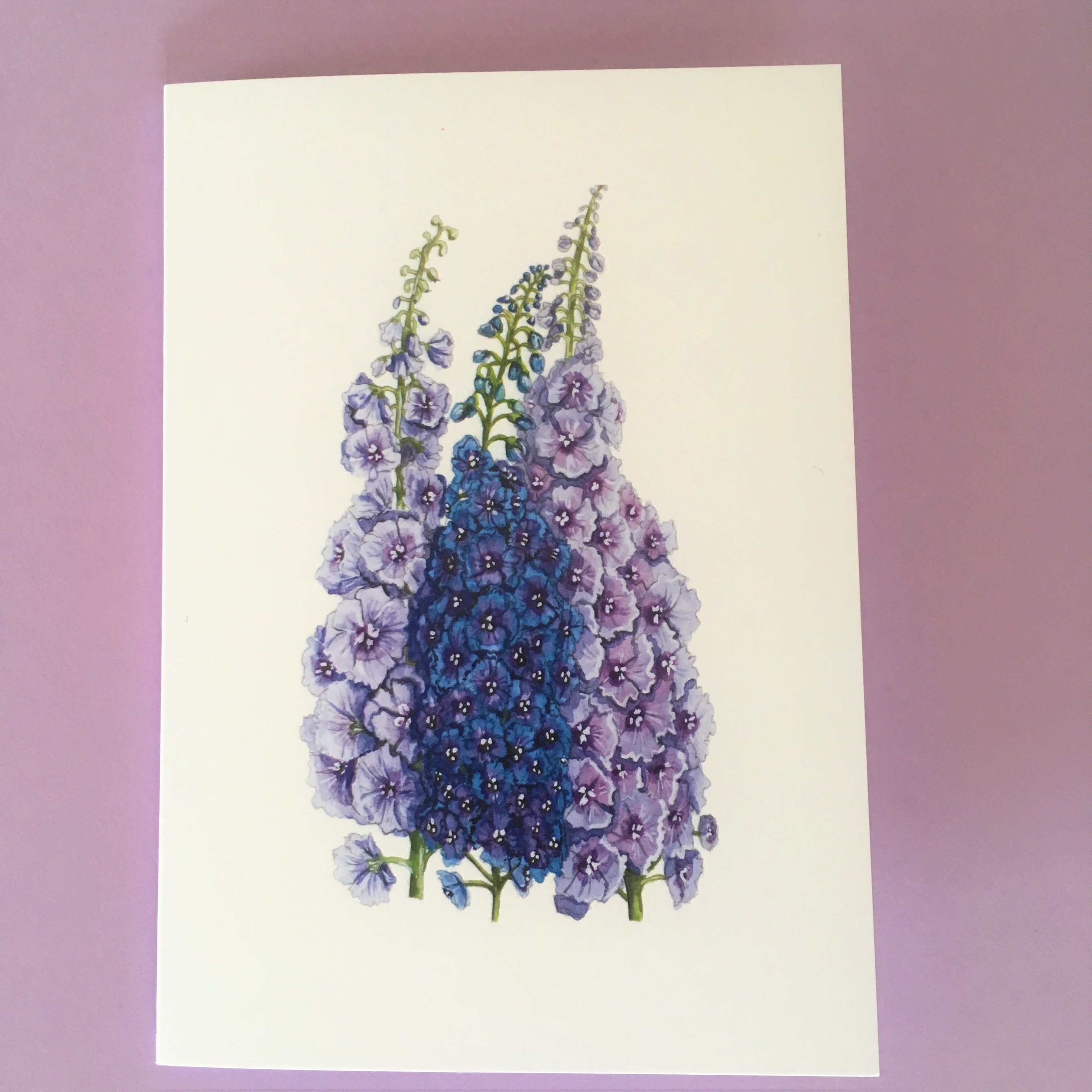 The larkspur is the birth flower for the month of July - it is associated with lightness and joy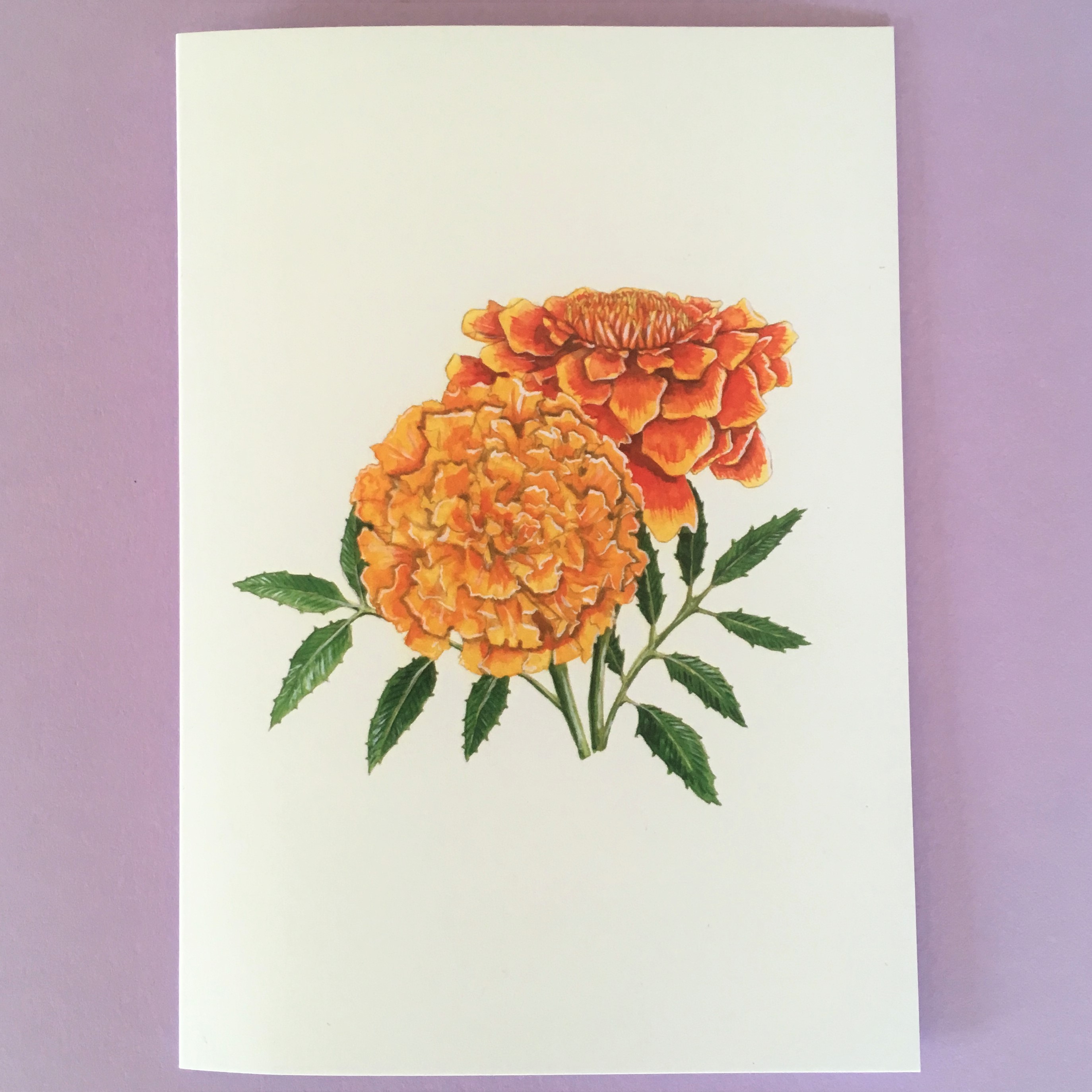 The marigold is the birth flower for the month of October - it is associated with warmth and creativity
This Week's Musical Offering...Be More Kind by Frank Turner
I thought you might like to hear a bit of Frank. This track is one of my favourites - I like the tune, I love the lyrics and he's singing it rather than belting it out :-)
This Week's Video... Wise words for a simple life from a young man living in the Arctic with 110 dogs!
Thanks as always for reading my writings, and I'll see you next week for the final instalment of my '52 @ 50'!