Monday 19th November - A Journey, A Curry And A Bit Of Self-Discipline
52 @ 50 no. 46 - A Visit to Glasgow
I didn't even bother to put my little wheelie case away after unpacking from last weekend's trip to Amsterdam. I filled it straight back up and on Friday I was off again. My niece lives in Glasgow - she's studying at the University there - so I went to visit. I've never been to Glasgow before so it's a very legitimate 52 @ 50.
I travelled by train which meant an early start from Bookham to get me to Euston, and then a 6 hour journey passing through the Midlands, the North West and Carlisle before arriving in Glasgow mid-afternoon. I got a lot of stuff done on the train!
The weather was fine so we went for a run on Saturday morning, through Kelvingrove Park and alongside the River Kelvin, followed by a big vegan breakfast at a local cafe. When you Google 'what to do in Glasgow' a visit to the Kelvingrove Museum comes up as the top attraction, so that's what we did. It's a smaller version of the Natural History Museum with some art to enjoy too. A night in with a pasta supper and a DVD rounded off our day and then the next morning, following a leisurely breakfast, I was back at Glasgow Central station by 11.30am to begin the long journey home.
My adventure continued when, on arrival at Vauxhall station, I found there were no trains! I nearly cried! A replacement bus service took me (very slowly) from Clapham Junction all around the houses through Earlsfield, Motspur Park, Worcester Park and Stoneleigh which, although I've passed through them on the train many, many times, I'd never driven through (I'm trying to look at this in a positive light - which was very hard at the time!!)
I can't honestly say I loved Glasgow at first sight. I don't think it's the most picturesque of cities but my niece loves it and all the while she's living there I'd be happy to return.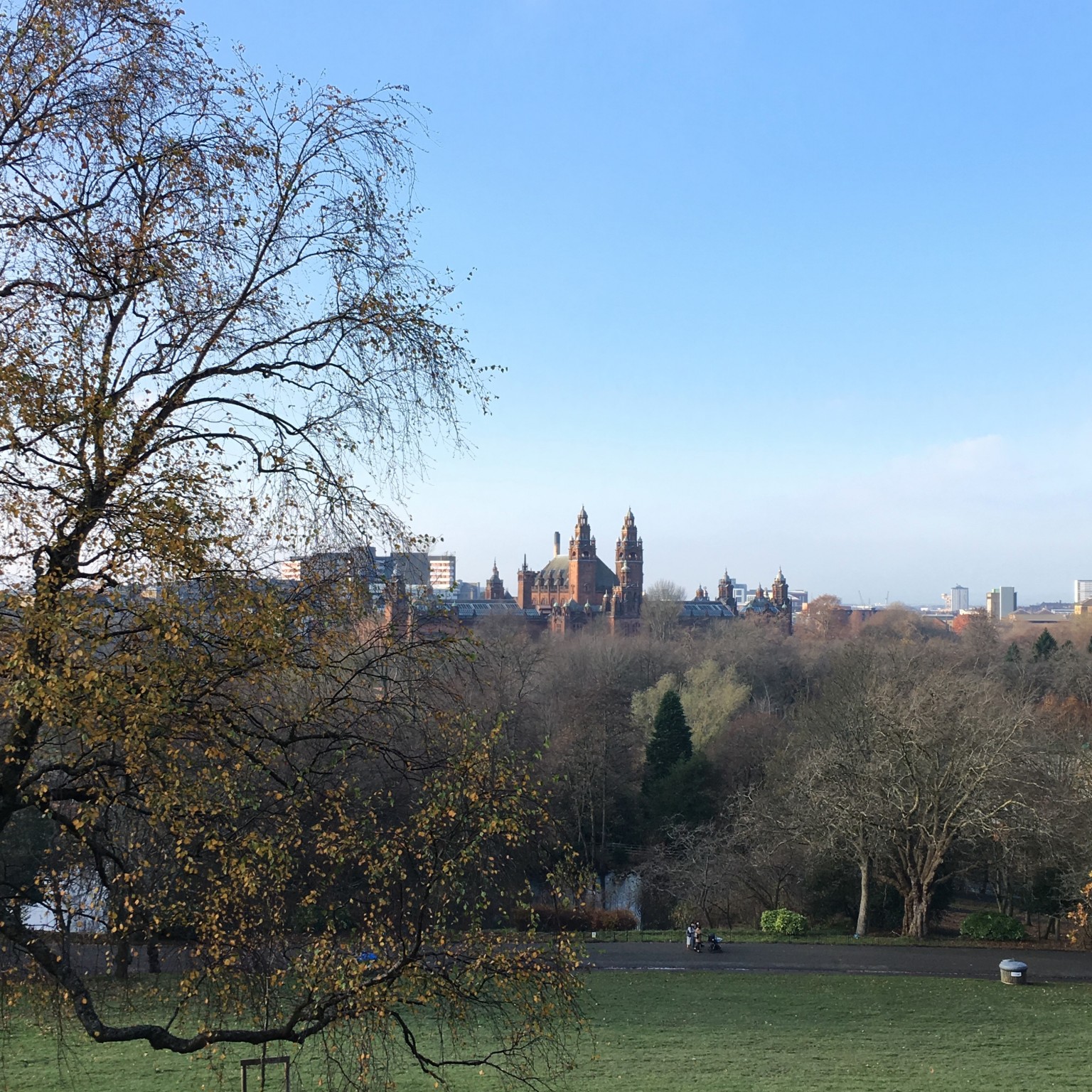 In Kelvingrove Park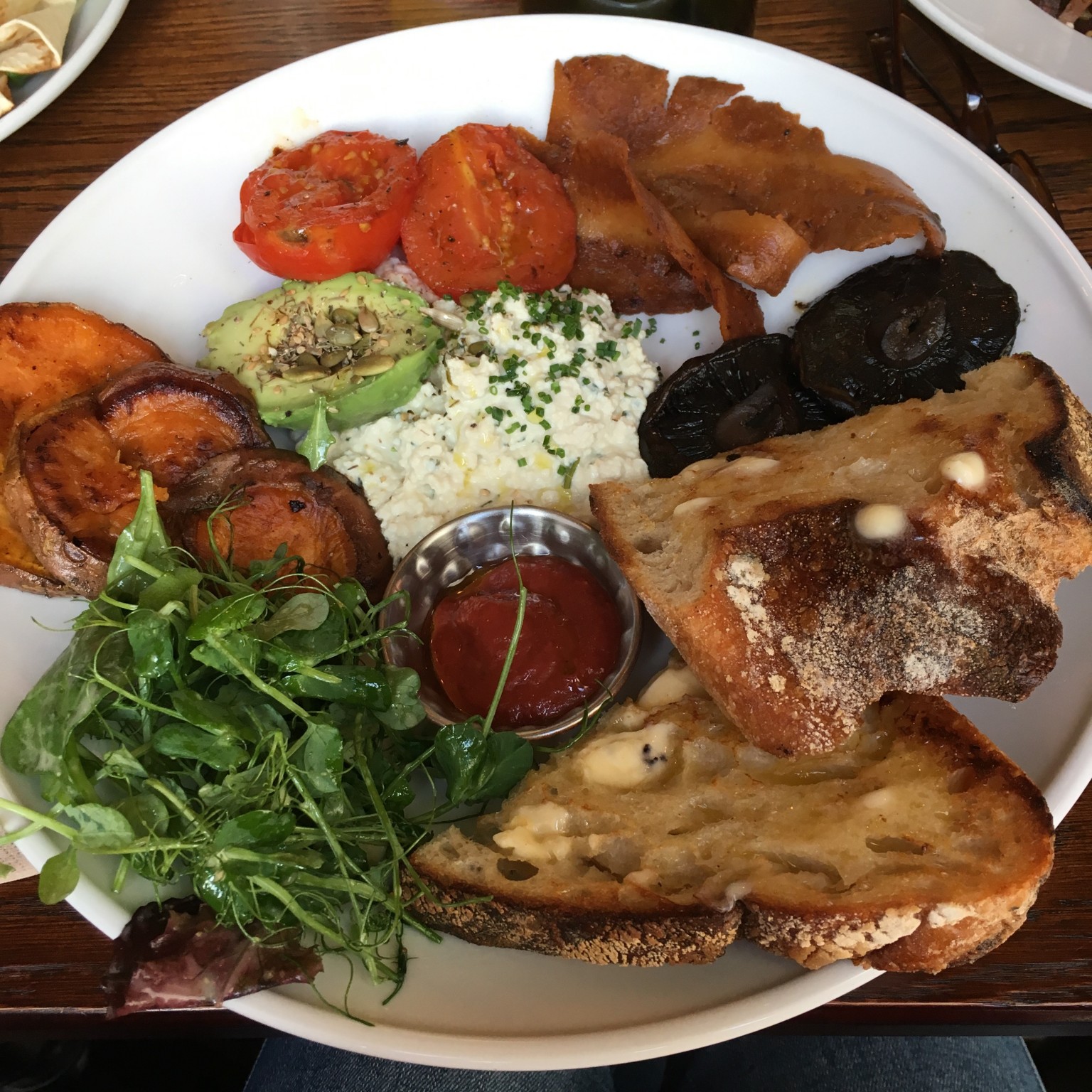 Vegan brunch complete with seitan 'bacon' and tofu 'scrambled eggs'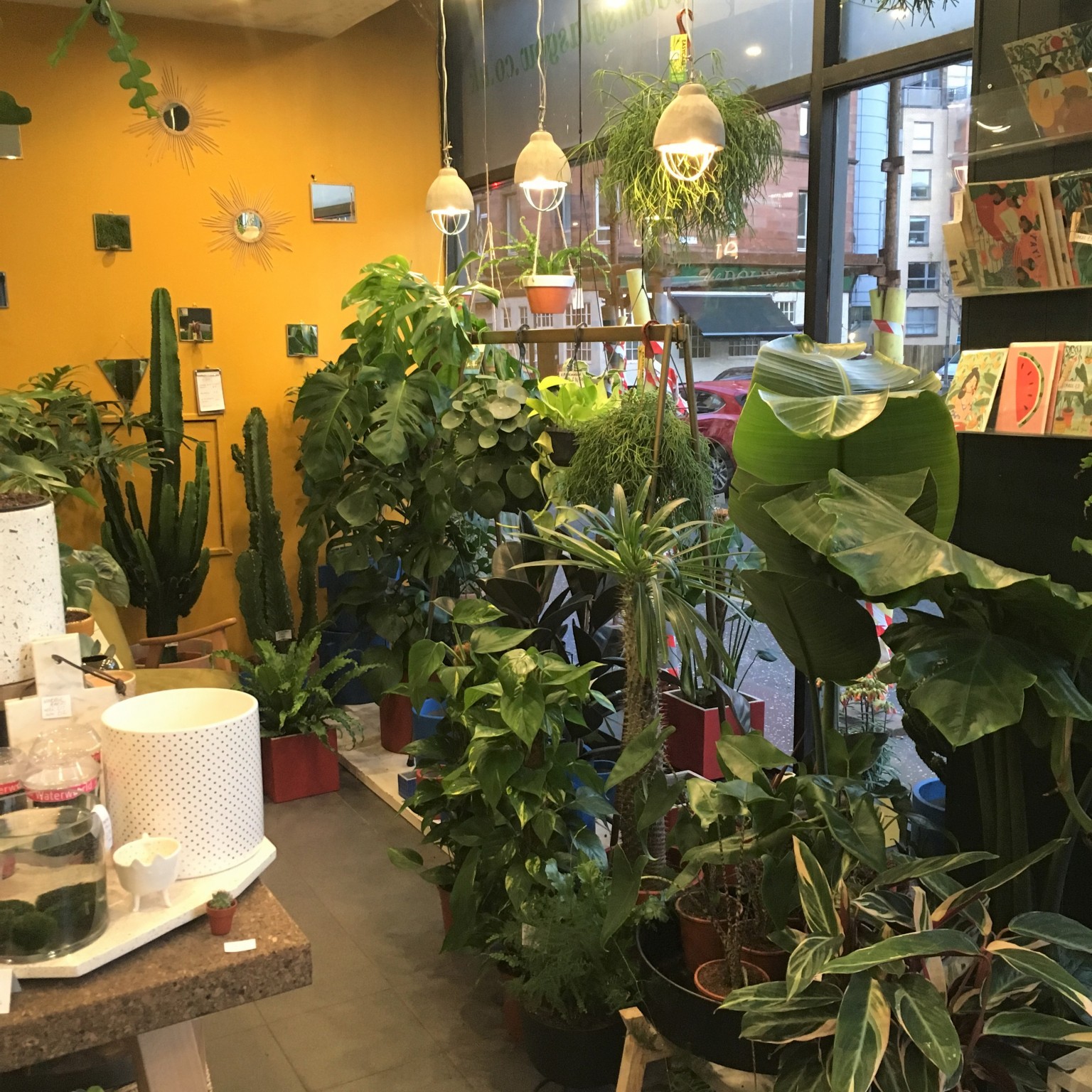 Just a little stop at a plant shop - couldn't help myself! ;-)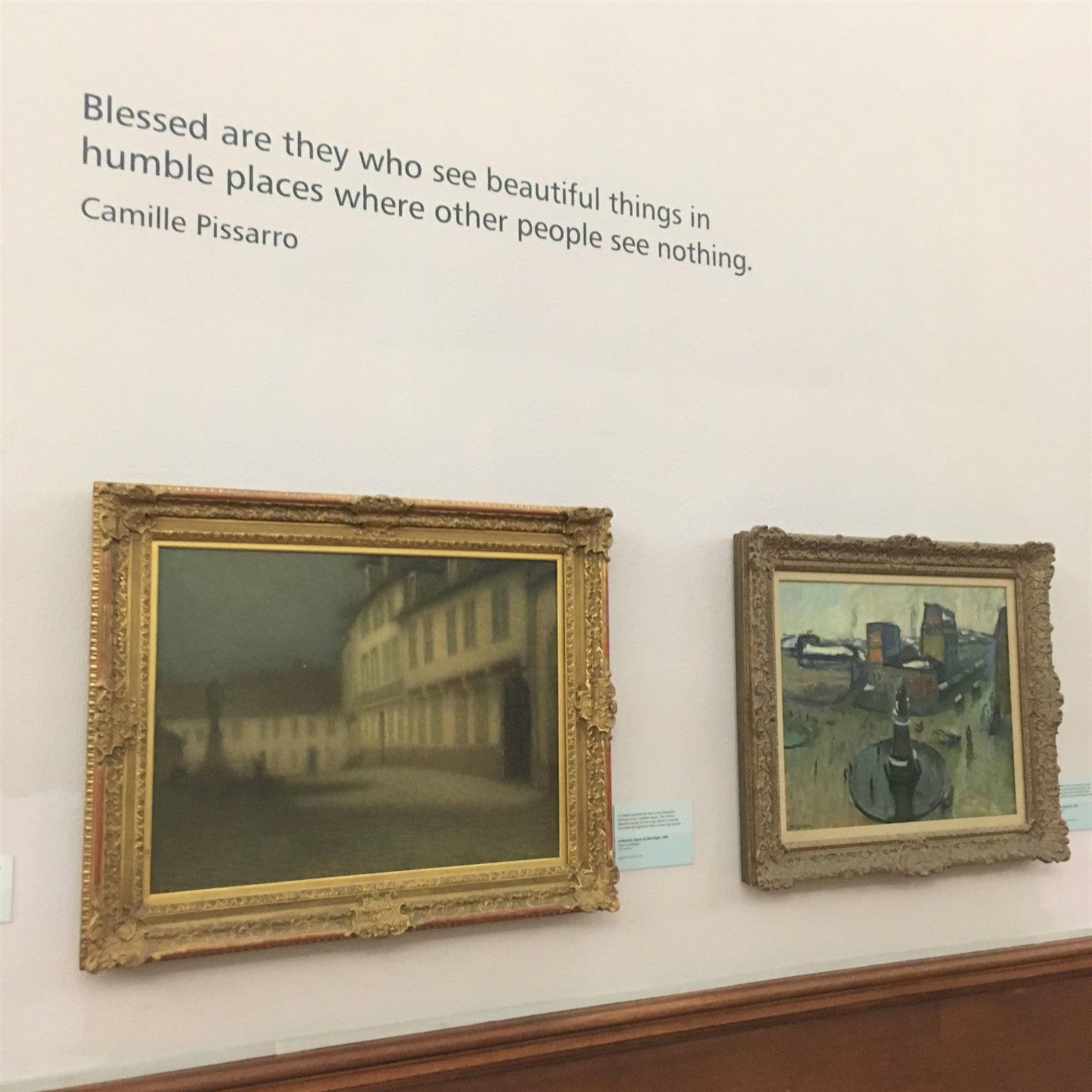 I love this quote in the art gallery
Class Notes: The Third Niyama - Tapas (Self-Discipline)
Tapas translates as fire and heat. It means to have self-discipline and determination. Through the effort of tapas, pushing through lethargy and procrastination, comes purification and transformation. Tapas is about desire, but an internal desire to bring something to fruition rather than an external desire for an object or thing. Tapas means having integrity, gathering internal strength and not giving up when things get difficult - whether that's in a pose on the yoga mat, a project that has been started but abandoned or a long-held life dream. It means having the wisdom to discern what is needed to make progress. You can't live your whole life with the fierce energy of Tapas - you'd burn out - but you can use it wisely to push through the challenges, trusting that the process is helping you to grow. It's important that you practise Tapas regularly to strengthen your commitment, your courage and your self-belief too. That's the self-discipline of Tapas - and it leads to the positive growth and transformation of your body, mind and spirit.
This Week's Recipe: Coconut Rice With Aubergine and Tomato Curry
Serves 2
Preparation 10 minutes
Cook 30 minutes
You will need:
150g brown basmati rice (I didn't have brown so used white instead)
10g cashew nuts, roughly chopped
1 tablespoon vegetable oil
1 large aubergine, cut into 2cm chunks
1 large onion, sliced
1 tablespoon dried curry leaves (I didn't have these either so used a teaspoon of Korma spices instead)
15g fresh root ginger, chopped
350g tub of tomato and chilli sauce
10g creamed coconut, chopped up
half a 28g pack of fresh coriander, chopped
And here's how to make it:
Cook the rice in boiling water for 20 minutes or until tender.
Heat a dry frying pan and toast the cashew nuts, shaking the pan until they are lightly browned. Slide onto a plate.
Heat the oil in the pan and fry the aubergine and onion for 10-12 minutes, stirring frequently until golden.
Add the curry leaves (or spices) and ginger and fry for a further 2 minutes.
Stir in the tomato and chilli sauce and cook gently for 10 minutes, stirring frequently. Add a little water if the sauce starts to dry out.
Drain the rice and return to the pan. Stir in the chopped coconut and coriander, and heat through for a couple of minutes until piping hot. Spoon the rice onto plates, top with the sauce and serve scattered with the cashew nuts.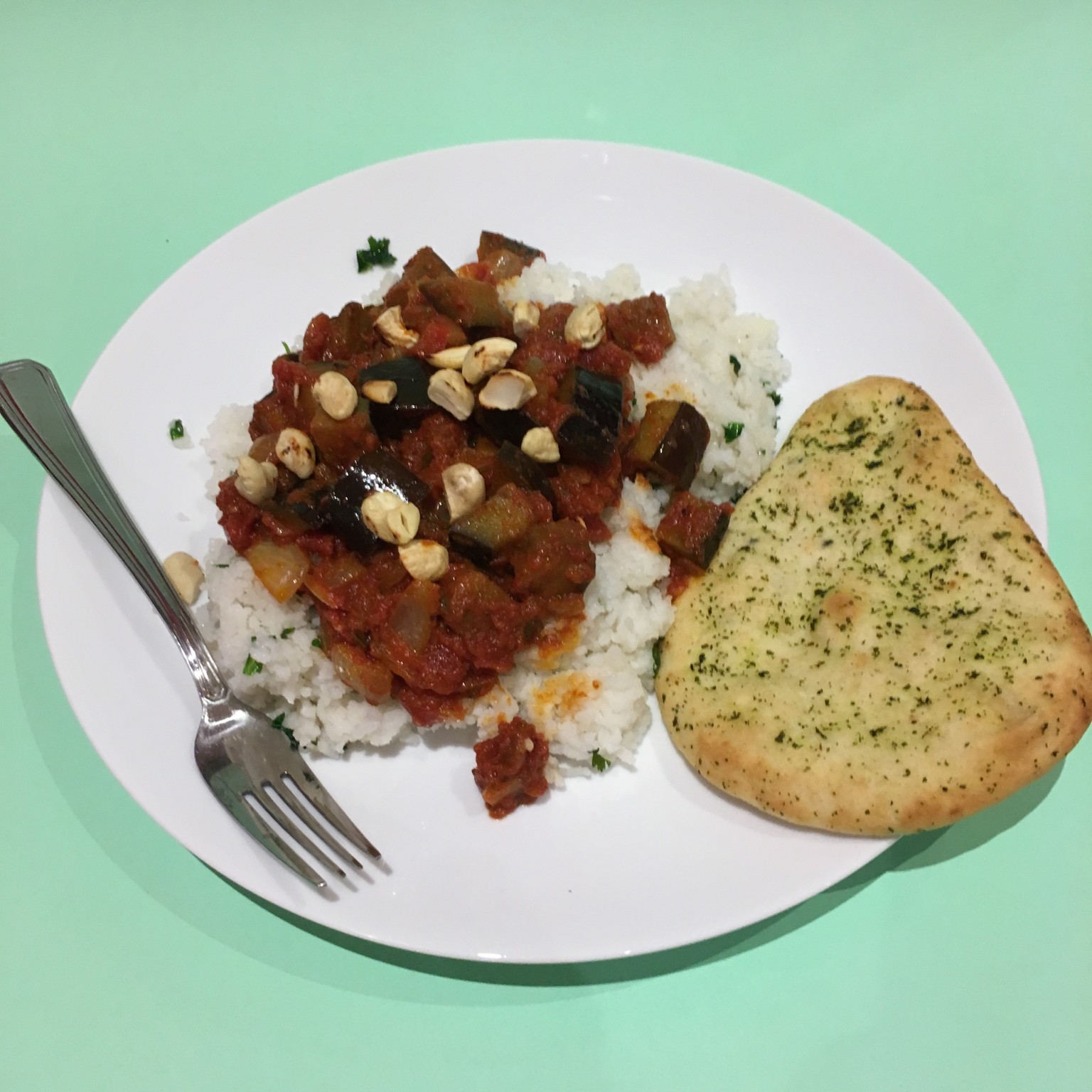 This Week's Musical Offering: Voyage by Garth Stevenson
I often play the atmospheric double-bass sounds of Garth Stevenson in class - they work well for slow stretches and Savasana. I hope you enjoy this one...
This Week's Video: Try Yoga at Triyoga
Here's an inspiring promo video from the yoga studio I go to whenever I'm in London.