Monday 5th November - Cleanliness, Cookies and Contemplation
Class Notes... The 5 Niyamas
You've probably already worked this out but yoga is more than just stretching your body. It is a complete system to feel good in body, mind and spirit. Guidelines for how to do this were set out between 200 and 400 BC in a text called the Yoga Sutras that is still used today. This text is like a handbook in which the system of yoga is divided into 8 parts or 'limbs' for practitioners to work through. On our exploration here on the blog, which is just the briefest taster of a huge subject, we have already covered the first 'limb', the Yamas, and now we're moving on to the second one - the Niyamas. These are 5 personal disciplines about how we relate to ourself, whereas the Yamas are the ways in which we relate to the world around us. The 5 Niyamas are:
Saucha – purity/cleanliness
Santosha – contentment
Tapas – self-discipline
Svadhyaya – self-study
Ishvara Pranidhana - surrender
We'll go through them one by one, starting this week with Saucha.
The first thing that comes to mind is being physically clean for our practice but Saucha encompasses a lot more than that. We arrive at the mat, clean(ish - most of the time!) and ready to do our yoga – we have cleaned ourselves, not only out of respect for others around us, but more importantly out of respect for ourself . The practice of Ayurveda, yoga's sister science of wellbeing, offers us a number of practices to keep the body clean and healthy, including neti (nasal irrigation with salt water), abhyanga (oiling the skin), tongue scraping for oral hygiene, and body brushing to stimulate the lymph and condition the skin. We honour the practice space by leaving our shoes outside, we take care of and respect the equipment and leave it neatly ready for the next person. We create a clutter free environment for safety and to help promote a clear mind. We don't tread on the mat of someone else in the class out of respect for their personal space (and especially if it is their own mat).
During the course of our day we practice Saucha by making healthy choices, drinking lots of fresh water and eating fresh, clean foods rather than processed, packaged goods, and taking in as few pesticides as we can. We keep our homes clean and clear too to promote a spacious and uncluttered mind and spirit. We take care of what we allow into our minds in the form of media, television and what we look at on our phones. We start to notice the messages they are sending us and how we respond to them. There's a saying in yoga "where your attention goes, energy flows" so as our awareness deepens we begin to make more conscious choices about how we choose to expend our precious energy.
Meditation helps to purify the mind by reducing the constant stream of thoughts that fill our heads, enabling us to create a little oasis of calm and clear space in our busy days, and in our physical yoga practice (asana, the third 'limb' of yoga) we purify our bodies by moving, stretching, sweating, focusing and breathing fully and deeply.
Maybe you can think of some other ways in which you already practise Saucha in your life and in your yoga? And maybe you can notice a few places where a little clarity and space would be beneficial and start to send your energy in their direction too.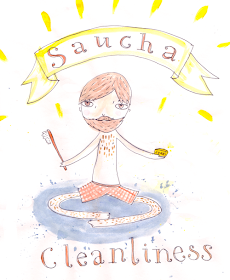 This Week's Recipe... Raisin, Maple and Macadamia Nut Cookies
Fancy something sweet (but not too sweet) to have with your cuppa? These cookies are really easy to make and, as they contain raisins and nuts they are a healthier option than many cakes and biscuits (at least that's what I'm telling myself anyway!) The recipe comes from the free Waitrose paper that you can pick up in the store each week - it really does have some good ones in it.
You will need:
Makes 12-18
Preparation time 15 minutes
Cooking time 15 minutes (although I think next time I'll cook for 13 minutes for a slightly chewier cookie - my oven is a bit fierce!)
100g of Flora margarine (I used the Dairy Free one)
100g light brown soft sugar
50g golden granulated sugar
175g plain flour
half a teaspoon of bicarbonate of soda
100g raisins
1 tablespoon maple syrup
100g macadamia nuts
And here's how to make them:
Preheat the oven to 180C, gas mark 4. Put all the ingredients in a large bowl and mix together for a couple of minutes using a wooden spoon, pressing on the ingredients with the back of the spoon as you mix. Then, using your clean hands, continue mixing to bring the dough together and into a ball - this will take 1-2 minutes. Alternatively, mix everything together in a food mixer for a few minutes until a ball of dough forms.
Shape the mixture into 18 walnut-sized balls, transferring them to 2 oiled baking sheets as they are ready, leaving enough space between them for them to spread.
Press each ball lightly with the palm of your hand to flatten it slightly. Bake the cookies for 15 minutes. Once out of the oven, leave them to cool for a few minutes on the baking sheets before using a fish slice to transfer them to a wire rack.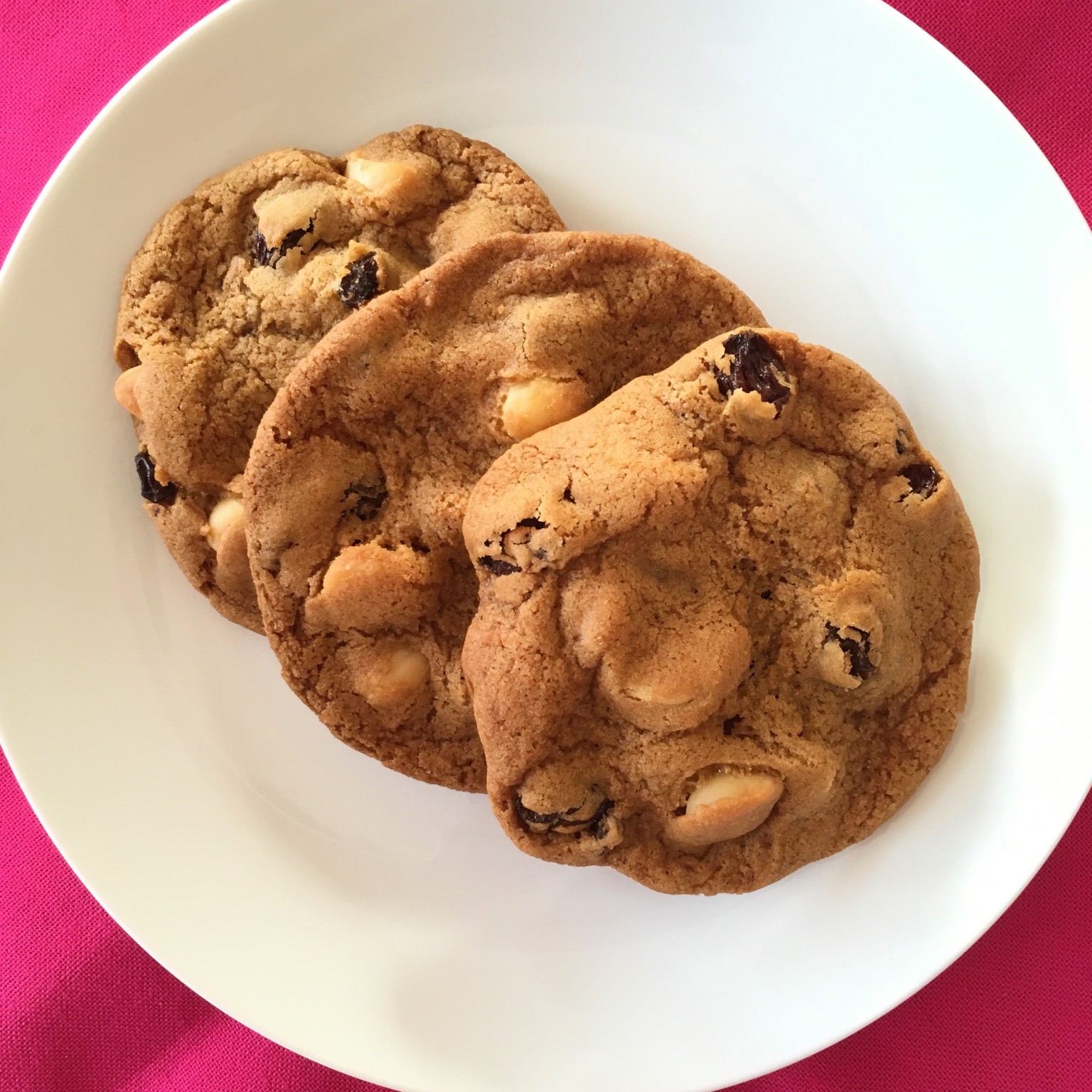 This Week's Musical Offering... Remembrance by Benjy Wertheimer
I play this track in class sometimes while we do our slow stretches, restorative poses or Savasana. It seems appropriate to share it this week it's nearly Remembrance Sunday. It's 11 minutes long too. So, on the 11th day of the 11th month maybe you can find 11 minutes to sit and be still to remember and contemplate. Had my life and my circumstances been shifted 100 years earlier it would have been my son there in the mud and the madness of war - something to think about indeed...
In Flanders Fields
In Flanders fields the poppies blow
Between the crosses, row on row,
That mark our place; and in the sky
The larks, still bravely singing, fly
Scarce heard amid the guns below.

We are the Dead. Short days ago
We lived, felt dawn, saw sunset glow,
Loved and were loved, and now we lie,
In Flanders fields.

Take up our quarrel with the foe:
To you from failing hands we throw
The torch; be yours to hold it high.
If ye break faith with us who die
We shall not sleep, though poppies grow
In Flanders fields.
John McCrae, May 3, 1915
This Week's Video...
We've had a couple of really frosty mornings this past week (my dahlias have had it!) and on Friday I was out on my dog walk early. We went to Bookham Common and it was just beautiful. I took a few photos but I only have an i-phone so, although I do take some good shots, it's a bit limited and there's a lot of luck involved. I'd love to get in a bit closer... like this beautiful video of frost forming on rosehips...
and this one of frost on bubbles ...