Monday 8th October - Walking for Wellness
Class Notes... the 4th Yama - Brahmacharya
If you've been at class and/or reading the blog for the last few weeks you'll know about the Yamas - they're the first of the 8 parts or 'limbs' which make up the practice of yoga. They consist of 5 ethical guidelines for how to live your life in the best possible way. We're up to number 4, Brahmacharya, which teaches us about non-excess. We are reminded to use our energy wisely, directing ourselves away from external desires and fleeting pleasures. We are encouraged to practice moderation in all things, never going into excess. If we do, we can lean towards addiction - food, drugs, shopping, sex, alcohol, money, using our phones - all things that we can become excessively dependent on. Our culture is constantly sending us messages via adverts and the media that we need to have and buy more or we won't have or be enough. When we can recognise what we already have in our lives and have gratitude for these things we often realise that life is plentiful anyway and we don't actually need more. We are not depriving ourselves by practicing Brahmacharya but recognising and enjoying what we already have. By having awareness of Brahmacharya and having a daily gratitude practice we can learn to enjoy things in moderation and become more self-sufficient rather than dependent on external pleasures.
So is Brahmacharya relevant on the yoga mat? Yes! Instead of doing yoga with extremes of energy (examples would be a full-on vinyasa flow class and skipping Savasana, or consistently being reluctant to work hard in our practice) can we find the middle ground and do both - gain strength and stamina AND rest and relax body and mind too? It always comes down to finding the balance so that we can live a fulfilling, healthy and peaceful life.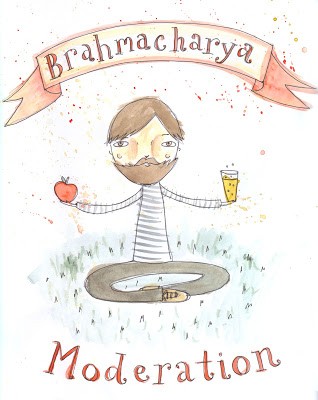 A Bit About... Walking for Wellness
The benefits of taking a regular brisk walk are well known to us and research is continuing to discover more and more ways walking can keep us healthy - from reducing the risk of getting dementia and some types of cancer to improving our mood and the health of our hearts. A study of 334,000 people by researchers at the University of Cambridge showed that a brisk 20 minute daily walk can cut your risk of premature death by almost a third! But, according to Public Health England (PHE), 25.6% of adults in the UK do less than 30 minutes exercise a week!! Health officials say that changes in habits in recent decades mean people are now 20 per cent less active than they were in the 1960s, with cars increasingly used for even the shortest of trips. They are urging millions of Britons to make small changes to their lives, using a free app which sets activity targets. Dr Jenny Harries, deputy medical director at PHE, said: "Walking to the shops instead of driving or going for a brisk 10-minute walk on your lunch break each day can add many healthy years to your life. The Active 10 app is a free and easy way to help anyone build more brisk walking into their daily routine."
If you want some guidance and motivation to increase the amount of walking you do each day take a look at the website for the Active 10 app here, and watch the short video to inspire you to put your trainers on and get out there and enjoy this autumn season!
If you live locally to me in Surrey you're sure to know about the National Trust property Polesden Lacey which has many beautiful tracks and trails to explore. But did you know that it now has a 'Wellness Walk'? Along this trail, which takes in Polesden Lacey's most beautiful views, you'll find wooden plaques inscribed with mindfulness quotes to help you pause to connect with the surrounding landscape. You can find out more about it here https://www.nationaltrust.org.uk/polesden-lacey/features/uplifting-wellness-walk. (Just so you know, you don't have to pay the entrance fee to do this walk - instead of accessing it through the reception area you can skirt around the edge via what is known as 'Golf Course Field' and pick up the trail at Viewpoint 1. But ssshhhhhh! don't tell them I told you ;-))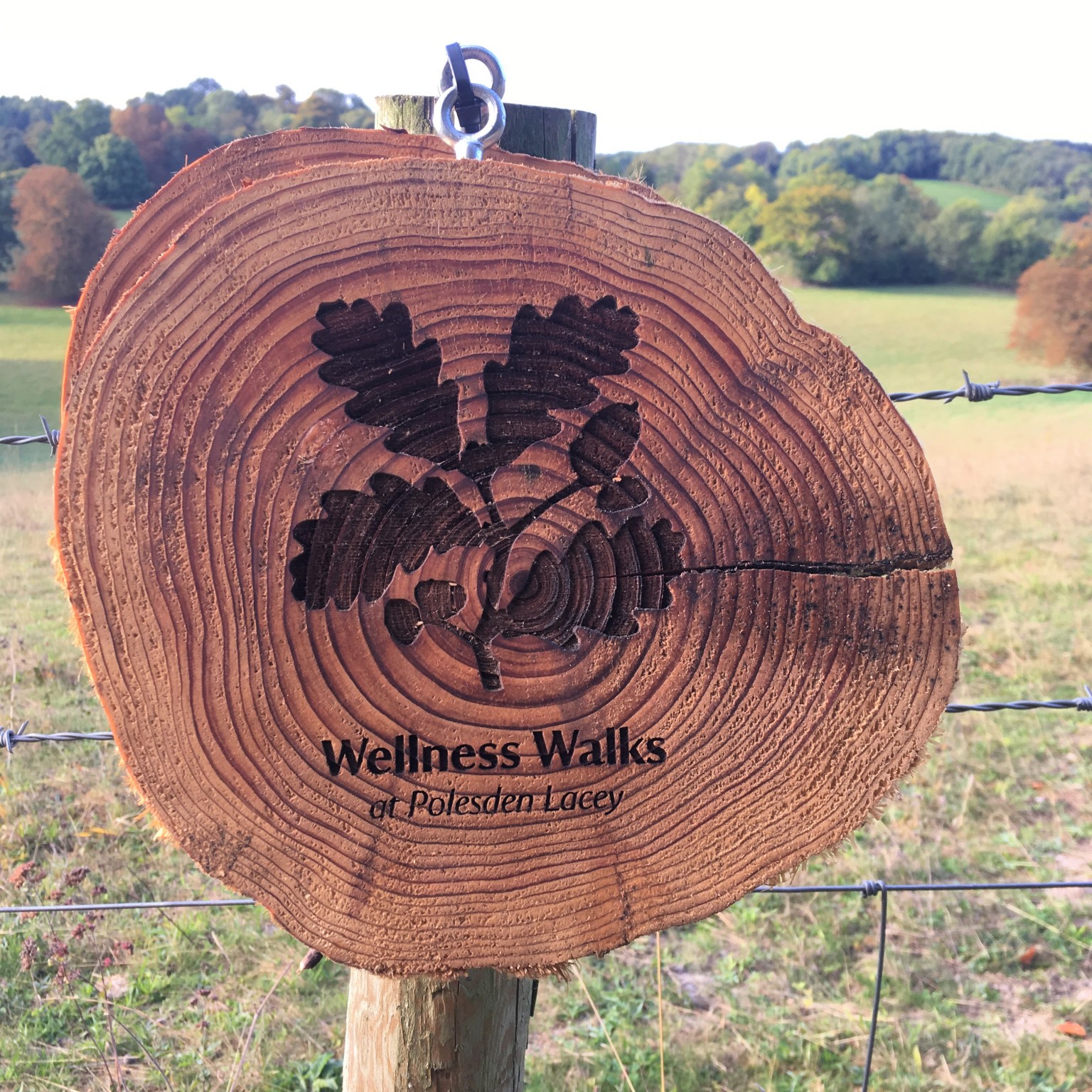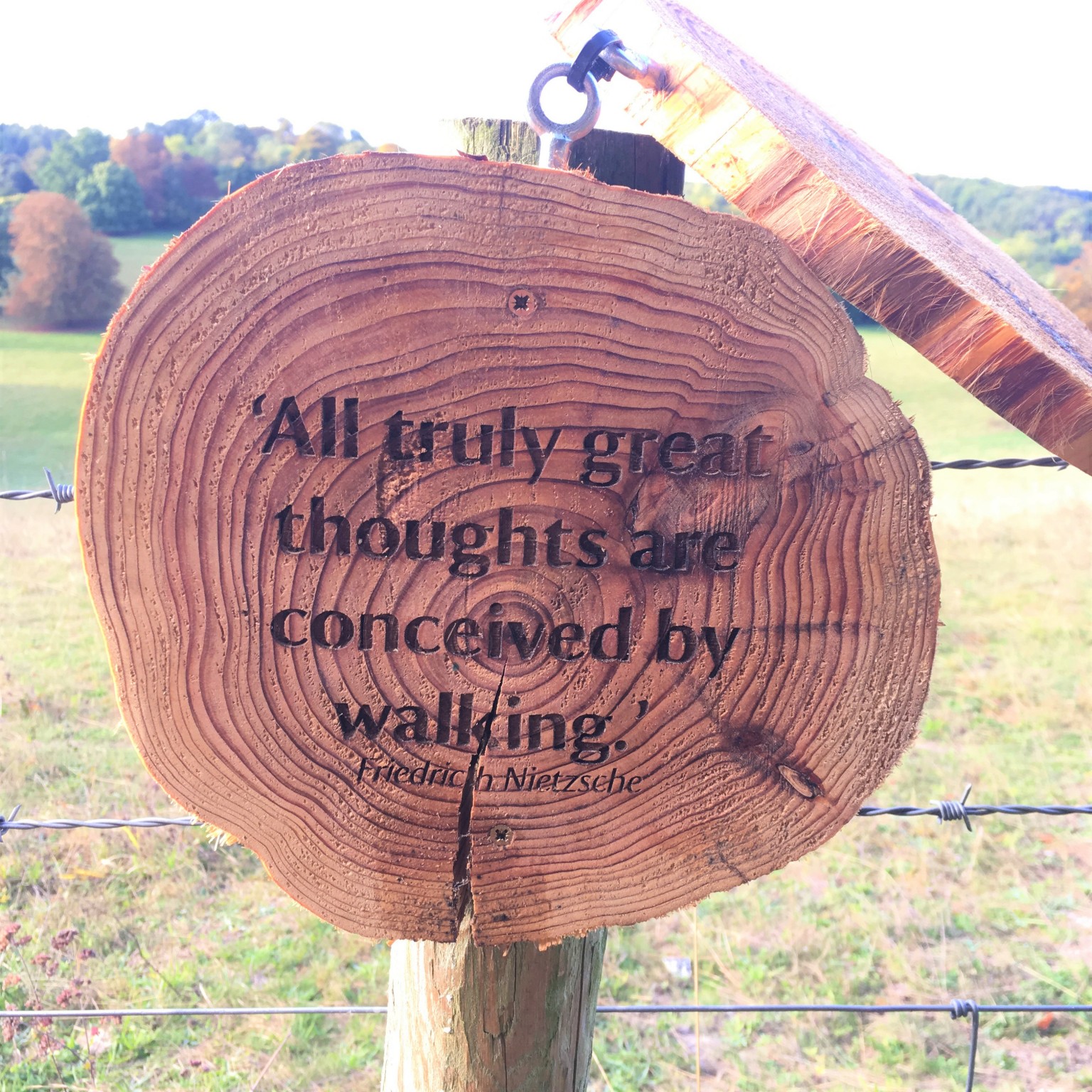 A couple more things to tempt you out for a country walk - the Autumn Tree Festival at Painshill Park, Cobham, Surrey on 21st October. There's a trail with lots of activities, a heavy horse wagon, craft stalls and more https://www.painshill.co.uk/event/autumn-tree-festival/ , some other beautiful autumn walks in Surrey https://www.nationaltrust.org.uk/lists/autumn-walks-in-surrey and, if you don't live in Surrey here's a selection for you - I hope you find one nearby... https://www.countryliving.com/uk/wildlife/countryside/a963/best-autumn-walks-uk-national-trust/
This Week's Recipe... Pumpkin, Red Pepper and Lentil Soup
This soup, from the free weekly Waitrose paper, is so hearty it's more like a stew. Nourishing, warming and easy to make, this recipe serves 6-8 so there's plenty to freeze for another day.
You will need:
1 medium onion
2 cloves of garlic
a thumb-sized piece of fresh ginger
1 large or 2 medium red peppers
600g pumpkin, butternut squash or sweet potato
2 tablespoons olive oil
half a teaspoon of salt (or to taste)
half a teaspoon of freshly ground black pepper
400g tin of chopped tomatoes
200g red split lentils
2 litres vegetable stock
2 teaspoons medium curry powder
small pack of baby spinach
And here's how to make it:
Peel and finely chop the onion, garlic and ginger. De-seed and chop the red peppers and the pumpkin into bite-size pieces.
Warm the oil in a large pan over a high heat and fry the onion, garlic and ginger for 4 minutes, stirring occasionally, until the onions are starting to brown and the garlic is turning golden.
Mix in the pumpkin/squash/sweet potato with the peppers and season with salt. Cover, reduce the heat to medium and cook, stirring occasionally, for 5 minutes.
Stir in the tomatoes, red lentils, stock, curry powder and the black pepper. Turn the heat up high and bring to the boil with the lid on. Reduce to a simmer and cook for about 20 minutes until the lentils and pumpkin are soft. Stir regularly so the lentils don't stick to the pan. Season to taste.
Remove from the heat and stir in the spinach before serving.
Note: I found that 2 litres of stock was a little too much liquid and next time I will use less to make a thicker soup. If you don't like a chunky soup you can whizz it in the blender to make a smooth consistency.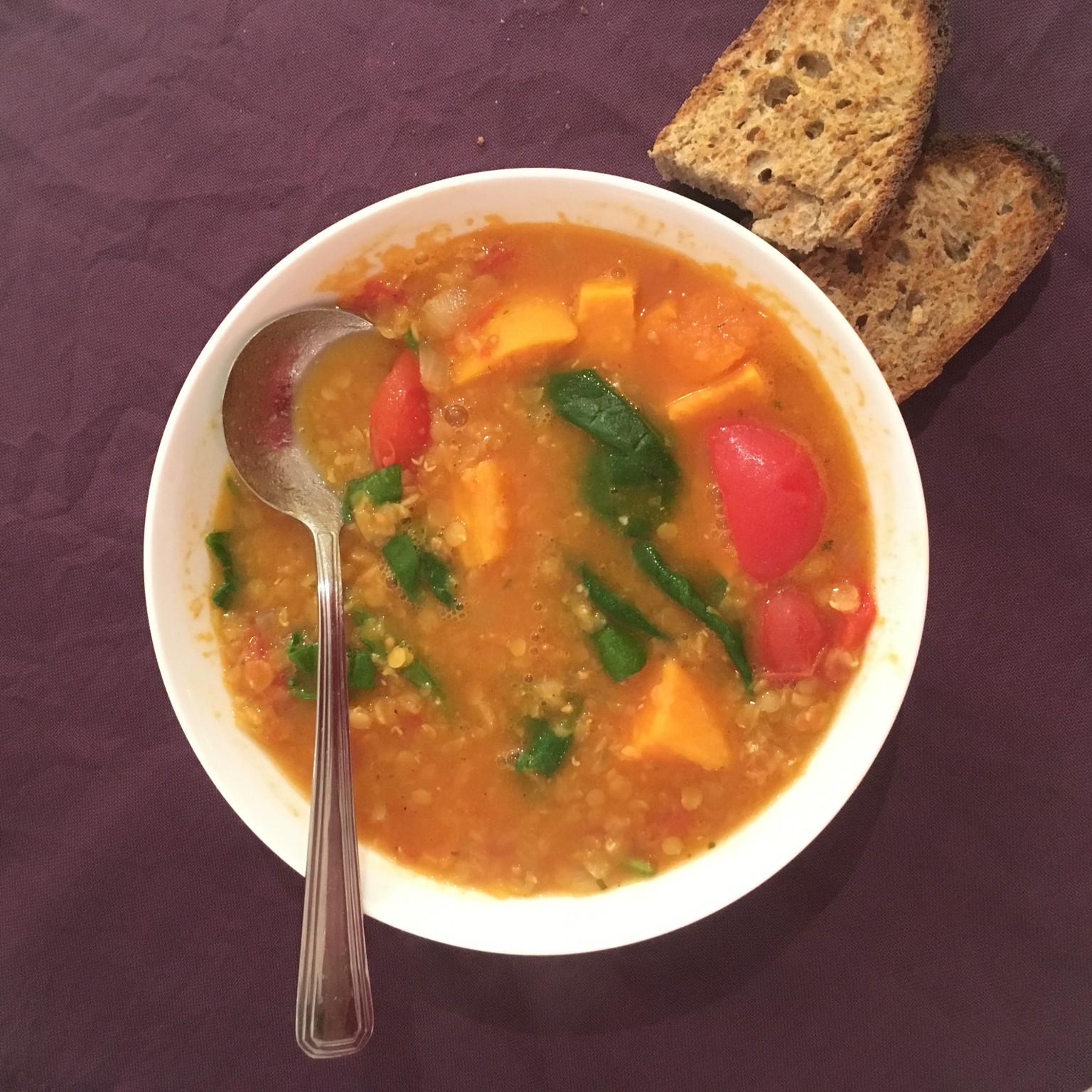 This Week's Musical Offering... Way of the Winding Valley by Karunesh
I regularly play tracks by Karunesh in my yoga classes - his music has an Indian/Eastern influence and often a good, slow, steady rhythm which fits well with most of the sequences. This track's a more relaxing one which goes perfectly with seated and supine postures - you could play it while you're doing Legs Up The Wall Pose (Viparita Karani) to recover from your walk :-)
This Week's Video... from Country Walking Magazine
If you're now thinking about digging out your walking boots and going exploring, a copy of Country Walking magazine might give you some ideas, inspiration and plenty of routes for walks in wonderful places around the UK. It's £4.99 and you can pick up a copy in W H Smith. Here's an ad for it which has some lovely scenery and definitely made me want to pack up my rucksack and get outdoors!
Have a great week watching the leaves change colour :-)