Tuesday 31st July - Sparkling Wine, Summer Salad and Music for Savasana
It's been a while dear reader. I've been away on holiday and, although I set this blog post up to publish while I was away, the technology let me down and it didn't work (or rather my limited knowledge of technology prevented it from working!) Anyway, I'm back now and here is the latest post...
I'm looking forward to life being a little less timetabled over August as my regular classes are finished for the summer break. I want to be a bit more spontaneous and unstructured with these lovely long warm summer days and relax a bit. So, for the next few weeks I'll be posting on the Blog as and when things come onto my radar rather than curating and collecting them all together into the usual 'mini-magazine' format. So, although I'll still be sharing things here, expect it to be a little different for a while.
52 @ 50 no. 40 - A Visit to Albury Organic Vineyard
I took my husband to this small, local vineyard for his birthday present recently. Set in the Surrey Hills just off the A25 between Dorking and Guildford, Albury Organic Vineyard is a family run business that is making a name for itself with its sparkling white and rose wines. It offers tours and tastings so you can see at first hand how the grapes are grown and sample the end product too. On our visit we were guided around the vineyard by the very knowledgeable Assistant Manager, Dominic, who explained about growing vines biodynamically and organically - no spraying of pesticides at all - and then we sat on the patio area overlooking the rolling fields and row of vines while Lucy, the owner's daughter, talked us through their range of wines as we tasted and compared them.
The afternoon was very interesting - there is so much I didn't know about growing grapes and producing wine! - the setting was idyllic, the people friendly and the wine light and fruity. And, of course, we bought a bottle to take home with us. If you're looking for a different sort of afternoon out I do recommend a visit to Albury Organic Vineyard - click here to take a look at their website for more details.
I'm aware that some might say that alcohol has no place in a yogic lifestyle - we are, after all, aiming to keep both body and mind as clean and healthy as possible. The guidelines set out within the Yamas - the first of the 8 'limbs' of yoga - remind us to live with moderation and restraint (Brahmacharya) and to practice non-violence (Ahimsa) towards ourselves as well as to others. With these guidelines in mind, I'm happy to have a glass of wine every now and then, while practising moderation and non-harming, and fully enjoy and savour it. It is possible though that, as I move along the path of yoga, learning and growing, I might change my mind about this and abstain - but, for now at least, 'Cheers!'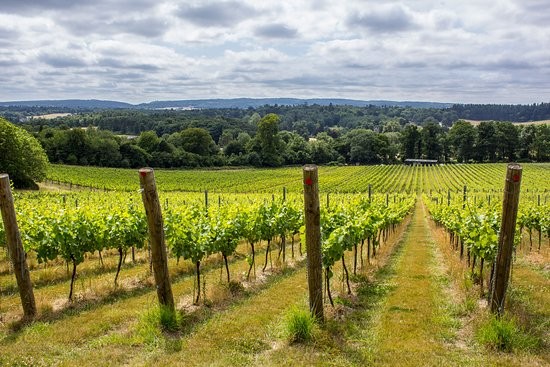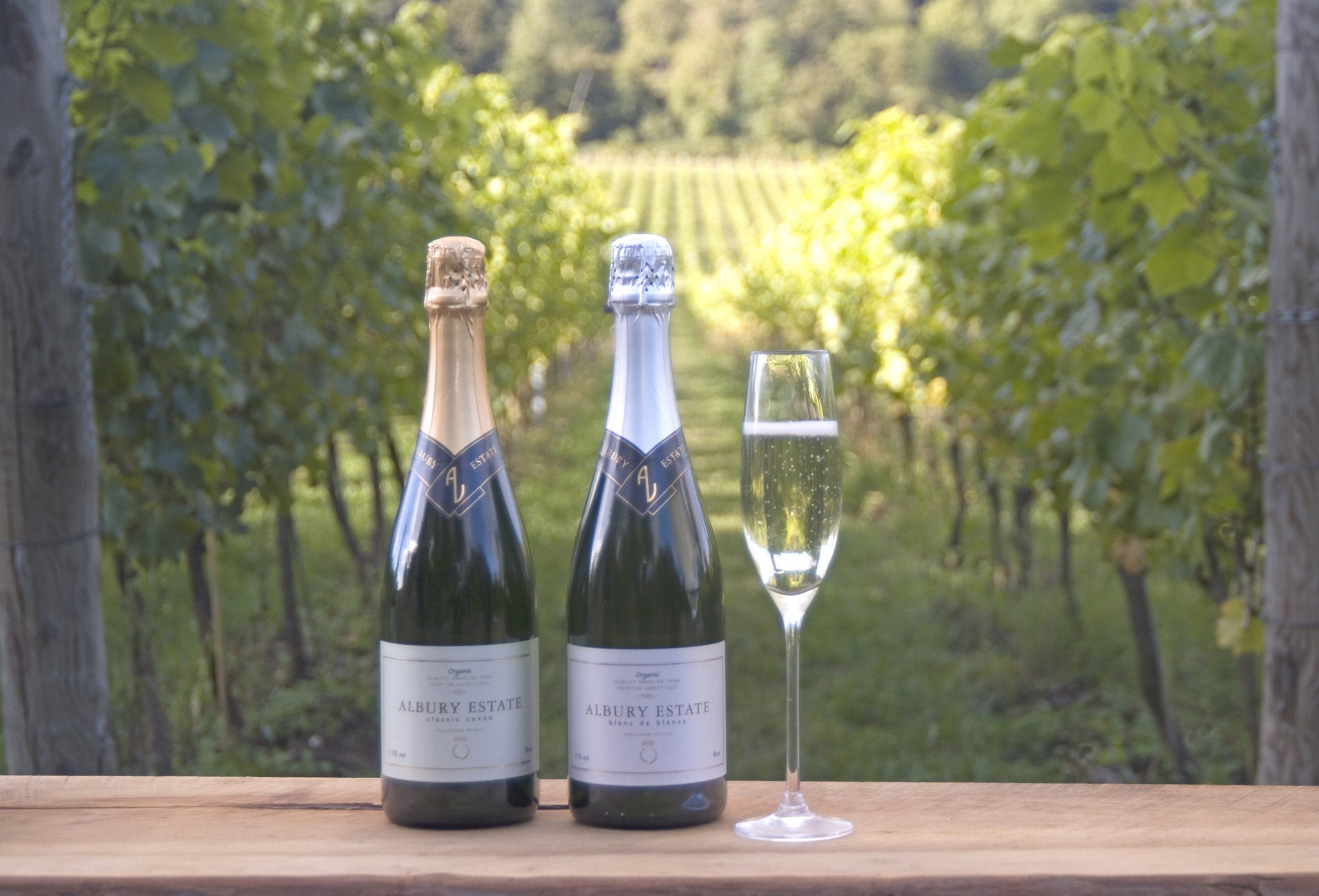 This Week's Recipe... Quinoa, Almond and Mint Salad
This fresh and zingy salad comes from a book called The Green Kitchen Travels by David Frenkiel and Luise Vindahl. Perfect for lunch or supper on these hot days, it is full of fresh, healthy ingredients and is really easy to make.
You will need:
1 courgette
1 aubergine
2 tbsp olive oil
1 garlic clove, crushed
300g quinoa
750ml water
1tsp ground cinnamon
juice of 1 lemon
a handful of mint leaves
2 avocados cut into small squares
3 tsp raisins
1 pomegranate, seeds scooped out and separated
100g toasted salted almonds
Note: I used half measures for a salad for 2 people. I would use a little less salt and lemon next time. Instead of using dried quinoa, you could use pre-cooked and therefore skip a step of the instructions below. I also added some shredded cos lettuce and some cherry tomatoes too.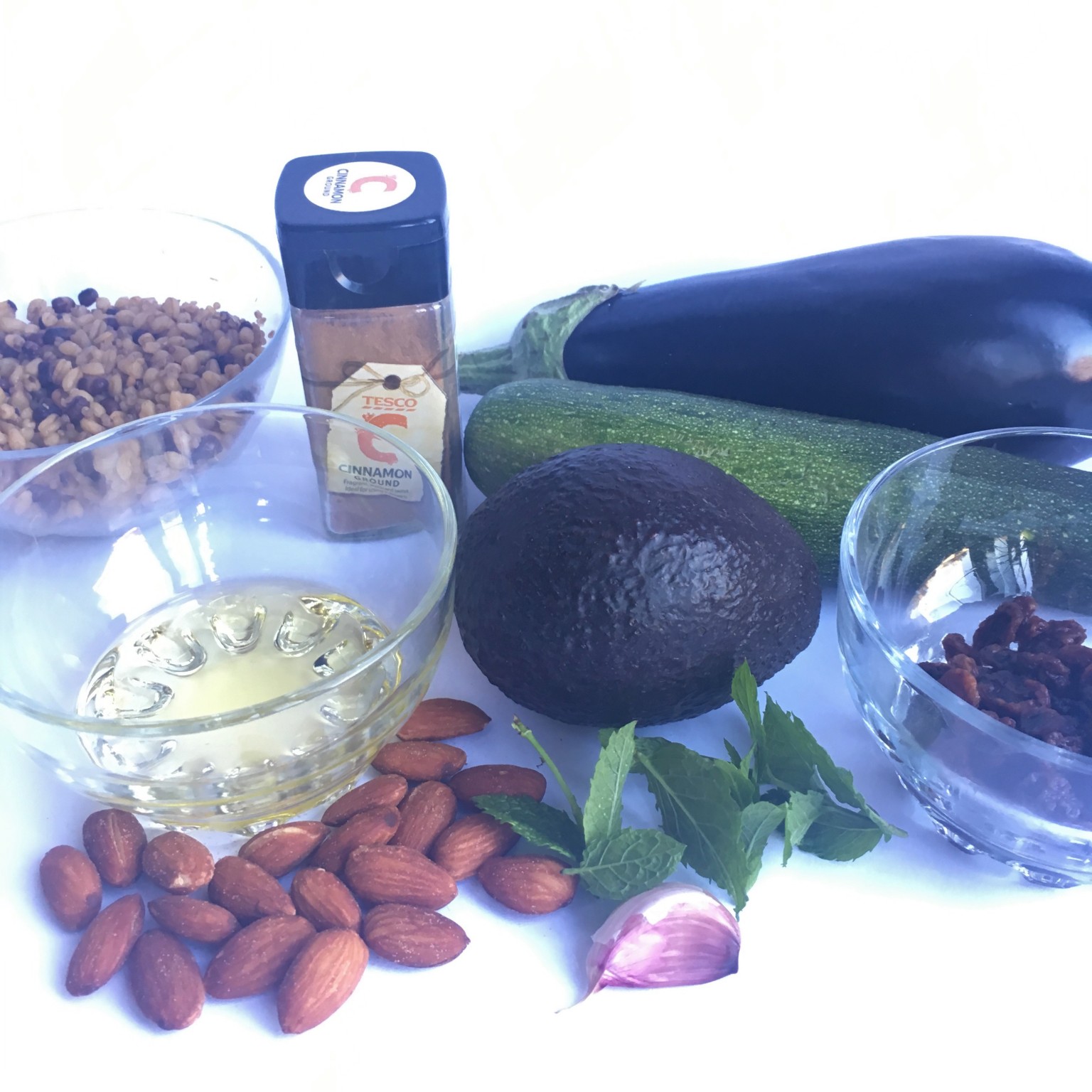 And here's how to make it:
Preheat the oven to 200c/Gas 6. Slice the aubergine and courgette into thin rounds. Place on a grill rack in a baking tin and use a pastry brush to brush them lightly with oil on both sides. Sprinkle with salt and roast in the oven until soft and slightly burned on the edges - about 15 minutes but keep an eye on them as they burn easily. Remove the vegetables from the oven and place in a bowl. Add the olive oil and garlic and set aside.
Rinse the quinoa well in water and drain. Place in a saucepan and add the measured water, ground cinnamon and half a teaspoon of salt. Bring to the boil, then reduce the heat immediately. Cover and simmer gently for 15-20 minutes.
To assemble the salad, place the cooked quinoa in a large serving bowl and leave to cool slightly. Then, add the lemon juice, herbs, roasted vegetables, avocado and raisins, and toss until everything is well combined.
Garnish with the pomegranate seeds and almonds. Serve, or store in the fridge in an airtight container for 3-5 days.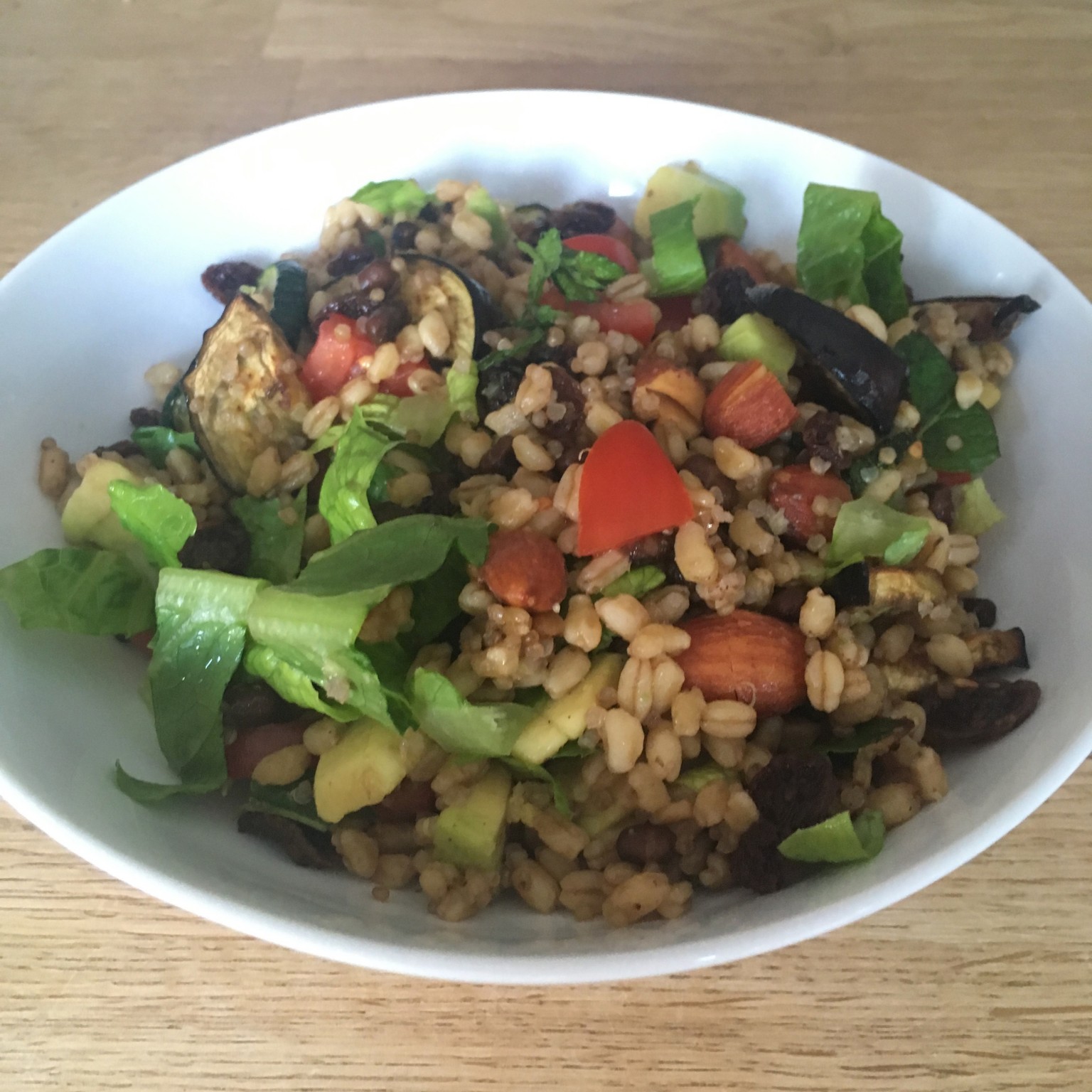 This Week's Musical Offering... And here's some music to accompany your Savasana or meditation. I'm feeling pleased with myself about how it links to the '52 @ 50' above - wine is known as 'the nectar of the gods', and this track is called 'Nectar'. (See what I did there? ;-). It's by Benjy Wertheimer. Enjoy a few peaceful minutes of quiet contemplation listening to it.
Until next time.... Namaste and thanks for reading.