Friday 15th June - Restful Retreats and Flowers and Bees
52 @ 50 no. 38... Attending a Weekend Yoga Retreat On My Own
Continuing my long-running series of trying 52 new things as I reached my 50th birthday (that was some time ago and I still have 14 more things to do!), I decided to take myself away for the weekend. I have been on lots of yoga retreats over the years, either as part of my original training course or, more recently, weekends that I've hosted myself, but this was the first time I'd attended a weekend retreat on my own as a guest and student in the UK. Back in March I went to a class at Triyoga, London with a teacher I've practised with on and off for some time. At the end of the class she mentioned that she was planning a retreat at a new venue in Kent. The weekend was titled 'Lean into the Light', which appealed to me greatly. I felt that, having had some dark times over the last few months, stepping into light and warmth with space to be on my own and be guided through my yoga practice as a student rather than as a teacher would be helpful and healing.
The venue was gorgeous. Set deep in the Kent countryside near Canterbury, The Quaives is a large country house which has undergone a complete renovation of its barn and outbuildings to provide a modern and well-equipped wellness centre, albeit with limited accommodation. We were a small group of 12 people and, during our opening circle as we spoke about where we were from and why we were there, it was revealed to be a very international gathering. The teacher, Lisa Sanfilippo, is American, there was a mother and her daughter, also from the US who were travelling around Europe, a Japanese couple and the others, who all lived in London and had attended Lisa's classes in the past but didn't know each other, came from Chile, Romania, US, Australia and Turkey. I was one of only 3 Englishwomen. It was a complete delight to be part of that diverse, multi-cultural, interesting group. We found each other easy company - which was lucky as I was sharing a dormitory with 5 of them!
The yoga was slow and gentle (which turned out to be just what I needed), the food was amazing (creative, colourful, delicious and vegan) and the weather was good. I read, walked, meditated, did yoga and rested. We were asked to choose a word to keep in mind for the weekend - I chose 'space'. As the weekend unfolded, so did the word - what did I want the space for? How would I use it if I got it? I wrote down 'wander', 'roam', 'sit', 'connect', 'breathe', 'grow', 'create', and 'go slowly'. I'm an active person by nature. I like to get things done and boy, there seem to be a lot of things to get done! I walk purposefully and rarely sit down to read a book. It's a choice, but it's a habit now and I think I need to loosen the ties of this habit a little and slow down. I've brought the piece of paper home to remind me what I need - and what I think so many of us need in our busy lives. I'm glad I have my yoga and meditation practice to give me space in my body and my mind to unwind and mono-task rather than multi-task. Every time I step onto my mat I soften and relax. The yoga works its magic as I move and breathe and, when it's time to roll my mat back up, I'm left feeling relaxed, renewed and refreshed. As a yoga lover, I'm guessing that you probably feel the same way too.
A whole weekend of yoga is a luxury but it is a very do-able and affordable way to take some soulful time to yourself and I wholeheartedly recommend going on one if you can. But, if it's not a possibility at the moment there are other options to consider - you could try taking a workshop or a different class, take yourself off for a walk in the countryside and notice what you notice, cook a delicious healthy meal just for you, listen to some soothing music, read your book, take a long bath. And, of course, do your yoga and sit and meditate. And then sit some more. See if you're drawn to a single word that might help to guide you towards what you need. Create a little oasis of peace and tranquility - your own tiny retreat to nourish and nurture yourself.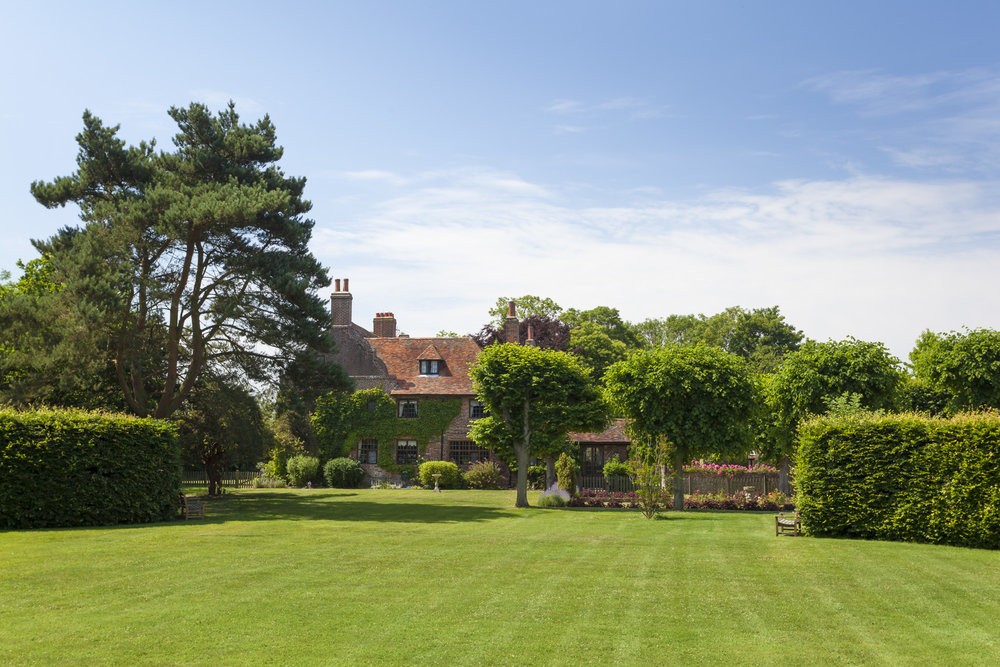 In the garden at The Quaives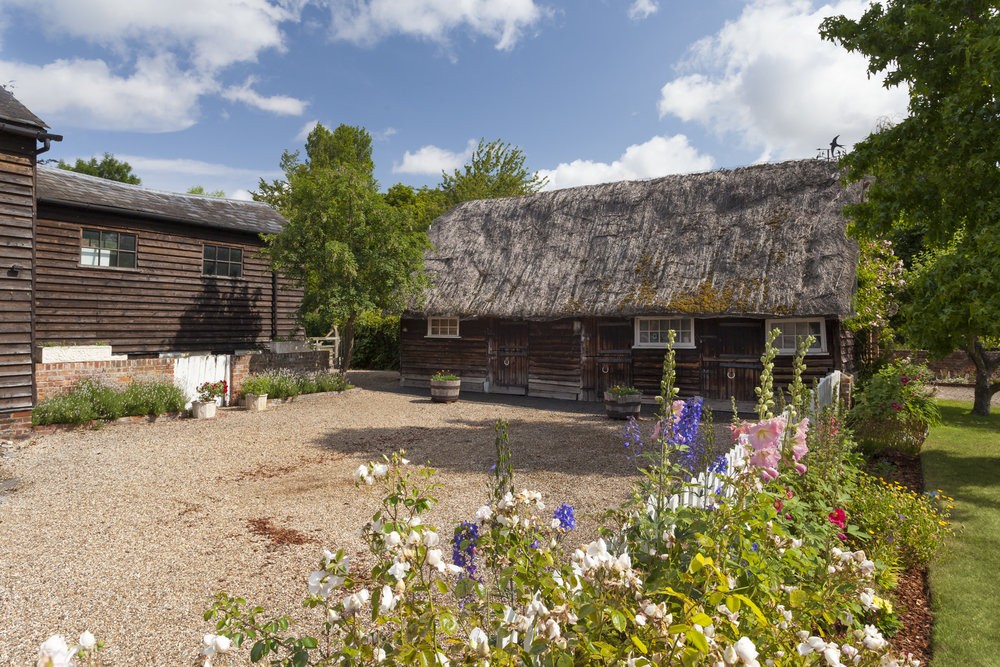 The courtyard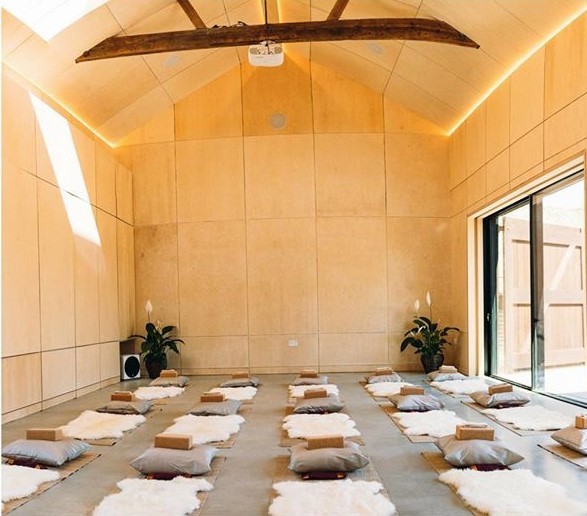 The beautiful, light-filled yoga shala
A Bit About... The Great British Bee Count
I'm busy in the garden at the moment (there I go again - being busy!), planting out my summer bedding and the seedlings that I've been nurturing since April. I love my late-summer garden, rich with jewel colours from dahlias, cosmos and salvias. I choose plants which flower prolifically over a long period of time so that the colour extends all the way up to the first frosts of winter. These tender annuals aren't in bloom just yet but some of the hardy perennials are already up, out and doing their stuff. Nepeta (purply-blue catmint), alchemilla (frothy yellow flowers) and knautia (pink 'pincushion' flowers) are usually very attractive to bees but, strangely, this year there are hardly any in my garden. The Lavender is just about to flower and I'm hoping that will encourage them in but I have to say I'm a little concerned - the lack of them is very noticeable.
There has been lots of publicity over recent years about the decline of our bees due to the overuse of pesticides and the destruction of their habitat. There has been some progress to reverse this but our bee friends still need us to do more. We cannot ignore this problem - we need the bees to pollinate our fruits and vegetables. No bees = no food! Friends of the Earth are currently running a bee survey to gather more information about bee populations in the UK and they need us to take part. There's a free app to help you identify and record bee sightings and advice on how to make your garden more bee-friendly. The survey is running up until 30th June - click here to find out more and take a look at the video below too:
And A Bit About... British Flowers Week - 18th-24th June
British Flowers Week is an initiative started by New Covent Garden Market in London to promote seasonal, British cut flowers. In the 1970's nearly all our flowers were grown in the UK but nowadays only about 12% of the flowers we buy come from this country. Most are imported from abroad, which has a big carbon-footprint and also means that by the time they reach our vases, the flowers aren't as fresh as they would be if they had been locally grown. As well as highlighting sustainability issues, British Flowers Week also promotes the work of independent florists and there are a host of floral workshops on offer as part of this special week. You can take a look at the lovely flowery website here or enjoy the video below to get inspired to go out and buy yourself, and maybe someone else, a bunch of British flowers.
This Week's 5 Pose Flow...Standing Poses for strength, stability and flexibility.
Step the feet wide and extend the arms out wide too
Turn the right foot out, left foot slightly in and bend the right knee into Warrior 2 Pose (Virabhadrasana II)
Bring the right forearm onto the thigh and stretch the left arm up and over into Side Angle Pose variation (Utthita Parsvakonasana)
Lift the right arm up as you slide the left hand down the left thigh and look up towards the right hand - you are in Reverse Warrior Pose (Viparita Virabhadrasana)
Straighten the right leg and really stretch the right side of the body, then
Stretch the torso to the right as you bring the hand down to rest lightly on the shin in Triangle Pose (Trikonasana), turning the torso and extending the left arm to the sky
Press down into the feet to come up to upright again, and repeat on the left side
(click the button on the bottom right to expand the screen if required)
This Week's Recipe... Energy Boost Bars
I felt like making something sweet this week - something to have with my afternoon cuppa - and I found this recipe in my Vegan Food & Living magazine which fitted the bill just fine. So here are these yummy energy bars (they're like flapjack really but with a couple of extra ingredients) which, although they have sugar in, are full of healthy, wholesome ingredients that have much more nutrition than most store-bought cakes. Easy to make, easy to eat!
You will need:
125g vegan butter
125g peanut butter
2 tablespoons maple syrup
150g soft brown sugar
a little orange and lemon zest, finely grated (I used about a teaspoon)
150g of soft dried apricots, chopped
50g dried cranberries
100g mixed seeds such as sunflower, pumpkin and flax
250g rolled oats
1 ripe banana, mashed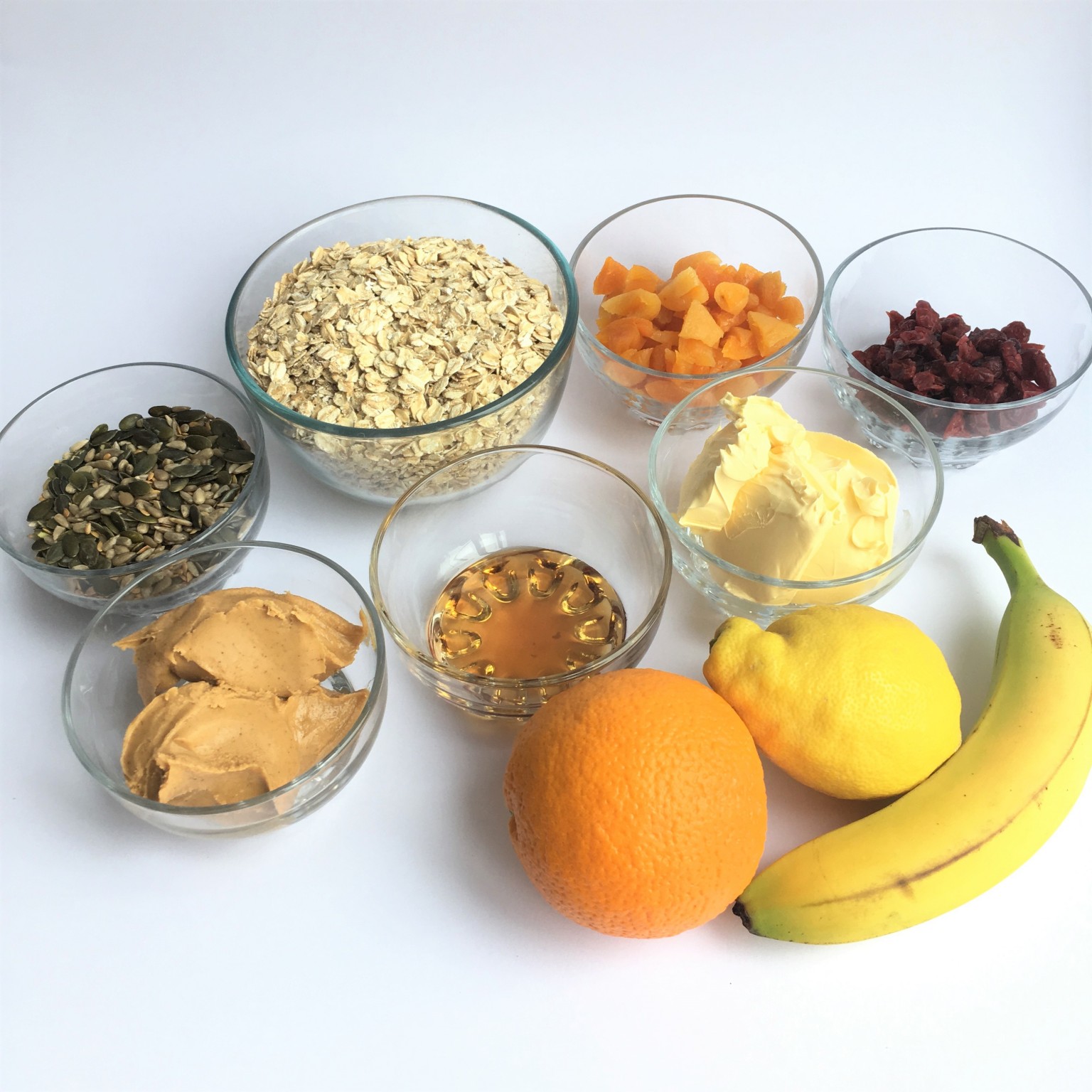 And here's how to make them:
Preheat the oven to 170c or Gas Mark 4.
Gently heat the butter, peanut butter, sugar, maple syrup and zests until melted and evenly combined.
Mix together the oats, seeds and dried fruit in a large bowl and add the sugar and butter mixture.
Add the mashed banana and mix everything together thoroughly until well combined.
Pour into a lined baking tray and press well into the sides and on top with the back of a spoon to compress.
Bake in the preheated oven for 25-30 minutes until golden.
Leave to cool in the tin, cut into bars, and store in an airtight container for up to 4 days.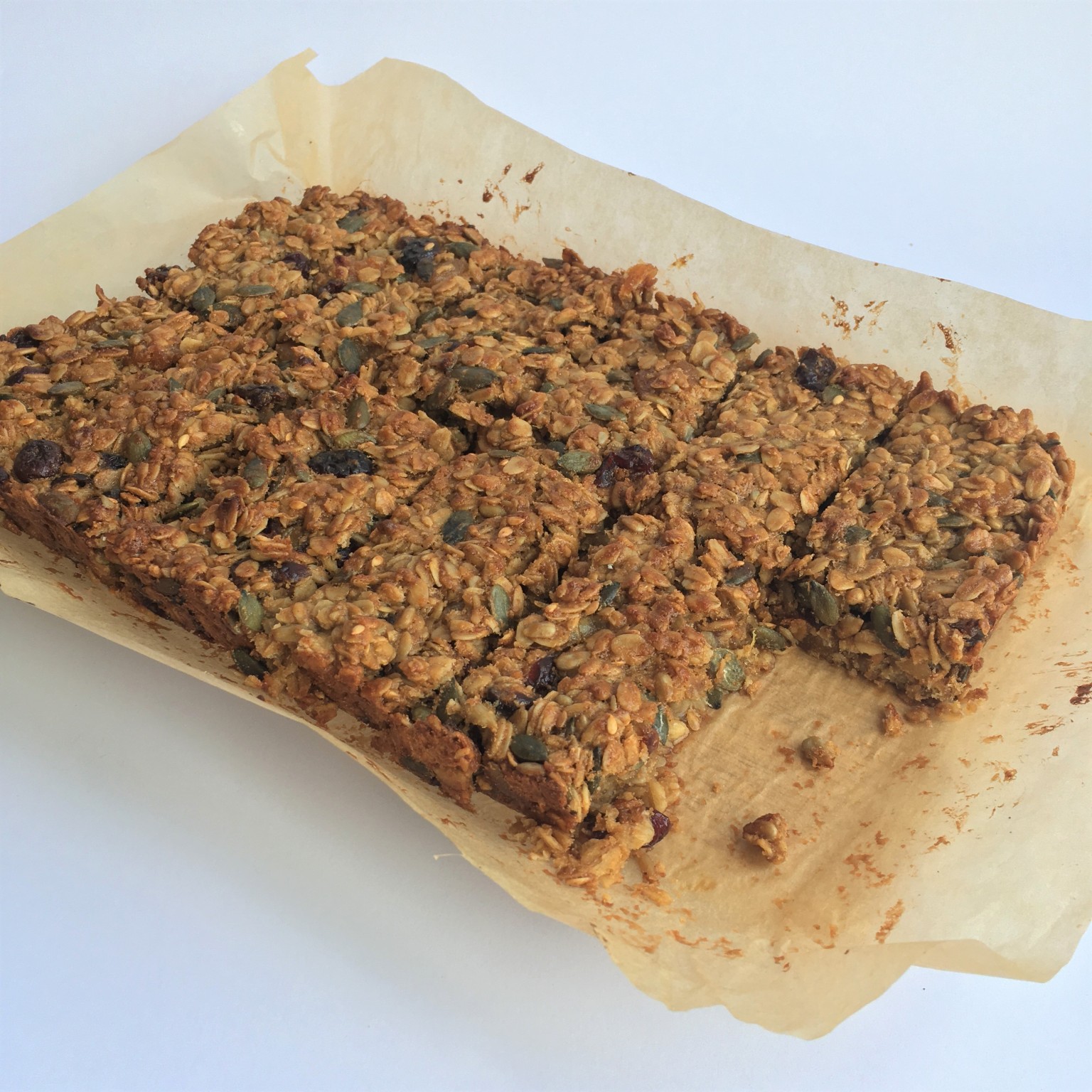 This Week's Musical Offering... Jai Mai by Sacred Earth
This lovely mantra starts slowly and builds to a gentle rhythm. It's a great accompaniment to a slow stretching sequence. The Sanskrit word 'Jai' translates as 'hail' or 'praise to' or 'respect for' and 'Ma' is a Sanskrit word for 'mother' and also signifies the feminine energy of the universe. So when we use this mantra we are sending our deep respect and praise to Mother Earth and her divine feminine energy - and all of us need to be doing a little bit more of that :-) Enjoy...
This Week's Video... is a bit of Michael McIntyre on the 3 strategies for dealing with bees and wasps - I hope it makes you smile...
Namaste and thanks for reading.