Friday 1st June - Marathons and Mushrooms
52 @ 50 no. 37 - Running the Gothenburg Half Marathon
It was my niece's idea. 5 family members and a friend would enter the Gothenburg Half Marathon and run in memory of her mother, my sister-in-law, who died of endometrial cancer in October, and we'd raise some money along the way. It would be the two girls' first ever race and, although myself, my husband, brother-in-law and friend have done several in the past, none of us had ever run a race in another country. It would be quite an adventure!
As I've found previously when preparing for a race, it's the time it takes to do the training that is the biggest challenge, not the actual event itself. Although I run twice a week every week, over the winter my routes had rarely been over 5 miles and I'd got a bit stuck with my fitness level. I was 'ticking over' but no more than that. When it's cold and muddy my running tends to a bit more perfunctory and 'let's just get this done and dusted'. I run with friends who inspire and motivate me not to duck out of my commitment which really helps. I recommend this tactic if you're starting something new - go with a friend to help you be more accountable until it becomes an ingrained habit.
It's a bit like doing yoga really. We start with enthusiasm for this new thing that makes us feel so good in body, mind and spirit, but then something comes along to divert us from our intended path and we lose momentum. Sound familiar? Mmmm me too! We promise ourselves we'll get back on the mat when life gets back to normal. But the teachings of yoga remind us that the practice isn't just for when it's convenient. We cultivate a habit of practicing no matter what is going on in our lives specifically to help us be more centered and grounded with those very things that are going on in our lives. The act of practicing creates discipline, which in turn helps us commit to practicing. Does that make sense?
Anyway, back to the running... I had to create some new habits - covering longer distances and at a different time of the day to what I have been used to. For over 15 years I've been running first thing in the morning, before breakfast. My body just feels better that way. But my start time for this half-marathon was 3.40pm. I had to change my running time which I quite strongly resisted at first. I really didn't want to run in the afternoon. It just wasn't how I do things. But I had no choice. I had to accept it and go with the flow or not do the race at all. Drop some old habits and limitations and create some new ones. So, with initial reluctance I started running on my own in the afternoons. And it was a revelation. The trails and tracks of the North Downs were so quiet, with hardly a soul about. I felt as though I had the whole place to myself. The weather was good, the paths were dry and, running solo, I noticed more things around me - leaves unfurling, flowers blooming, birds singing, shapes of trees, skylines and horizons - a different view. And a different view of myself too, feeling empowered by my growing fitness and ability to adapt to change, I completed my training confident that I could run the 13.1 mile distance on the day.
We made a weekend of our race. We rented a house (quirky and odd, but convenient) and visited the Botanic Gardens, but most of our sightseeing was done en-route as the race route wound its way around the city of Goteborg. Over bridges, through residential areas, alongside the harbour and up the main shopping avenue. There were so many people entered in the race that the start was staggered, hence our late time. With over 60,000 runners it's the biggest half-marathon in the world. There were bands playing, flags waving and over 200,000 people lining the streets to cheer us on. It felt like a big street party.
It was a hot day but we dug deep and, running in pairs to mentally support each other, we all finished - Chloe and I in a time of 2 hours 21 minutes. We raised a total of £2,604 for The Eve Appeal, a charity which raises awareness and funds research into the 5 gynaecological cancers that affect women. It was a satisfying experience - raising my running game, overcoming my (mainly mental) challenges, coming together as a family, fundraising for a worthwhile cause and completing the course feeling remarkably ok. It was also a great way to see a new city. Now, when's the next one?...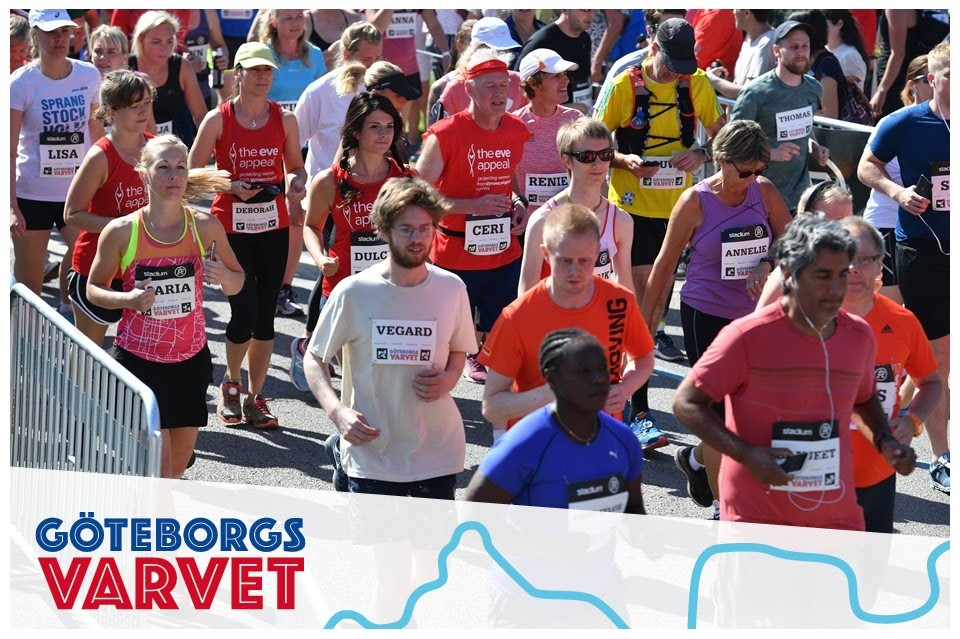 Can you spot me at the start...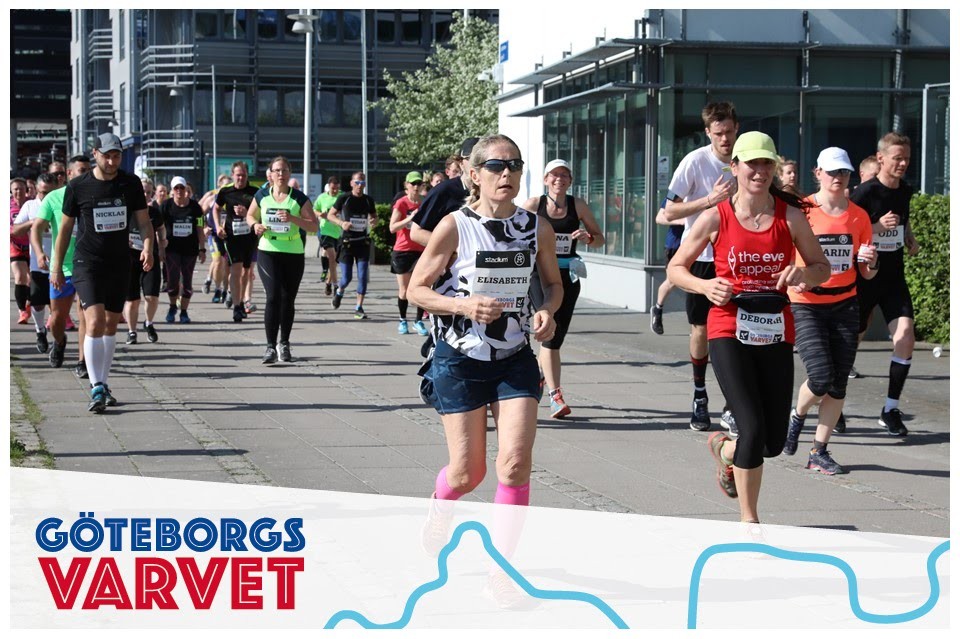 In the middle...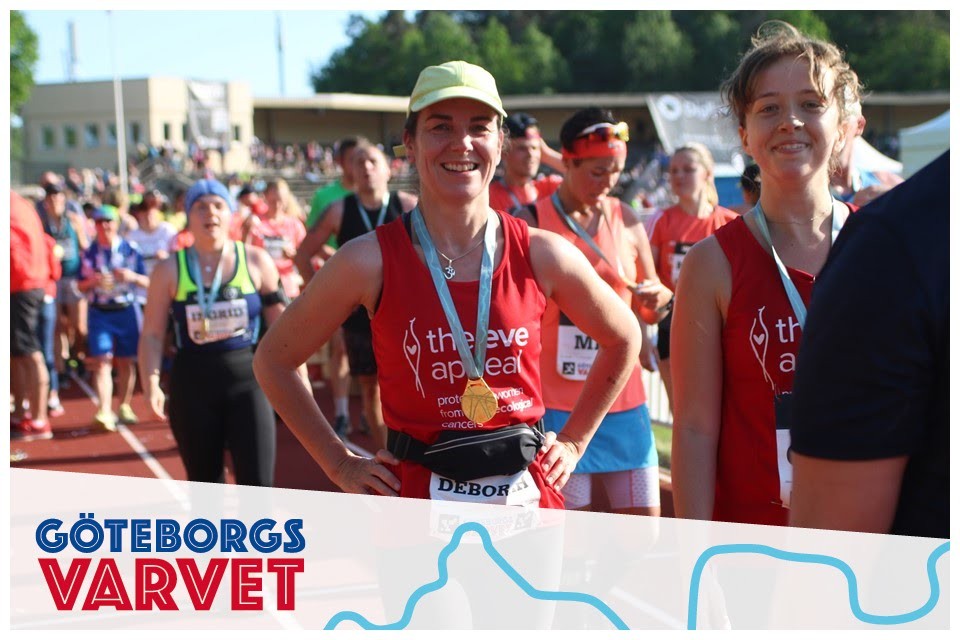 At the finish.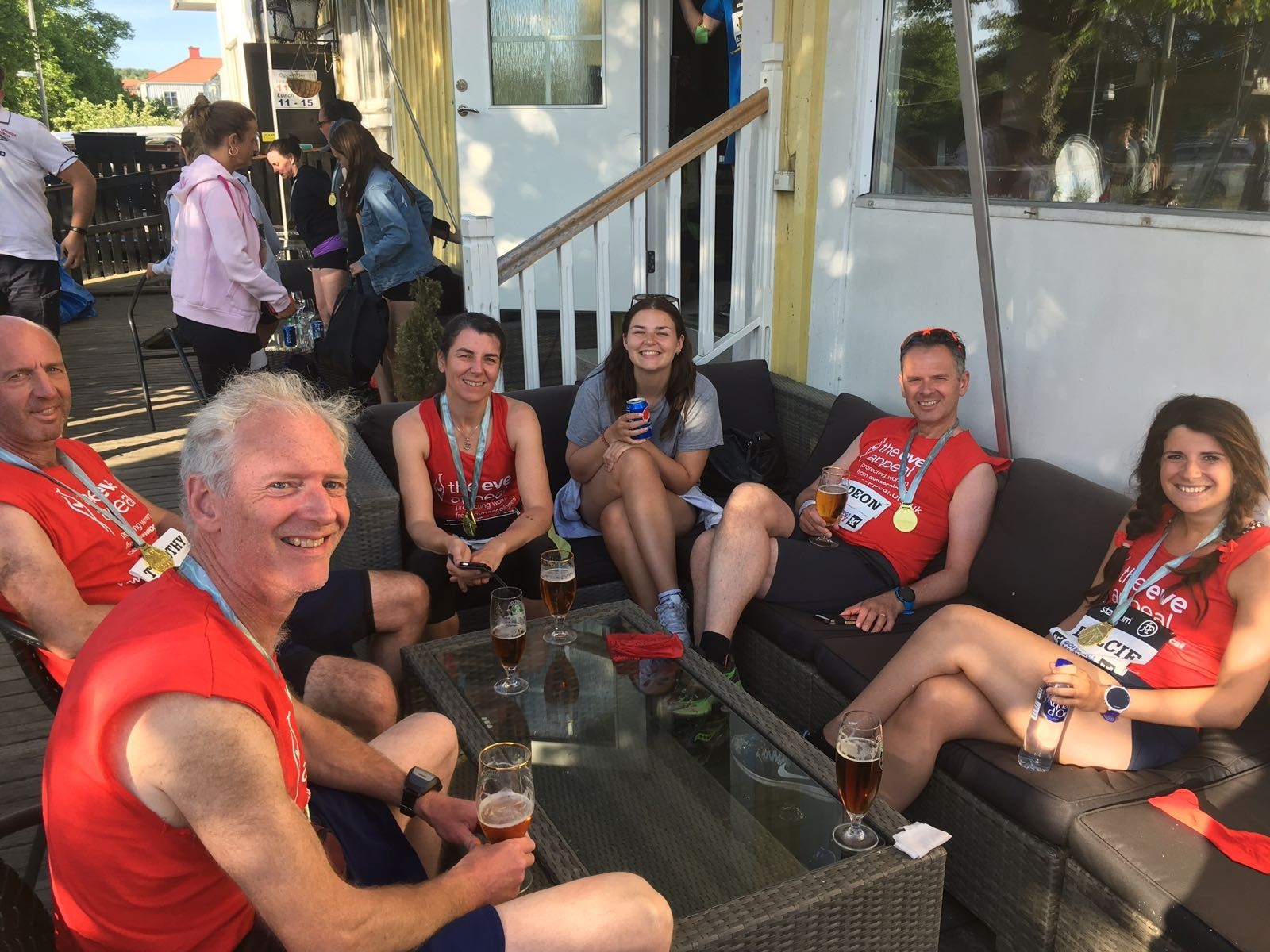 And enjoying a well-deserved 'trainers on' beer at the bar on the way back to the house.
A Bit About... The Wildlife Trusts' '30 Days Wild' Challenge... You know how I'm always going on about getting off the sofa and outside into the natural world? How it's good to get your fingers in the earth and feel the sun on your back? To experience a sense of peace and freedom on the hillsides and amongst the trees? Well you can get a bit more motivation to reconnect with nature by joining this month-long campaign run by The Wildlife Trusts. Each day in June you'll be encouraged to take a small step to support wildlife and enjoy the benefits of being outside. Sign up and join in with 'Random Acts of Wildness' like making a daisy chain or walking barefoot on the grass, or commit to making a bigger impact by reducing your plastic waste or planting a bee-friendly garden. This looks like lots of fun, especially if you can do it with children (they might be doing it at school too) and you'll receive a Welcome Pack full of ideas and resources to keep you going for the month. Click here to find out more https://www.surreywildlifetrust.org/what-we-do/campaigns/30-days-wild or watch the video below:
This Week's 5 Pose Flow...
Some familiar standing poses are woven into this sequence:
Start in Downward Facing Dog (Adho Mukha Svanasana)
Step forward with the right leg into Lunge (Anjaneyasana variation)
Press down with the feet, engage the core muscles and life the arms into High Lunge, also known as Crescent Pose (Sanskrit names Alanasana and Utthita Ashwa Sanchalanasana)
Turn the back foot down to the mat and turn the body to the left into Warrior II Pose (Virabhadrasana II)
Turn both feet to face the long side of the mat with the toes turned in, then pivot on the balls of the feet to move the heels in, toes out. Bend the knees into Goddess Pose (Utkata Konasana). Circle the arms out to the side, up to the sky and, palms together, back down in front of the face to the heart.
Move the heels back out, toes in, and fold forward from the hips into Wide-Legged Standing Forward Bend (Prasarita Padottanasana).
Walk your hands down the long side of the mat to the left and pivot into Lunge with the left leg forward, ready to start the sequence on the left side.
This Week's Recipe... Mushroom 'Steaks'
I've never been one for meat substitutes. After 33 years as a vegetarian and 8 months vegan, I really don't feel any call to eat something that reminds me of meat. But that's not the case for everyone, as can be seen by the success of Quorn and Linda McCartney products. Research published just yesterday in the Guardian states that the best way to reduce impact on the environment is to follow a meat and dairy-free diet -livestock farming provides 18% of calories but takes up 83% of farmland - click here to read the article. So if you, or your guests are looking for a healthier, cheaper and infinitely more sustainable option for dinner why not try serving up these Mushroom 'Steaks'?
The recipe comes from Vegan Food & Living magazine. It looks quite complicated because it has lots of ingredients but actually it's mostly mixing things together and was quite straightforward. The mushrooms are very flavoursome and certainly look very effective and steak-like. You could adjust the spices to include your favourite ones and, as mentioned below, next time I won't be using so much balsamic vinegar.
You'll need:
4 Portobello mushrooms, stalks removed (remember that baked mushrooms shrink in size so use more if you want a bigger 'steak')
For the marinade:
60ml balsamic vinegar (the recipe said 125ml but I thought it tasted too vinegar-y so have adjusted it here by half, but feel free to add more if you like it)
125ml red wine
60ml olive oil
60ml soy sauce or tamari
2 tablespoons of Worcestershire sauce (you can buy a veggie version of this in health food shops)
2 garlic cloves minced
For the spice rub:
half a teaspoon of paprika
half a teaspoon of dried oregano
half a teaspoon of ground coriander
half a teaspoon of dried mustard powder (I didn't have this so pasted some normal mustard onto the mushrooms before I rubbed in the spices)
quarter of a teaspoon of cumin
sea salt
black pepper
(I didn't take a photo of all these ingredients as it would have just looked like the contents of my spice cupboard!!)
Here's how to make it:
Start with the marinade - in a small bowl whisk together all the ingredients until well combined. Place the mushrooms in a wide, shallow bowl or roasting tin, gill side up. Fill each mushroom with the marinade and allow to overflow into the base. Leave aside for 2 hours minimum to soak up the flavours. After marinading, remove the mushrooms but keep the liquid to one side.
Then make the spice rub by combining all the spices, mustard powder, salt and pepper in a small bowl. Rub the spices all over the mushrooms, place on a baking sheet lined with baking parchment and bake in the oven at gas mark 8, 230 degrees for about 20-25 minutes or until tender.
Heat a griddle pan or frying pan over a medium heat with a tiny bit of olive oil. Add the mushrooms and spoon over the reserved marinade. Griddle for 2-3 minutes then flip them over and repeat a couple of times, while the liquid reduces. Remove from the heat and cut into slices. Arrange on the plate and add your veggies and, of course as it's steak, your chips!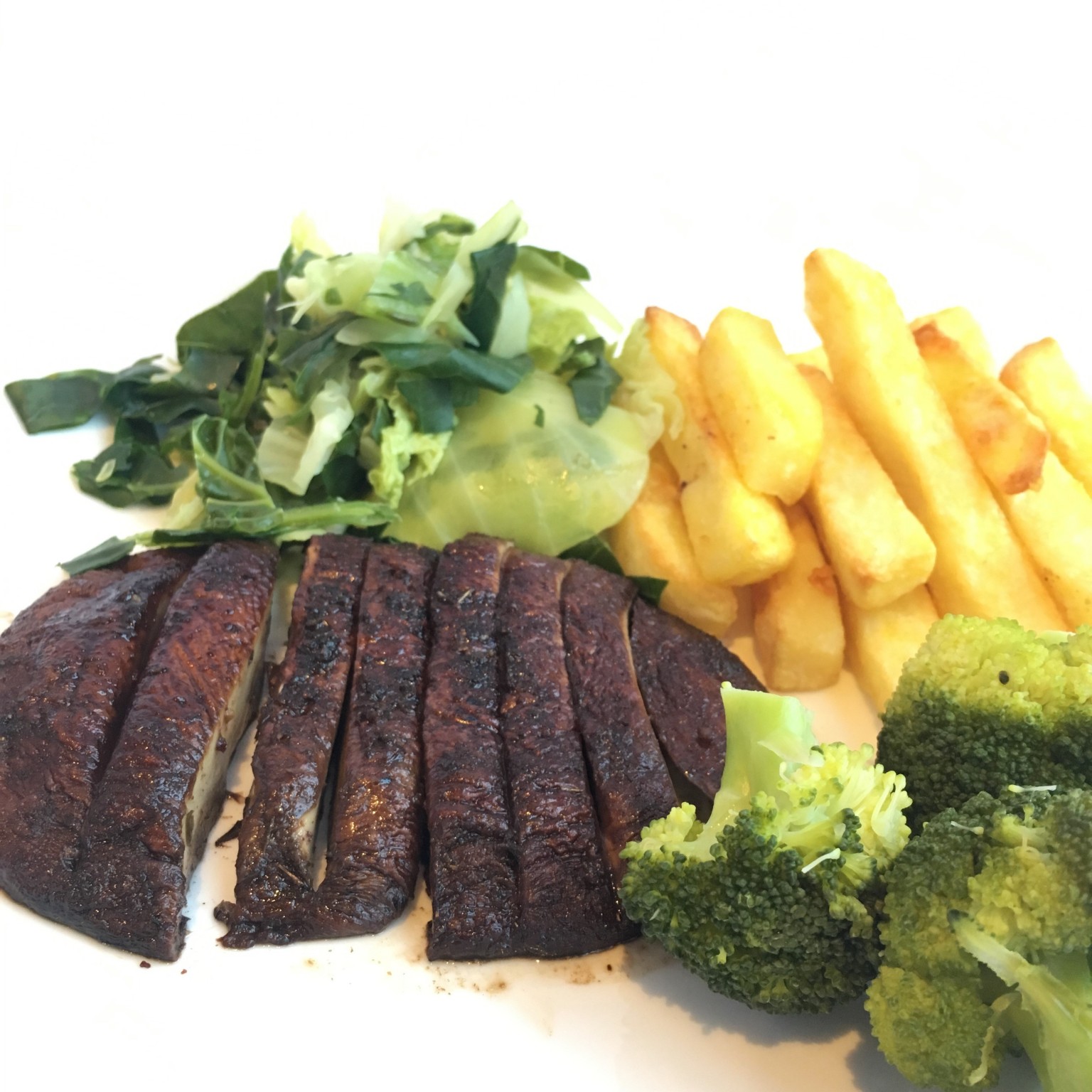 This Week's Musical Offering... Limitation by East Forest, a rhythmic piano piece which fits well with a short flow sequence (maybe the 5 Pose Flow??) or some Sun Salutations. The description by the artist (aka Trevor Oswalt) says that the track 'explores the boundaries and limits we each experience in life and the ways in which we live and love gracefully within them'. I felt it fitted in well with my half-marathon theme this week where I explored my own perceived boundaries and limitations and continue to try to live and love gracefully too.
This Week's Video... is inspiring to me as a student and a teacher. I hope this woman's wisdom and attitude inspire you to unroll your mat and move your body too...
Until next time... Namaste and thanks for reading.