Wednesday 16th August - Courage and Confidence in a Kayak
52 @ 50 no. 28 - Learning to Kayak and Canoe
The 'Letter to Fear' by Elizabeth Gilbert that I shared in my last blog post came in handy at the weekend! I was doing a 2 day Kayak and Canoeing Course and I was a bit apprehensive about it. Specifically the capsizing bit! But, as usual, the actual doing of it was much easier than all the thinking about it!
I'm not very familiar with boats but I like the idea of paddling around in a kayak. I have this vision of gliding effortlessly along a gently flowing river looking at the scenery and wildlife. My husband Gideon, being an active sort of a person, had shown an interest in learning to kayak (although I think his vision included white-water and adrenaline!) so I bought him the course as a birthday present and I decided to go along too as I'm always up for learning something new.
So off we went to Aquasports in Merstham, near Redhill, Surrey, to a lake that is part of a wetland nature reserve run by Surrey Wildlife Trust. It's a beautiful spot and, fortunately, it was a beautiful day for our adventure.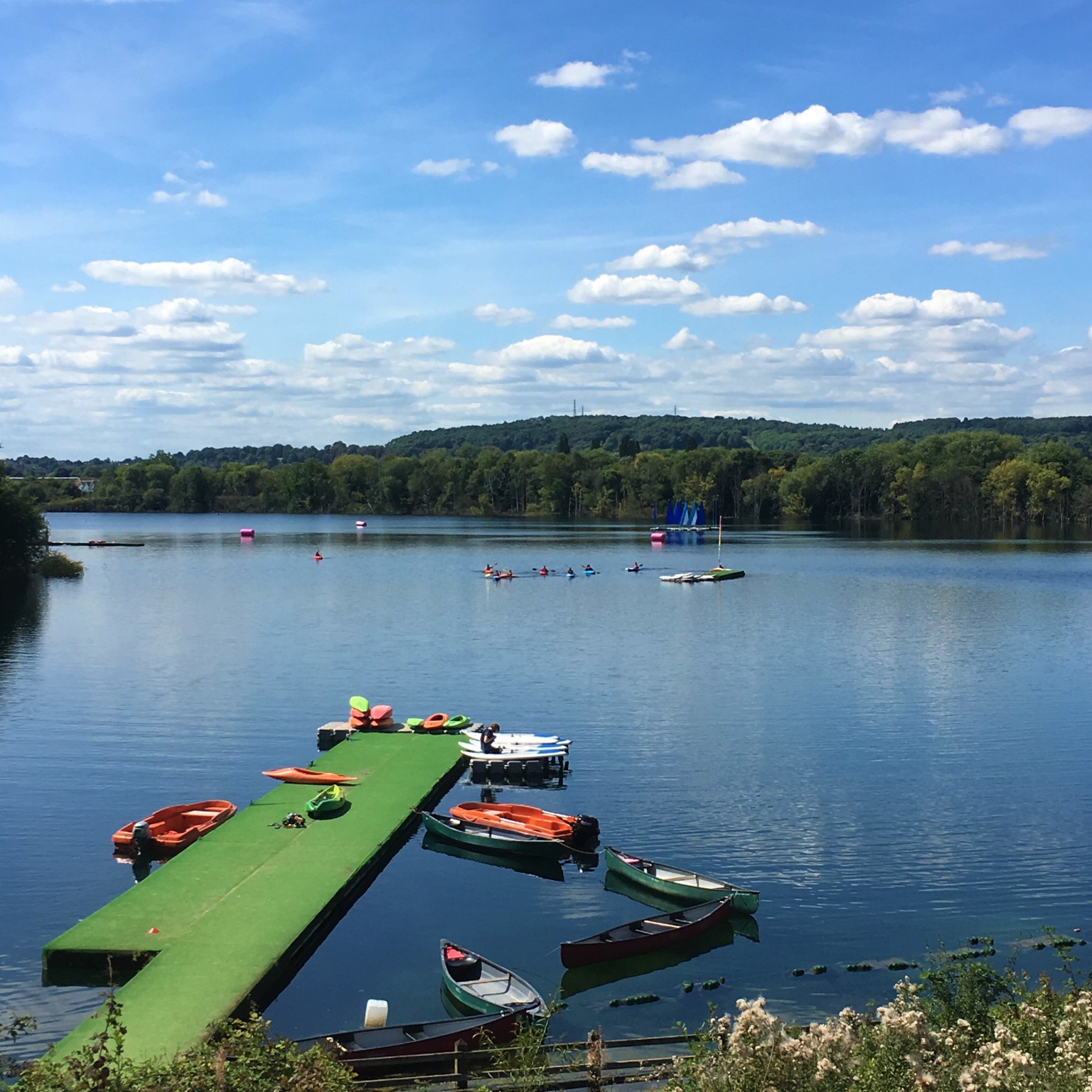 After a safety briefing and an introduction to the equipment we got into our wetsuits and straight out on the water. This involved launching ourselves from the jetty by shuffling and hopping to the edge and letting the kayak tip in! Eeek! Breathe and soften my face. Breathe and soften my face! We learned how to paddle forward and backwards and how to emergency stop. We started to make our way gently across the lake and then 'raft-up' - lining up next to each other and holding on to each others' kayaks so we didn't drift off. We learned how to go round in circles and how to go in a straight line (which was harder than going in circles!). Then it was time to capsize and swim the kayak to the shore! The instructor showed us how to do it and then it was our turn. Breathe and soften my face. Breathe and soften my face! Tell Fear to sit at the back of the boat and shut up (see previous blog post). Then rock the kayak side to side, deep breath and over into the water, knees in and up and push away from the boat and up to the surface! Guess what? It wasn't as bad as I thought it would be. Phew!
Then it was time to have a go at canoeing. A canoe is longer - for more than 1 person, wider and more open than a kayak. The paddle has a blade at one end and a handle at the other and you paddle a number of strokes on one side of the canoe before swapping over to the other side. A kayak is a shorter boat with a seat for just one person. It is more closed in, and has a paddle with a blade at each end that you paddle to alternate sides. I found canoeing a little more challenging as you have to communicate with the person at the other end of the boat and make sure you are paddling to opposite sides if you want to go in a straight line and to the same side if you want to turn. When you are in a kayak you are responsible for yourself and only have yourself to blame if you make an error. In the canoe it was tempting to blame the other person (Gideon!) if the canoe didn't go the way we wanted it to. Breathe and soften my face again and try not to get into an argument! The time passed quickly and at the end of the afternoon I was honestly looking forward to returning the next day for part 2 of our course.
At the start of the Sunday session we refreshed the paddling strokes we'd learned and then tried some new techniques - moving the kayak sideways, using the 'edge' (tilting your weight to one side to change direction without tipping it over!), using the paddle as a rudder to steer and, of course, more capsizing. Another go in the canoe confirmed that the kayak was my favourite and I finished the day with a certificate of competence in my hand and a big smile on my face.
This 52@50 was a bit scary yet ultimately very satisfying and I definitely want to do it again. I learned a lot about kayaking and canoeing and I learned a lot about myself. As I learn, I grow. I get more and more curious about all sorts of things and that makes life so very interesting.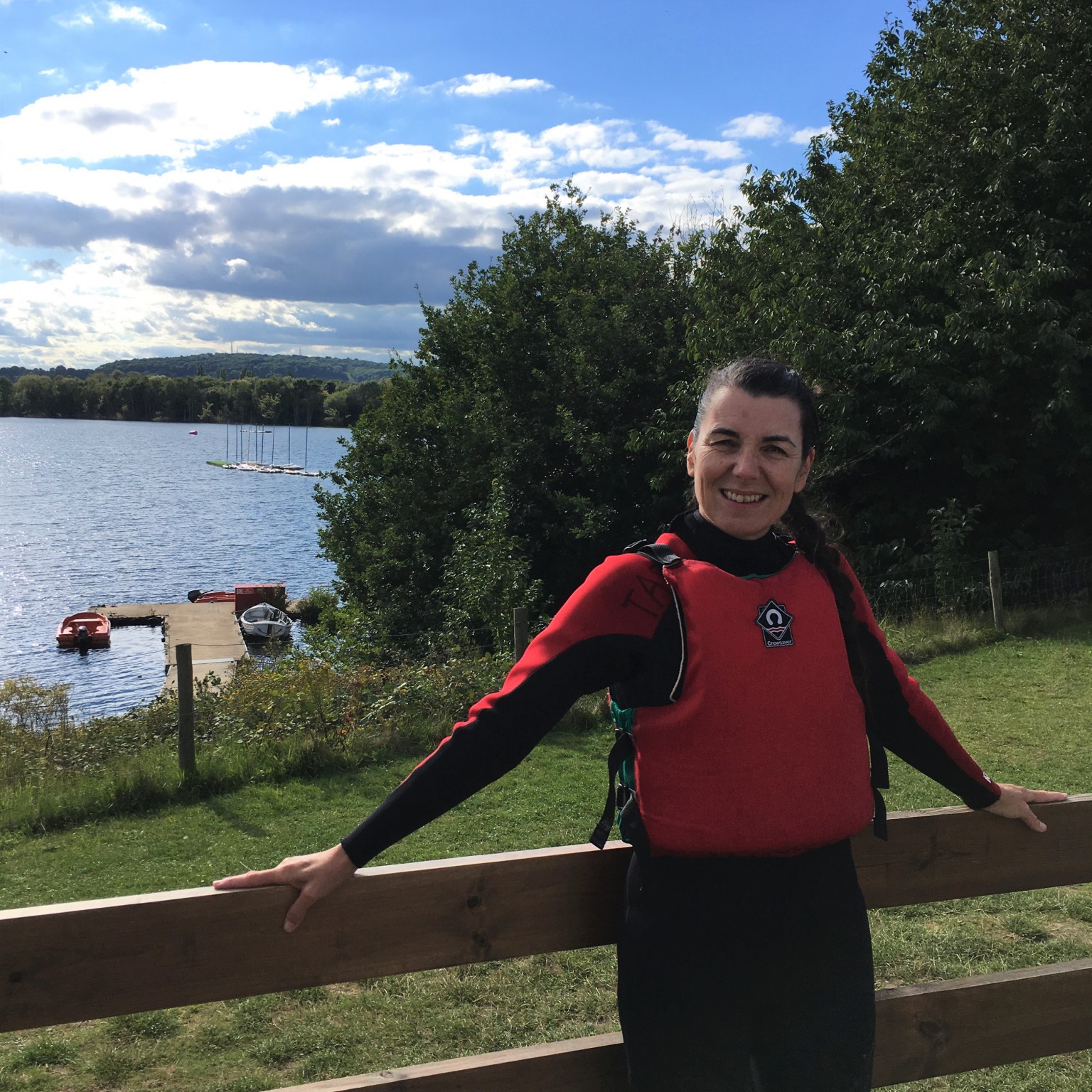 I've got very achy arms from all that paddling. The repetitive unfamiliar arm and shoulder movement has worked muscles that I haven't used before. If I decided to do it regularly I'd get used to it very quickly but, I suspect I won't be kayaking on a weekly basis so I'll have to accept that I'll be a bit sore again next time.
It's so important to keep our all-round fitness levels up and have a wide range of movement ability. Yoga uses the whole body - working many muscles and moving the joints through their full range of motion. If you do a varied and regular practice you will be moving your body in all different directions but the key is in the words 'varied' and 'regular'. If you practice sporadically and only do a limited set of postures there will be no progression. That's why it's better to do a little bit every day, changing the sequences and poses to do as many different ones over the course of the week. If you're finding you're not doing that and that your practice is a bit irregular and whenever you do get on the mat you tend to do the same postures, the online classes here on Thrive Yoga will offer you an interesting variety. There are lots of classes and sequences to help you do something different each time and, hopefully, inspire you to practice regularly. The monthly investment to be a member of Thrive Yoga is small - your health is priceless. Do click the 'Join Now' button above and let's share a regular and varied yoga practice together.
Just to echo what I've said about irregular exercise, here's a recent article from the Weekend section of the Times that you might find interesting...
A Bit About... Should You Work Out on Holiday?
New research says two weeks of inactivity means significant muscle wastage. Time to get off the sunlounger, says Peta Bee.
When you go on holiday, do you dutifully pack your workout gear and then unpack it, unused, when you get back? Many of us have great intentions of early-morning workouts in the hotel gym or a late-afternoon yoga session beside the pool. In reality, our trainers don't make it out of the suitcase.
Yet a recent study warns that two weeks of inactivity is enough to reduce muscle mass and for fitness levels to drop. Scientists at the University of Liverpool reported to the European Congress on Obesity in Portugal that a fortnight of doing no exercise can lead healthy people to experience muscle wastage and a change in their body's metabolism that could increase the risk of developing chronic diseases such as type 2 diabetes or heart disease.
It is clearly worth keeping up some of your fitness routine. Yet what we all want to know is how little exercise we can get away with on holiday. Matt Roberts, the celebrity fitness trainer, says that in general a holiday should be a time for your body to recuperate from the stresses of life. "The focus shouldn't be on smashing out long workouts while you are away," he says. "If you can get 20 minutes of high-intensity cardio done every couple of days, something like interval runs or a faster-paced cycle, and get some low-pace cardio done every day for 30-45 minutes (literally just go for a walk), you can minimise the downturn in your fitness levels when you get back."
There's no need to haul heavy equipment with you when you go away. At the most, the advice is to pack an exercise band, a tube of stretchy rubber that adds resistance and which you can use to increase the effect of bodyweight exercises, such as a squat or a glute raise, if you want an aid for strength training. Otherwise, says Dalton Wong, the celebrity personal trainer and founder of Twenty Two Training, whose clients include Jennifer Lawrence, why not change your holiday workouts and use the environment you are in?
"Try going for a long walk after dinner, play a ball game or go snorkelling," he says. "Use the beach as much as you can for walking and running, as sand is a great workout surface." You get more out of walking or running on sand than tarmac or grass, partly because you use more energy pushing out of the softness of dry sand with each stride. One trial published in the European Journal of Applied Physiology and Occupational Physiology a few years ago showed that walking or running on sand burnt between 1.2 and 1.8 times more calories per mile, which equates to between 20 and 80 extra calories.
Roberts says that the key thing with exercising on holiday is to start as soon as you can, particularly if you are heading to far-flung destinations. "When you arrive at your destination after a long-haul flight it is important to do a little workout as soon as you feel ready," Roberts says. "Exercise will increase your circulation rates again and also allow your body to create a sense of normal tiredness rather than flight fatigue".
He suggests doing some moderate cardio exercise - walking, swimming or jogging - to raise your circulation and oxygen levels, helping to ensure that your blood vessels are functioning well. "Including some strength work - lunges and squat thrusts - will also help to regulate your hormone levels, correct your posture and produce muscle fatigue, which will make you crave proteins that will fire your metabolism back up to normal after the flight," he says.
Don't even think about increasing your training when you go on holiday, Wong says. "If you are training a lot before you go away, a holiday of up to two weeks in which you ease down on activity can actually be beneficial, because it will help your muscles to regenerate. Holidays and time away from the gym are important for the mind and body. Ramping up your exercise while you're away is not a good idea because you are not resting from the usual stress at home. Tick over by keeping active for 15 to 20 minutes a day."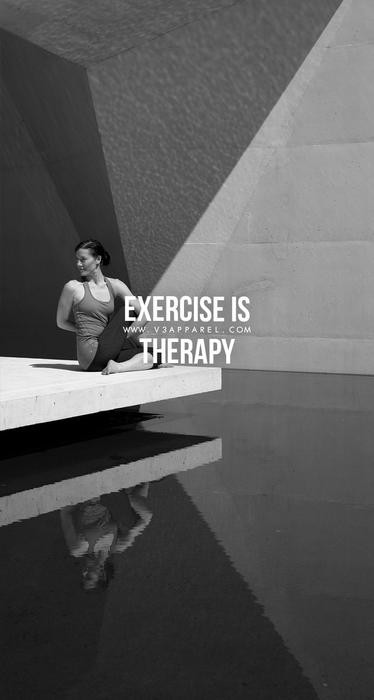 This Week's Recipe... Blueberry Oat Cookies
These soft and chewy cookies are really easy and quick to make. They're not too sugary and the blueberries add a sweetness of their own. I made mine a bit too big and thick, so next time I would make them thinner. The following day they were quite soft so I popped them in the oven for 5 minutes which crunched them up a bit and they were lovely served warm.
You will need:
100 g of softened butter
100 g of dark brown sugar
1 teaspoon vanilla extract (don't use vanilla essence as it's a synthetic product, whereas extract is a natural one)
1 egg
140 g of plain flour (you could use gluten free flour here if you wanted to)
100 g rolled oats
1/2 teaspoon baking powder
pinch of salt
100 g of blueberries, fresh or frozen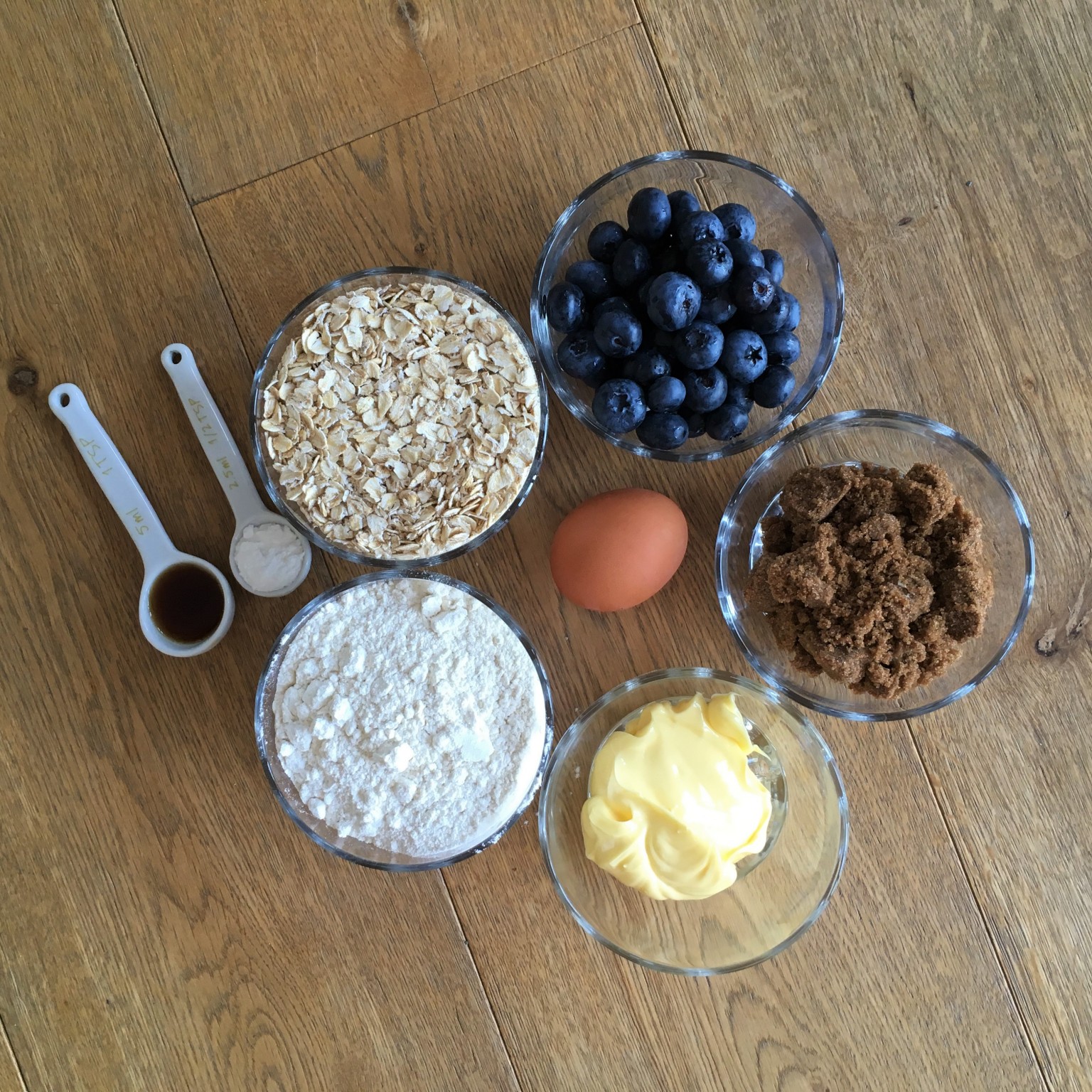 And here's how to make them...
In a large mixing bowl beat the butter and brown sugar until smooth.
Add in the egg and vanilla and beat again until smooth.
Add the flour, oats, baking powder and salt to the bowl and then mix everything together with an electric whisk or in a mixer.
Slowly and gently fold in the blueberries with a spoon.
Cover & refrigerate for 20 minutes to firm the dough (this stops the cookies spreading out too much on the baking sheet).
Make little round balls of cookie dough and place them on a lined or greased baking sheet with enough space between them to allow them to spread into cookies, and give them a little press to flatten them out slightly.
Bake at 350°F/180°C/gas mark 4 for 10-15 minutes or until golden brown.
Allow the cookies to cool a little to harden up before transferring them to a wire rack.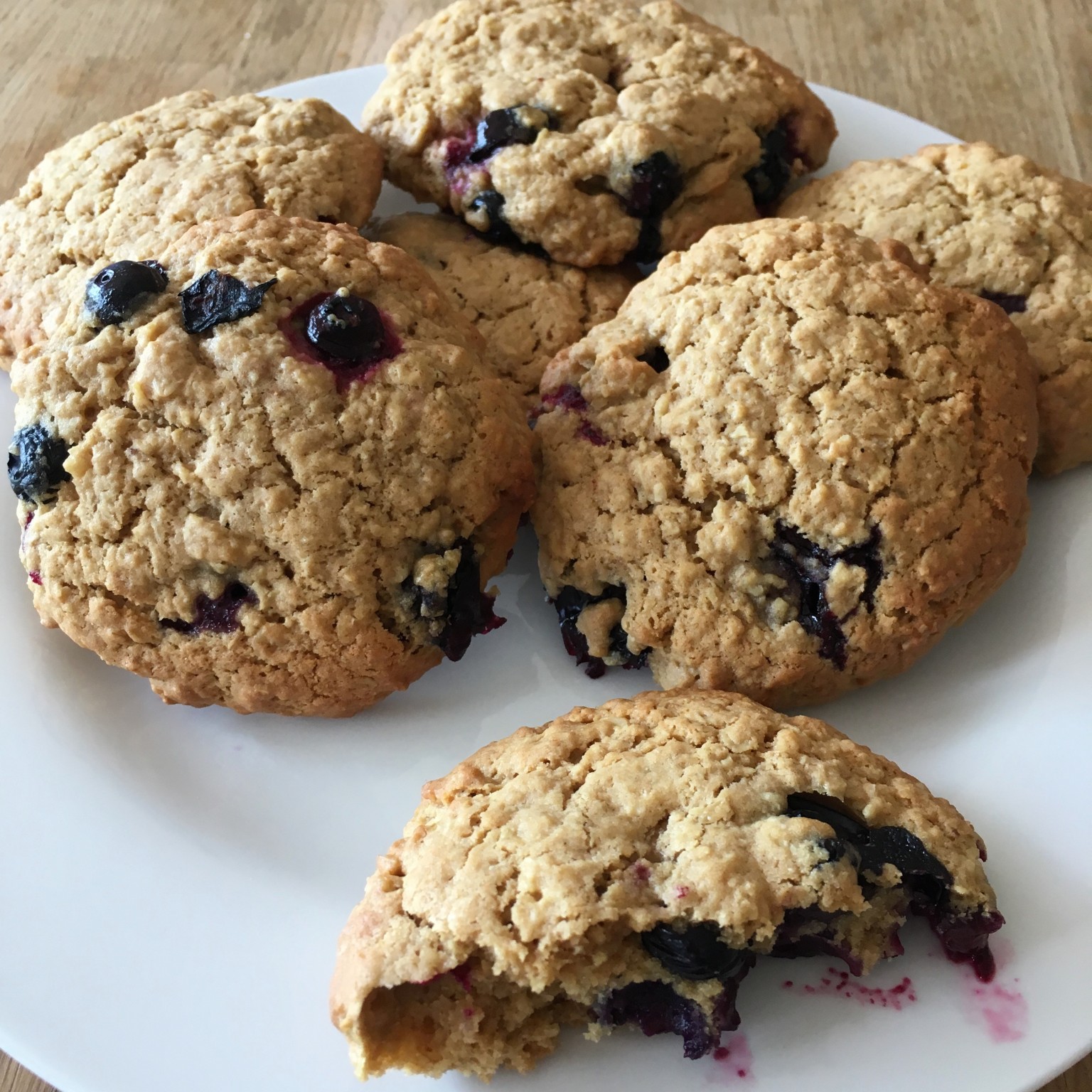 This Week's Musical Offering... Lila by Thomas Barquee. A slow gentle track for a seated stretch or for Savasana. 'Lila' means 'play' in Sanskrit - roll out your mat and have a play. And move. And breathe. And then rest...
This Week's Video... If you've felt like trying something new but have been putting it off, here's some inspiration for you to get out there and give it a go ...

And finally some wise words from Albert Einstein... Have a great week...