Thursday 20th July - Greetings From Austria
It's a short post this week. Writing and editing it on my phone rather than on my computer have been a challenge. I'm sure there is an easier way to do it but I'm darned if I can find it so this will have to do for now...
52@50 No 26: Travelling Alone in Austria
So here I am. Sitting on a train, alone and slightly out of my comfort zone. I'm travelling from St Johann in Tirol to Innsbruck Airport to catch a plane back to London for my daughter's graduation. Then, less than 24 hours later I'm getting on another plane to come back and rejoin my holiday in Austria for the remaining 4 days of the trip.
I know it seems a bit mad to do this but I really do need to be in two places at once this week. Many months ago my mother booked a rail and coach trip for my sister and I to accompany her to her favourite holiday destination. Months later, my daughter's university notified us of the date of her graduation ceremony - slap-bang in the middle of the trip! What to do? My daughter will only have one graduation ceremony and my mother is 83 and it is important to spend time with her. A dilemma.
The tools I learn in yoga have been helpful in working through this problem to find a solution and they are helping me deal with my discomfort today. Instead of going into a panic about the double booking I was able to pause, take a step back and view the problem less reactively. Was there a way that I could be in both places? Was the cost to myself too great, either financially (were the flights too expensive?) or physically and mentally (would it be just too stressful for me to try and make everyone else happy?) Well it turned out that yes, there was a way that would make it possible. I didn't tell my mother until everything was organised as I didnt want any drama or worry and, although I know she was disappointed that I would miss some of the holiday, she understood why I wanted to go back.
So today I have done a 45 minute yoga practice in my room to ground and centre myself, and a meditation to help quieten all those swirling doubts and thoughts of "what if I get on the wrong train" (and lots of other made-up scenarios that probably won't happen). I have eased the knots and stiffnesses in my body from lots of hours of sitting and it felt good. And I have eased the knots and worries in my mind and I feel able to deal with whatever might come up on the journey. This is yoga "off the mat" - helping me to negotiate difficult times. This is what yoga does - this is the practice just as much as the poses. Acknowledging my fears but empowering me and encouraging me to grow. I'll take it one step at a time and not allow myself to be swept back into the negative thoughts and fears. I'll stay present, I'll breathe and I'll enjoy the journey.
---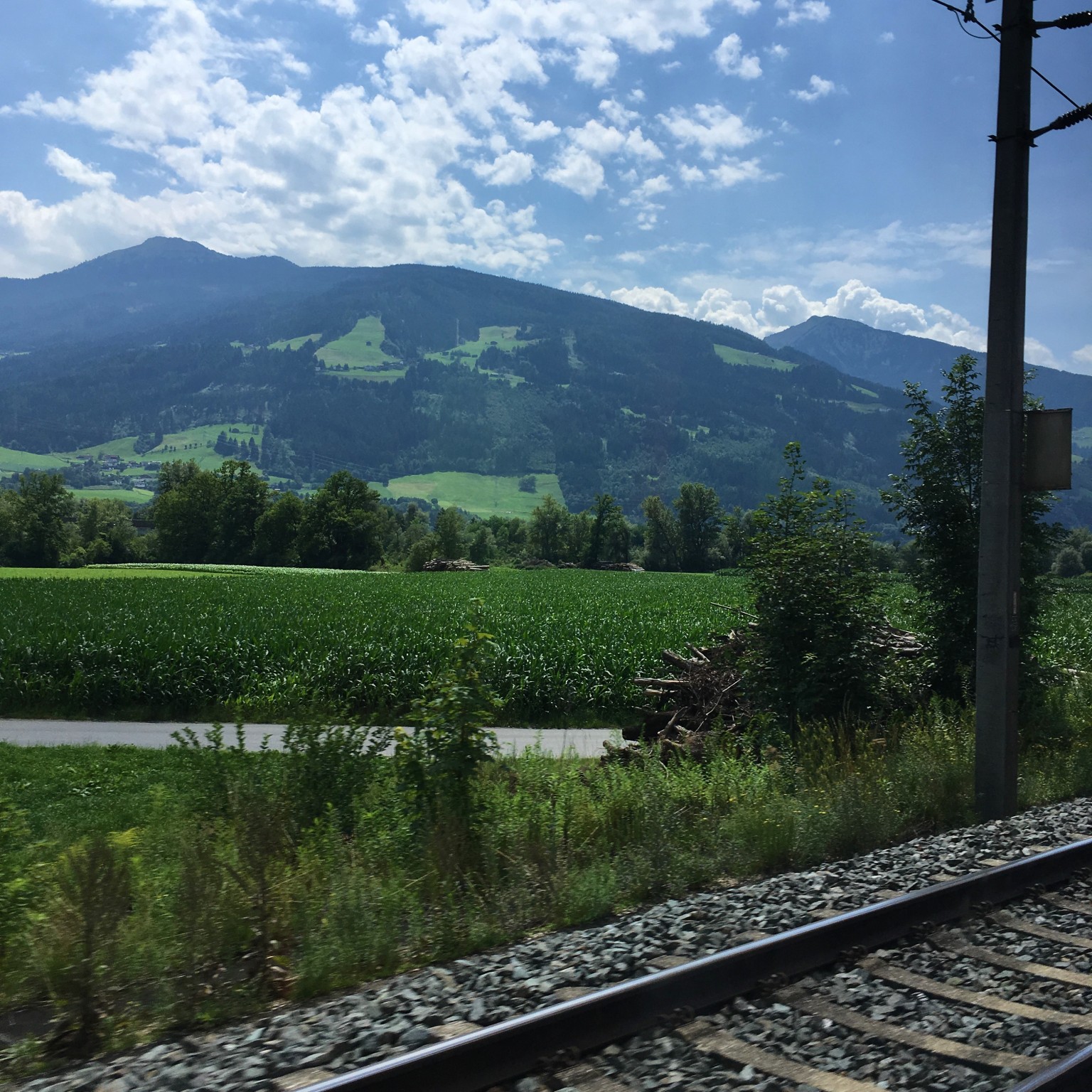 View from the train
This Week's Musical Offering... Bus Ride to Gulu by Pete Kuzma - a lovely track to accompany any part of your practice. I wish I could find one with a train ride theme but it's near enough...