Monday 19th June - International Yoga Day is nearly here
A Bit About... International Yoga Day
Well here we are almost at the longest day of the year! On Wednesday 21st June the sun will be rising at 4.42am and setting at 9.20pm giving us about 17 hours of daylight! Woo hoo! But Wednesday is not just the date of the Summer Solstice, it is also International Yoga Day. Set up by the United Nations in 2014, International Yoga Day aims to bring awareness to the many benefits of practicing yoga. Last year millions of people in 193 countries took part in the events - the largest class had over 35,000 participants!
According to the United Nations website "The draft resolution establishing the International Day of Yoga was proposed by India and endorsed by a record 175 member states. The proposal was first introduced by Prime Minister Narendra Modi in his address during the opening of the 69th session of the General Assembly, in which he said: "Yoga is an invaluable gift from our ancient tradition. Yoga embodies unity of mind and body, thought and action ... a holistic approach [that] is valuable to our health and our well-being. Yoga is not just about exercise; it is a way to discover the sense of oneness with yourself, the world and the nature."
The resolution notes "the importance of individuals and populations making healthier choices and following lifestyle patterns that foster good health." In this regard, the World Health Organization has also urged its member states to help their citizens reduce physical inactivity, which is among the top ten leading causes of death worldwide, and a key risk factor for non-communicable diseases, such as cardiovascular diseases, cancer and diabetes."
This year's theme is Yoga for Health and focuses on the way yoga can provide a holistic way to look after mind, body and spirit and help us to make changes to our lifestyle so that we live more in harmony with nature.
All around the world on Wednesday people will be unrolling their mats to practice yoga, on their own, with groups of friends or in organised classes. So please join in - step onto your mat and do your practice too - the world needs your mindful movement and your peaceful focus more than ever before. Share it out and pass it on. Let others see how it helps you and how it can be of benefit to everyone. Have a Happy Yoga Day.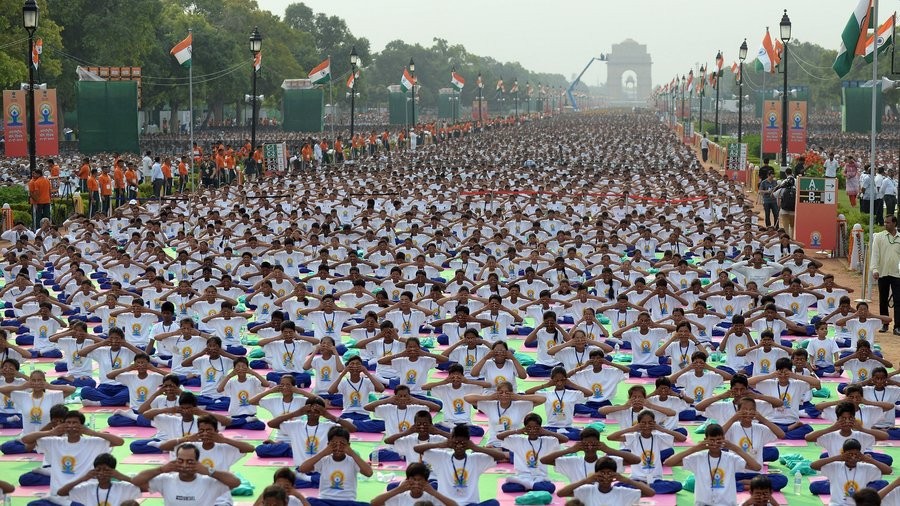 35,000 people gather together to practice yoga at International Yoga Day at Rajpath, New Delhi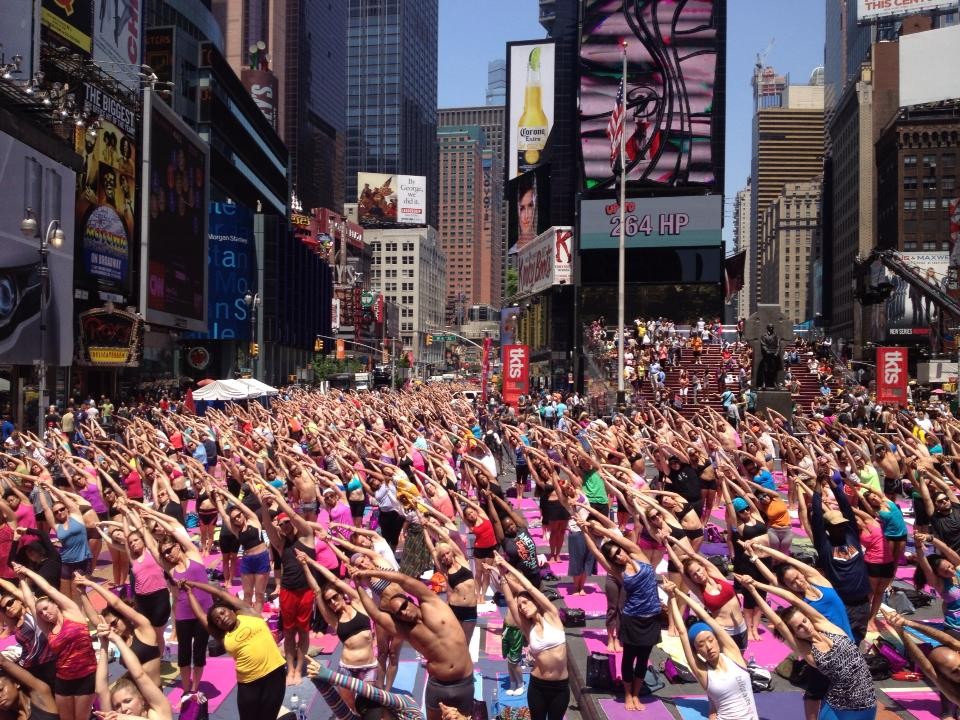 ... in Times Square, New York...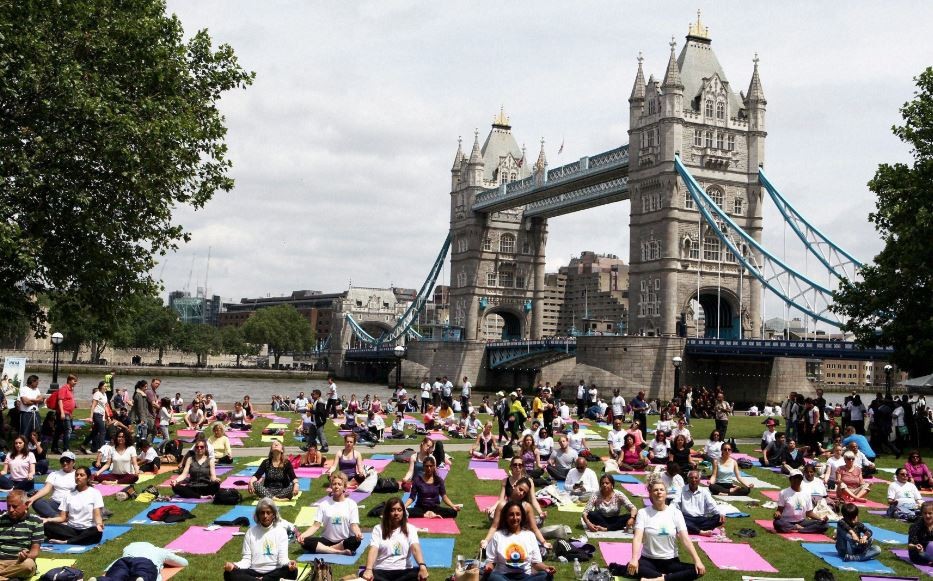 ....and closer to home...
This Week's Recipe... Gazpacho
I never used to like the thought of eating cold soup! I can't remember when I decided to try it but I did - and now I love it! It's raw, vegan, aromatic and flavoursome and it's perfect for eating in this current hot weather as it's so cool and refreshing (especially if you add ice cubes when you serve it). This recipe is so easy it's like making a smoothie ...
You will need:
1 cucumber
1 red pepper
900g ripe tomatoes (soft is good!)
half an onion
1 clove of garlic
2 tablespoons of red wine vinegar
2 tablespoons of olive oil
Salt, pepper and any other flavours you might like to add - oregano? paprika? chilli?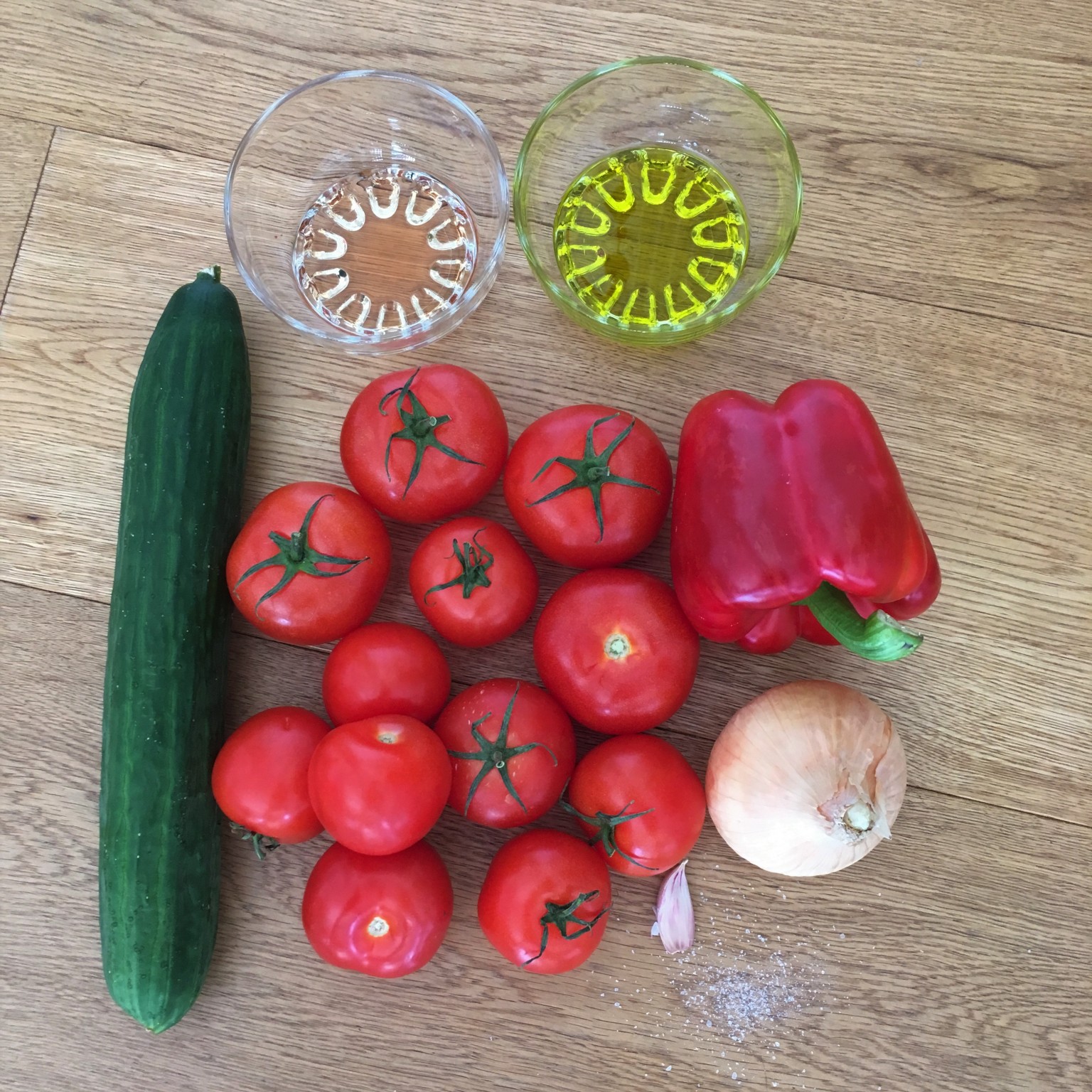 And here's how to make it...
Chop the cucumber, pepper, tomatoes and onion and crush the garlic into a bowl.
Mix well with your hands and leave for 30 minutes to allow the flavours to blend (if you are short on time you can skip this step though).
Put the vegetables into the blender with the olive oil, vinegar, salt, pepper and herbs or spices if using.
Blend until smooth.
Chill for 30 minutes.
Serve with ice cubes and a sprig of basil to garnish.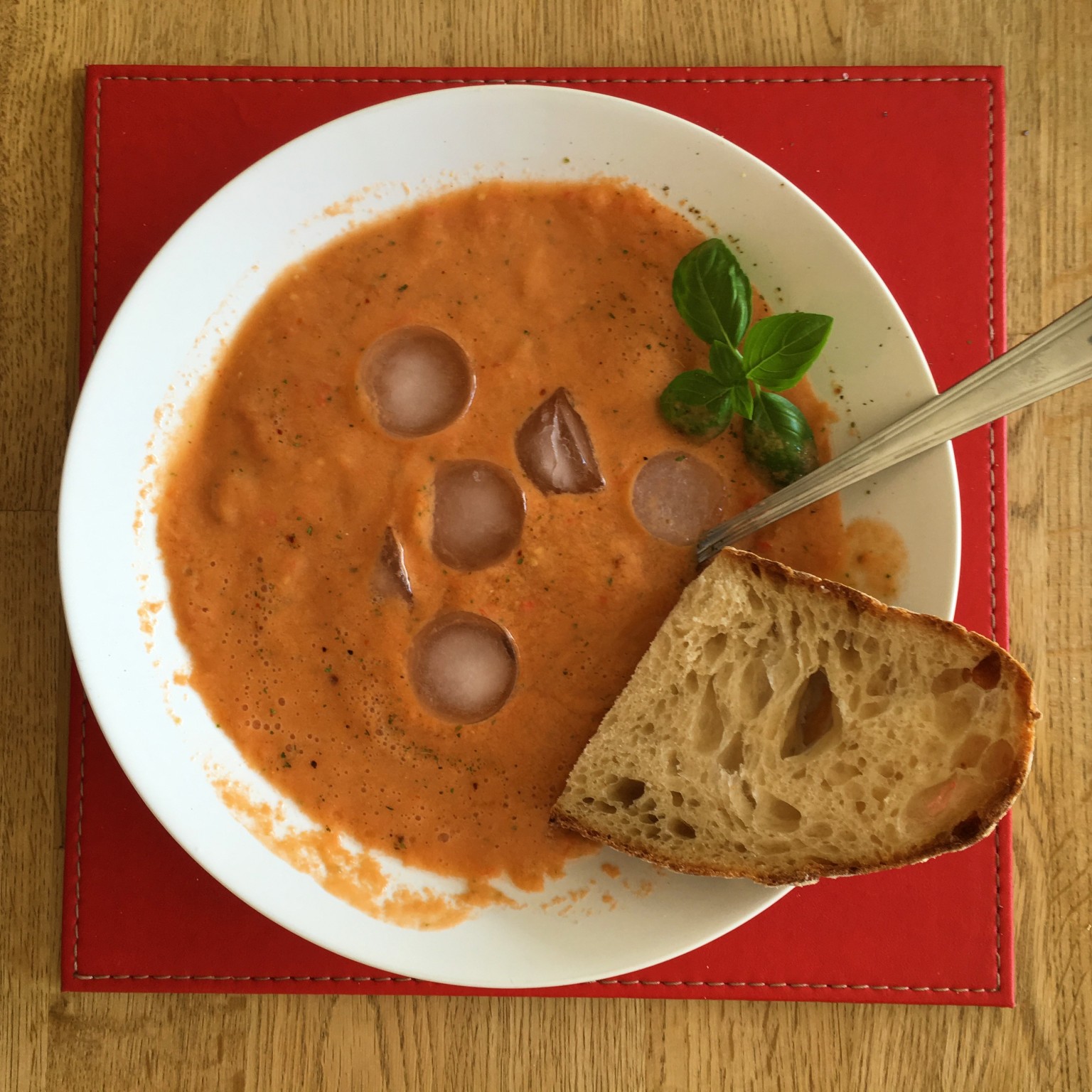 This Week's Interesting Word... look... it's us!!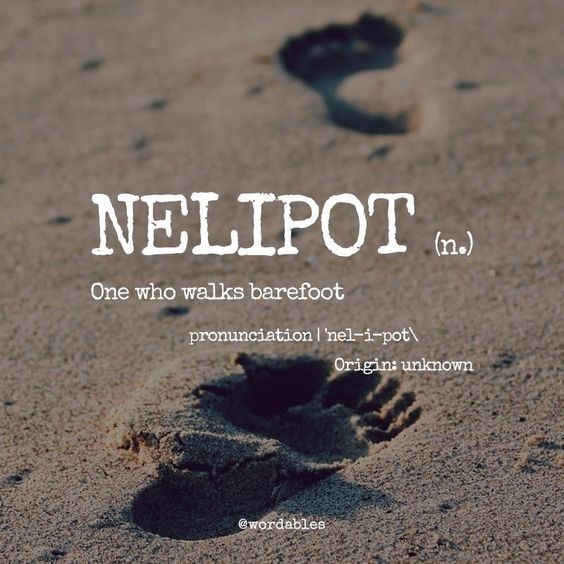 This Week's Musical Offering... is Yoga Dreaming by Soulfood. I've been playing this track in Savasana in my classes for years. It's soooo relaxing. I would be a lovely accompaniment to your slow stretches too...
This Week's Video... is amazing. I love Laruga Glaser's yoga practice - she is poised, strong, flexible, focused and committed to her yoga. I'm sharing it because it inspires me to practice more and I hope it will do the same for you. I love that she's in her forties, proving that you don't have to be twentysomething to be able to do the advanced poses, you just need to practice regularly (and by that I mean every day). This video does, however, make me feel a little wistful (you'll see why) but please watch it and let it encourage you to get on your mat and do what you can do rather than focus on what you can't. Enjoy the feeling of your body in motion, the slow flow of your breath, the quiet mind .... Om Shanti.
Until next time... enjoy your yoga... and thanks for reading.