Monday 20th February - Coconut Care and Nutritious Nutella
My time in India has come to a close and I'm now back home. I'm missing the warmth, the sunshine, the beautiful beaches and the amazing waves. I'm missing the coconut palms, the clear night-time skies with their numerous and very bright stars and the healthy food. But, I've had a lovely weekend with time spent in the garden in the sunshine and out running and walking in the woods with Flo, and I am so grateful not to have come home to snow and ice and cold.
On our second week away, after the retreat had finished and our students had gone home, my friend and fellow teacher Suzie and I spent some quiet and rejuvenating time on the beach in South Goa. Although our accommodation was much, much more basic than the beautiful accommodation and surroundings of Anahata Retreat Centre, (and I certainly am not missing the rather grim bathroom!) we were still going to sleep to the sound of the waves, and waking up to the sound of the breeze in the coconut palms. Every day we went to a yoga class and it was lovely to be a student and be guided through my practice.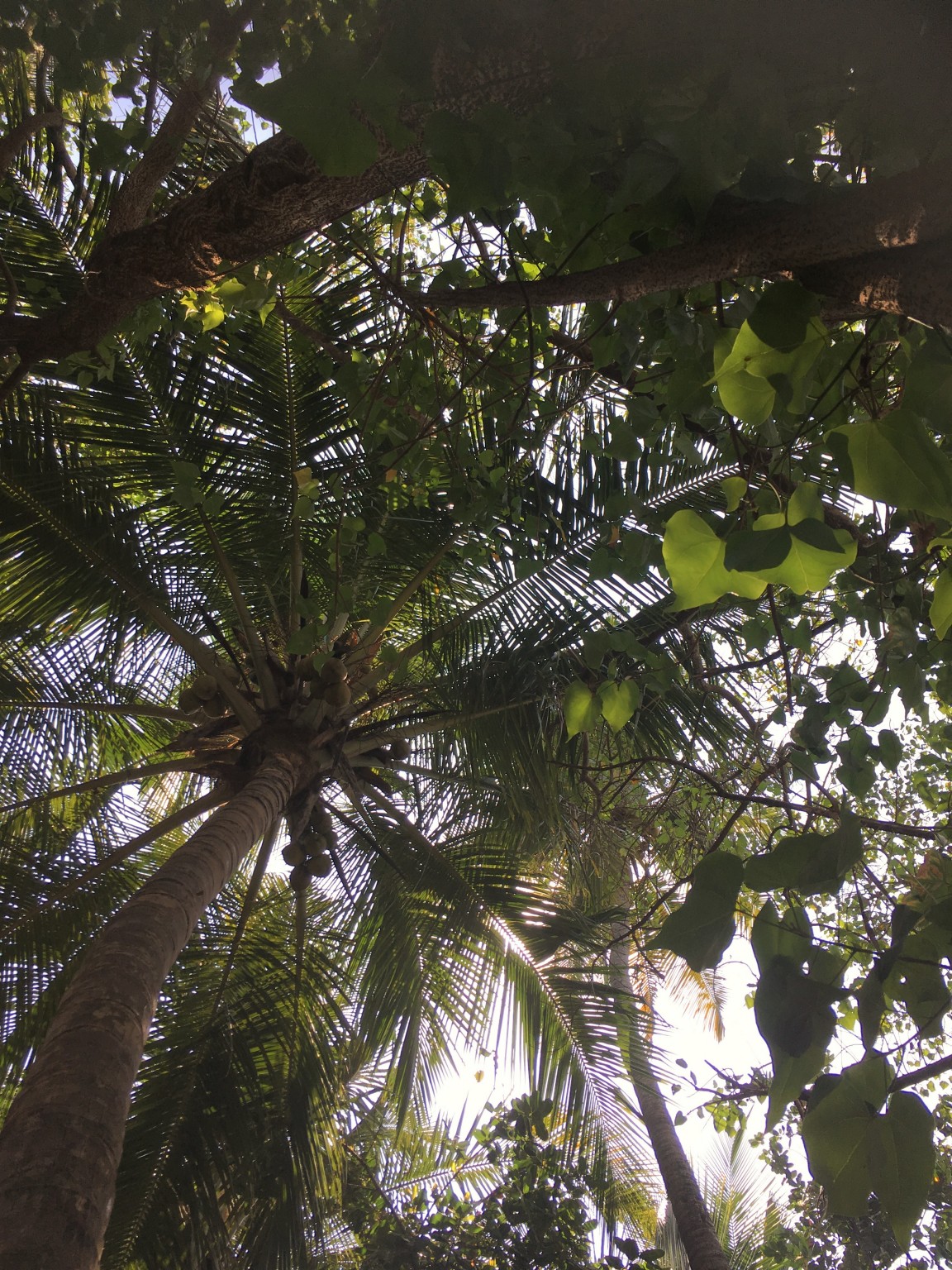 The coconut palms at Anahata Retreat Centre
Coconut Care...
I'm not a sunbather so I spent all of my time on the beach under an umbrella. However, just being out and about means that picking up a suntan is almost inevitable. My skin has a tendency to peel once I have been home for a few days, swathed in clothes and in the drying atmosphere of a centrally heated home, so I'm practising the Ayurvedic treatment of Abhyanga to try to keep it soft and supple. Ayurveda is the ancient, holistic Indian healing system which balances the body for optimum health and wellness. Abhyanga is a treatment that you can do yourself whereby oil is massaged into the skin every day. After showering I am taking the time to slowly apply coconut oil (which is solid in the jar but quickly melts on the skin). I then put on an old dressing gown and allow the oil to soak in before putting on my clothes. It is making me slow down and give myself a little extra tlc and has the benefit of already making my skin feel smooth and not dry. Coconut oil bought from the health food shop is completely natural too - no added chemicals.
Coconut oil can be used for many other things too. These 10 uses come from an advert for Viridian Coconut Oil which I saw in a magazine. I already use it as a moisturiser and a make-up remover, and sometimes make a body scrub, and I'll be trying it as a hair conditioner too now.
Cooking: Organic Raw Coconut Oil is fabulous to replace butter and olive oil in everyday recipes. Try it for yourself on your Sunday roast potatoes. It is rich in healthy fatty acids and a number of phytonutrient-rich spices.
Sports Nutrition: Organic Raw Coconut Oil is becoming increasingly popular in sports nutrition, as a source of medium-chain triglycerides (MCTs).
Stretch Mark Prevention: Organic Raw Coconut Oil can help with the appearance of stretch marks and can help prevent premature ageing of the skin. Coconut oil absorbs very readily into the skin and keeps it soft but not greasy. It can be used as an all-over body moisturiser.
Lip Balm: Protect your lips from winter chapping by rubbing a little Organic Raw Coconut Oil into them.
Acne: Organic Raw Coconut Oil can be used as a skin moisturiser by people suffering from acne because it is naturally small in molecular structure which allow for easy absorption through the skin without blocking pores.
After-shave: An ideal post-shaving soothing balm, Organic Raw Coconut Oil is also a great natural skin moisturiser. Suitable for face, legs armpits and sensitive areas.
Nappy Balm: Organic Raw Coconut Oil creates a water-repellent barrier. The natural moisturising properties of coconut oil are perfect for baby's bottom.
Hair and Scalp Rejuvenation: Organic Raw Coconut Oil is wonderful to use as a hair conditioner as it softens the hair and conditions the scalp, leaving it smooth and frizz-free. Using the oil as a pre-wash conditioner can help combat dandruff. Coconut oil is famous for its ability to strengthen the structure of damaged, devitalised hair.
Body Scrub: Add a little sea salt and your favourite essential oil to some Organic Raw Coconut Oil and you have a natural body scrub that will exfoliate and moisturise at the same time. (Please note though that too much coconut oil down the drains might cause them to become blocked - it reverts back to it's solid state once it cools.)
Make-up Remover: Organic Raw Coconut Oil is an excellent make-up remover because it moisturises at the same time. Powerful at removing stubborn eye make-up such as eyeliner and mascara.
I'm sure there are other uses for coconut oil other than these 10 - if you know of any please let me know. You can buy a jar of coconut oil in most major supermarkets and health food shops for around £10 and it lasts for ages.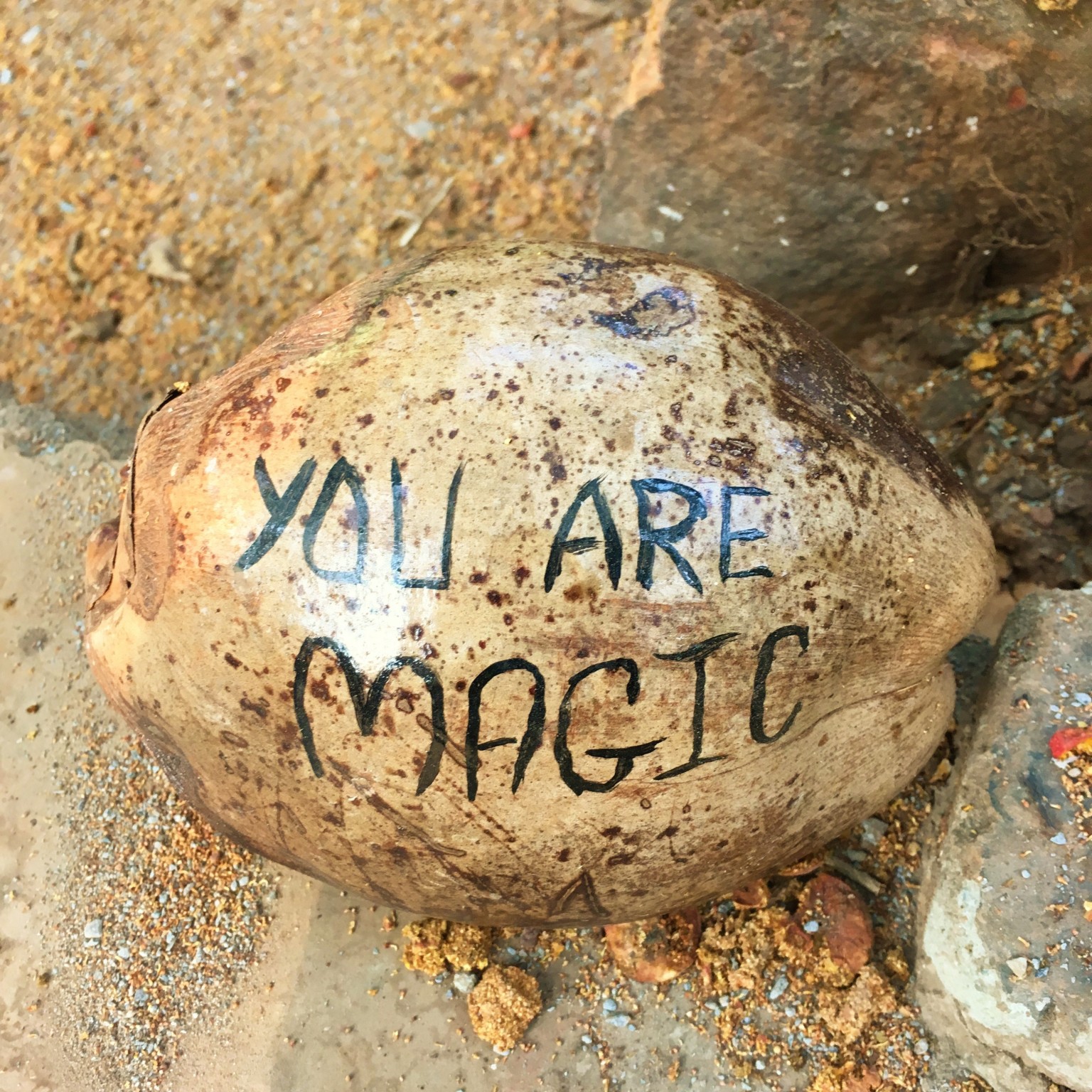 A coconut on the pathway on the way to yoga class
This Week's Recipe... A Healthier Version of Nutella
On the subject of nuts, one of the girls on the retreat told me about this recipe for a healthy chocolate spread. It comes from Deliciously Ella. It's really easy to make and very delicious indeed.
You will need:
2 cups of hazelnuts (380g)
Half a cup of maple syrup (125ml)
3 tablespoons of raw cacao powder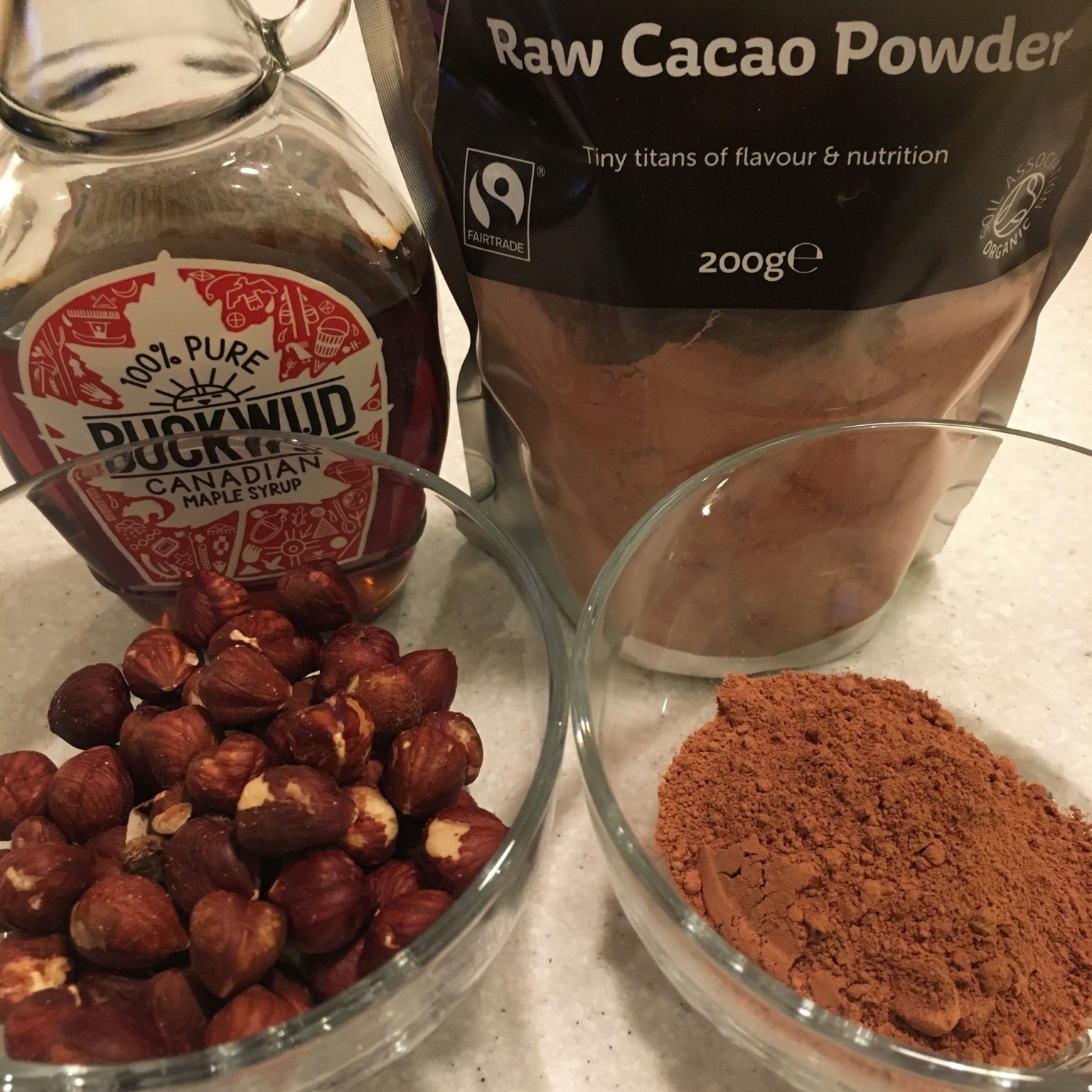 And here's how to make it:
Bake the hazelnuts at 180C for about ten minutes, then take them out of the oven and allow them to cool.
Place in a food processor (I used my Nutribullet with the milling blade) and blend for a long time (at least 5 minutes), stopping every now and then to scrape out from the blades if the mixture becomes stuck, until they totally break down. Keep blending till a soft hazelnut butter forms.
Add the maple syrup and the cacao powder, give one more quick whizz in the blender, and hey presto! you have a thick, creamy Nutella to spread on your toast. It would also make a great filling for a sponge cake or to add to a dessert. Store in the fridge.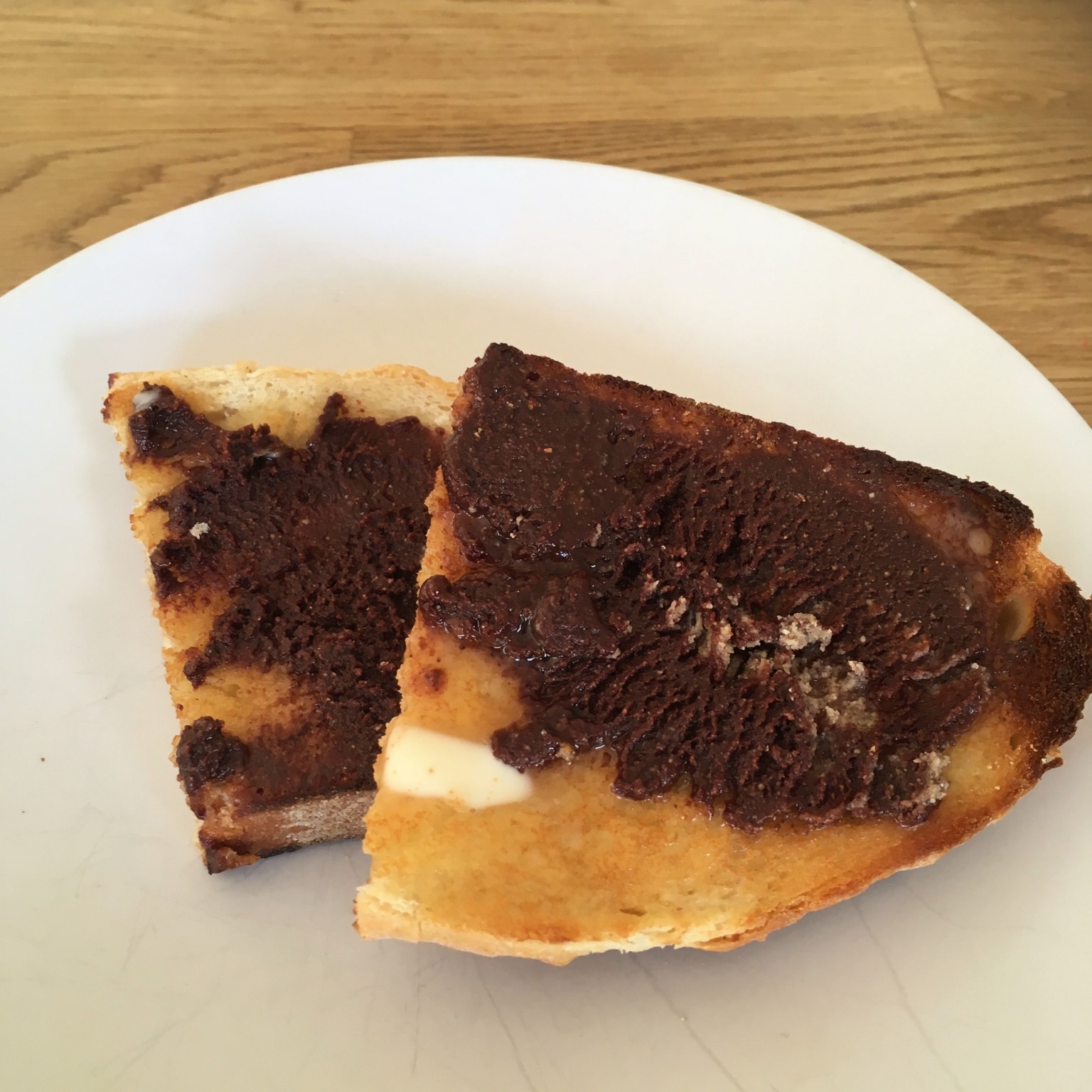 This Week's Advice From a ... Star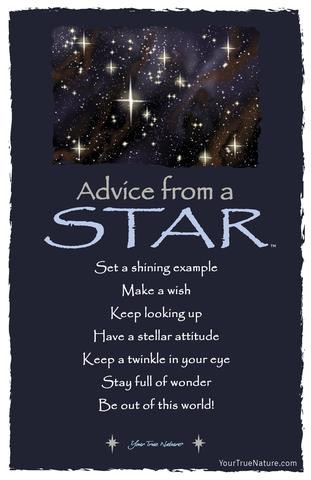 This Week's Video... an inspiring video about walking for peace, and how walking brings you peace...